The Arizona Cardinals drafted wide receiver Ryan Swope of Texas A&M with the second of their sixth round picks (174th overall) in this year's NFL Draft. The 6-foot, 205-pound Swope will add depth to the Red Birds' receiving corps but the sure-handed Swope has had concussion issues in college. That is a concern. Some experts had Swope rated as a third round talent but his...
Texas A&M quarterback Johnny Manziel was supposed to be suspended for the entire 2012 season by the school, but Aggies coach Kevin Sumlin said he helped get the penalty overturned. Manziel confirmed last week that he faced a season-long suspension for his role in a bar fight last summer when he was found with a fake ID.  As a result of the penalty, 
(Photo Courtesy: USA Today Sports) (Enter Aaron's giveaway with Captain Morgan, to win great prizes including an iPad mini and more!!) The NFL Draft is now just a week away, and just a few days after UCLA's Johnathan Franklin joined me on the Aaron Torres Sports Podcast, another prominent draft hopeful called into the show earlier this week.   To listen...
You know the story...Michigan's Denard Robinson and Texas A&M's Ryan Swope were the final two contenders for the cover of NCAA Football 2014. EA Sports, in all their eternal wisdom, decided to put a poll on Facebook to decide the winner. Easy right? Well not really. After the voting period ended last night, controversy erupted. We are aware of the voting irregularities...
The "Dude Perfect" guys are back at Texas A&M with another (former) Aggies star, wideout Ryan Swope. Last time we saw one of these videos, Johnny Football was throwing footballs through hoops from hundreds of feet away. But in this version, Swope's "pillow hands" are on display. Swope catches and holds onto five "kickoffs" at once, snags tennis balls with one hand...
AMAZING AGGIE
Following in the trick shot video footsteps of his teammate Johnny Manziel, Texas A&M all-time leading receiver Ryan Swope showcases his skills...
Sometimes stereotypes can be funny, and football has its share of them. Texas A&M receiver Ryan Swope shocked all that believe in the myths of racial profiling. He's a white guy who can run fast, and at the NFL Combine, he clocked a 4.34 40 time that made the proverbial sports bigot say, "He's pretty fast for a white guy." "I think a lot of people were pretty shocked...
And then there were two men standing. EA Sports announced yesterday that the cover vote for NCAA Football 14 had officially been trimmed down to two players, Michigan's Denard Robinson and Texas A&M's Ryan Swope. Robinson always appeared to be one of the favorites for the cover despite his lack of production under center, but A&M's Swope is proving that the...
BIRMINGHAM, Ala. -- The reunion caught us both offguard. It happened during the opening session of SEC Media Days.For those who dont know, Media Days are the college football equivalent ofspeed dating. Three players and the head coach from each team are shepherdedthrough a gauntlet of television, radio and print reporters where questions andanswers fly with lightning speed. I was...
Last night I broke down Tannehill vs LSU in the 2011 Sugar Bowl – easily the best defense he faced as a starting quarterback. Tonight I'll break down his performance against Arkansas. While the Razorbacks don't compare to LSU, they were the top rated pass defense Tannehill faced in 2011. Below are my notes on the game, and here is an excel sheet charting each of his dropbacks ...
MORE STORIES >>
College Football News

Delivered to your inbox

You'll also receive Yardbarker's daily Top 10, featuring the best sports stories from around the web. Customize your newsletter to get articles on your favorite sports and teams. And the best part? It's free!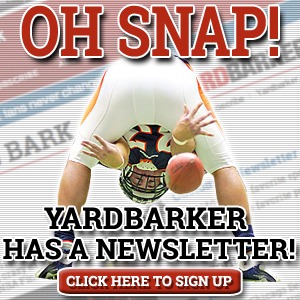 THE COLLEGE FOOTBALL HOT 10