CORVALLIS, Oregon (AP) Oregon State quarterback Sean Mannion passed for 328 yards and one touchdown and rushed for another score Saturday to pace the Beavers to a 29-14 victory over Portland State. Trailing 14-13 at halftime, Oregon State forced turnovers on five of Portland State's first six possessions of the second half and took the lead for good on Garrett Owen's 26...
CORVALLIS, Ore. (AP) The difference in Sean Mannion is marked: The once soft-spoken and reserved quarterback for Oregon State has blossomed into a confident full-fledged leader in his senior season for the Beavers. A perfect fit in Oregon State's pro-style offense, Mannion set a Pac-12 season record for passing yards last season with 4,662. He threw an Oregon State-record 37...
With victories at both the Elite 11 Counselor Challenge and the Air-It-Out Challenge at the Manning Passing Academy, Oregon State quarterback Sean Mannion served notice Saturday night that his talent can beat out the nation's top college passers in the sweltering July heat of the Bayou as easily as it did in his home state of Oregon days earlier. But NFL Media analyst Bucky...
Oregon State quarterback Sean Mannion is returning for his senior season. Mannion, who has already graduated with a bachelor's degree in liberal studies, announced his decision Monday in a statement released by the Beavers. Mannion set the Pac-12's single-season record for passing yards with 4,662 this past season. He threw an Oregon State-record 37 touchdown passes, third...
Sean Mannion couldn't really explain why he had an off night. Oregon State's 6-foot-5 quarterback, who is having a career year, threw three uncharacteristic interceptions in Friday night's 31-14 loss to Southern California. The interceptions doubled his total over the first eight games of the season. And two of them came in the red zone. ''When you play quarterback...
Two of the three Tailgaters had winning records against the spread, with Matt overtaking Zach in the season standings. But while John went 5-0 with his first five picks, including South Carolina's improbable upset of Missouri, the later games proved difficult for everyone. Not a single of our Upset of the Week picks, for instance, paid off. All in all, the last of October was trickier...
Good Read! Nice to see OSU getting some national love today. The Oregonian's Connor Letourneau breaks down how OSU's Sean Mannion is becoming a premier pocket passer. Oregon State Beavers rundown: Numbers suggest Mannion is developing into premier pocket passer www.oregonlive.com Mannion ranks in the top five nationally in several key statistical categories. Follow NWSB...
Mannion "100%" Mike Riley announced Thursday that injured quarterback Sean Mannion will dress down for Week 8, when Oregon State takes on the Utah Utes. On October 8, it was announced that Mannion would be out "indefinitely" due to an undisclosed knee injury. The second year quarterback suffered the injury in Week 6 against Washington State on a hand off. Mannion was replaced...
Oregon State quarterback Sean Mannion suffered a knee injury earlier in the year and it wasn't known whether or not he'd be back this season, and if he would, when. Well, it turns out that Mannion will be dressing this weekend, and as Mike Riley puts it: I don't let anybody dress down that can't play in the games. Cody Vaz is most likely going to start this weekend and has...
Mannion facing knee surgeryIt was reported today that Oregon State Beavers starting quarterback Sean Mannion will undergo knee surgery, and will be out for an indefinite amount of time.The news comes in the wake of a Beavers win on Saturday, which saw them break the top 10 in the AP Poll.The Beavers will lose Mannion "indefinitely" following knee surgery.Mannion apparently injured...
MORE STORIES >>
College Football News

Delivered to your inbox

You'll also receive Yardbarker's daily Top 10, featuring the best sports stories from around the web. Customize your newsletter to get articles on your favorite sports and teams. And the best part? It's free!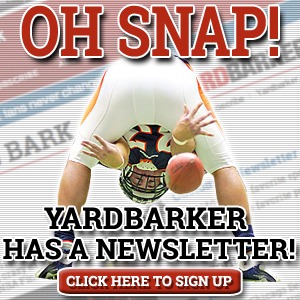 THE COLLEGE FOOTBALL HOT 10