SEATTLE - Due to the threat of thunderstorms, the Washington Football team headed inside Tuesday to the safe confines of the Dempsey Indoor. We spoke to Chris Petersen, Pete Kwiatkowski, Bob Gregory, Travell Dixon, Shaq Thompson, Evan Hudson, and Cameron Van Winkle after practice.
New Washington football coach Chris Petersen being introduced to the University of Washington (credit mynorthwest.com) Spring is over which means it's as good a time as ever to start looking ahead to next season. When Chris Petersen took over as head coach of the Washington football team he inherited a roster full of depth and talent, as well as some question marks. He also...
Today Nike released a new batch of updated uniforms for the University of Washington football team. Like many of the new uniforms coming from Nike these days, they are sure to resonate with the younger demographic while cause grumbling among the older fan base. The new uniforms feature three different helmets, three jerseys, and four pants with which the dawgs can mix and match to...
On Wednesday I previewed the offense. If you missed the preview for the offense, visit our Washington Football page. For the defense I will pick up right where I left off. Shaq Thomson LB How can anyone talk about the husky football team and not mention Shaq Thompson? When Steve Sarkisian and company stole Thompson from Cal in 2012, he landed one of the most talented athletes in...
In a pivotal Pac-12 matchup at UCLA in November, Washington got an up-close look at perhaps college football's best two-way player. Myles Jack, the former Bellevue star, scored four touchdowns and made five tackles, leading UCLA to a 41-31 victory over the Huskies. Five months later, the Huskies are toying with the idea of unleashing their two-way threat. It was only one drill...
SEATTLE - We were able to capture some video from Day Two of Washington's spring practice, and included is some work by Shaq Thompson at running back, as well as the defensive backs getting after it and the quarterbacks working out with the running backs.
(Eds: Adds details, quotes. Will stand. With AP Photos.) By TIM BOOTH AP Sports Writer Shaq Thompson was one of the most heralded recruits Washington has landed since Steve Sarkisian arrived in Seattle. He was to be the next generation of the hard-hitting defensive backs that have cycled through the program, but with a unique blend of size and athleticism. Then something happened...
SEATTLE - Here are video highlights and interviews with Justin Wilcox, John Timu, Shaq Thompson and Greg Ducre as Washington finished up their last regular practice of the spring leading up to UW's Spring Game Saturday afternoon at Memorial Stadium.
Of course you didn't think I meant this Shaq, did you? According to Alex Speier, University of Washington defensive back Shaq Thompson has been invited back to Red Sox camp during his school's spring break. Thompson, a standout high school athlete from California, was drafted in the 18th round of the 2012 draft by the Sox, despite not having played baseball in six years...
Shaq Thompson may have gone 0-for-39 with 37 strikeouts last season with the Gulf Coast League Red Sox in rookie ball, but that doesn't mean he's given up on the sport. Thompson, who also played cornerback, safety and linebacker for the 2012 Washington Huskies, will be returning to the Red Sox this spring and summer. Thompson told the Seattle Times he will travel to Florida this...
MORE STORIES >>
College Football News

Delivered to your inbox

You'll also receive Yardbarker's daily Top 10, featuring the best sports stories from around the web. Customize your newsletter to get articles on your favorite sports and teams. And the best part? It's free!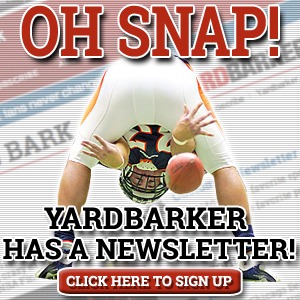 THE COLLEGE FOOTBALL HOT 10