Two seasons ago, Maryland lost all 4 of their quarterbacks over a period of under 2 months (3 of them to ACL injuries) and had to use some creativity to fill that vital position.  In came Freshman linebacker Shawn Petty, who as a Senior at Eleanor Roosevelt High School threw for over 1,200 yards and 15 touchdowns. Reported by the Baltimore Sun, Maryland coach Randy Edsall announced...
When Marshall University's football team takes the field Wednesday, expect a new player to make an appearance. And, he's a player who made national headlines previously in NCAA Division I. Former University of Maryland linebacker Shawn Petty, a 6-foot-2, 240-pound product out of Greenbelt, Md., is expected to join the Thundering Herd after finalizing his transfer paperwork...
If there's an unluckier team in college football than the Maryland Terrapins, I don't know who they are. Remember 2012, when Maryland was so devastated by injuries at the quarterback position that they pulled the redshirt off linebacker Shawn Petty and threw him to the wolves? That happened. Remember last season, when star running back [&hellip No visits yet The post Big...
Injuries took a toll on Maryland's quarterbacks last year, with converted linebacker Shawn Petty finishing the season as the starting...
Shawn Petty was a scout team linebacker for Maryland when last season kicked off. A true freshman, the 6-foot-1, 235-pounder from Greenbelt, Md., was just trying to get into a groove in college and get accustomed to the differences in speed and intensity of the college game. By November, he was the Terrapins starting quarterback. Injuries to four other signal callers forced second...
Maryland coach Randy Edsall has the postgame speech down pat, sounding the same note to the Terrapins loss after loss, season-ending injury after injury. The Terps (4-6, 2-4 Atlantic Coast Conference) dropped their fourth straight game and their second with linebacker Shawn Petty at quarterback due to injuries to four others at the position, falling 45-10 at No. 10 Clemson on Saturday...
Orwin Smith ran for 89 yards and a touchdown, and Georgia Tech stymied a Maryland offense led by linebacker-turned-quarterback Shawn Petty in a 33-13 rout Saturday. The Yellow Jackets (4-5, 3-3 Atlantic Coast Conference) led 20-0 at halftime and 27-0 late in the third quarter before Maryland finally scored on a 16-yard touchdown pass from Petty to Stefon Diggs. Petty also threw...
Desperate Terrapins Look for Answers at Quaterback PositionIt's hard to imagine a program that has been hindered by injury more than the University of Maryland. As the Terrapins get ready to take on Georgia Tech this Saturday, they'll be preparing with true freshman quarterback Shawn Petty.  For those who aren't familiar with Petty, he's not exactly known for his stellar...
Maybe it's all just karma for the way which he left UConn, but whatever the case, there's no doubt that Randy Edsall's time at Maryland has been cursed. Beyond a near revolt from the local media after last year's 2-10 campaign, and beyond any number of high-level players leaving the program via transfer, of the few who've stuck around College Park none can seem to stay...
We've now officially entered unchartered territory as Maryland has lost an unprecedented 4th QB to a season-ending injury.  The new QB is rumored to freshman Linebacker, Shawn Petty, who quarterbacked Greenbelt's Eleanor Roosevelt High School last year.  If Petty goes down, which at this point you need to prepare for, Brian McMahon a freshman TE who powered little...
MORE STORIES >>
College Football News

Delivered to your inbox

You'll also receive Yardbarker's daily Top 10, featuring the best sports stories from around the web. Customize your newsletter to get articles on your favorite sports and teams. And the best part? It's free!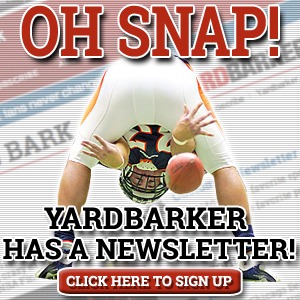 THE COLLEGE FOOTBALL HOT 10