This season, the quarterback situation at USC reminds me of the quarterback situation in 2009 when Matt Barkley enrolled at the University of Southern California. Prior to the 2009 college football season, Mark Sanchez was the starting quarterback of the USC Trojans' football team, but decided to forgo his senior season and enter the NFL Draft. His departure left a big hole in...
LOS ANGELES -- Instead of watching USC's season opener in Los Angeles as previously suspected, USC tailback Silas Redd revealed he was actually in Pensacola, Fla. visiting Dr. James Andrews. USC's young group of tailbacks played well by all accounts and Redd liked what he saw in last Thursday night's 30-13 win over Hawaii. "I was extremely proud," Redd said...
Going into the season, the USC Trojans had a lot of depth at the running back position, led by senior Silas Redd. However, Redd was having issues with his knee. He suffered a meniscus tear during spring practice and hasn't been 100% since. Nevertheless, Redd returned to practice on August 17th hoping to be ready for the team's first game against Hawaii. That didn't happen....
Who is James Toland IV? For starters, he is a 6'0'', 185 pound running back from Shadow Hills High School in Indio, CA. But more than that, he is the newest addition to the Trojans' running back arsenal which includes six talented, scholarship athletes: Silas Redd, D.J. Morgan, Tre Madden, Buck Allen, Ty Isaac and Justin Davis. What makes Toland even more interesting is the...
LOS ANGELES -- Silas Redd had a lot on his mind when he entered the Coliseum on Saturday afternoon. Football wasn't exactly in the forefront. His heart was heavy. There were thoughts of his dad, Silas Redd Sr., battling health issues. And also weighing heavy on him was a fallen friend. He applied the eye black to his face, one strip at a time, and when he took the field...
LOS ANGELES -- Entering a season eligible to compete in the postseason for the first time in three years, a huge focus is on the USC football team as they opened Fall Camp on Monday night. The Trojans will enter the season as the No. 3 team in the nation in the preseason Coaches' Poll. However, with the spotlight on the USC program as they began Fall Camp, no light shined brighter...
The big question on all Penn State football fans minds following player transfers this past week in wake of NCAA sanction is simple: what next? What next in the Nittany Lions' backfield, where 1,200 yard rusher Silas Redd is gone and off to Southern California. Also on offense, quarterback Rob Bolden left for LSU and tight end Kevin Haplea bolted to Florida State. On defense,...
GOING TO HOLLYWOOD
After days of deliberation, Penn State's leading rusher from last season, Silas Redd, will leave Happy Valley to join Lane Kiffin and crew out West.
The recent hammer that has rocked Penn State's football program has yet to result in the forecasted roster purge. Programs such as the University of Georgia wondered out loud what it would be like to pluck select choice players from a vulnerable situation and bring them into their own nest. Those moves have yet to be made and a large chunk of the team has committed to stay onboard...
In the wake of NCAA sanctions the give Penn State players the opportunity to transfer without penalty, USC is pursuing Nittany Lions running back Silas Redd. The Trojans contacted Penn State about their intent to recruit the 5-foot-10, 200-pound junior, who rushed for 1,241 yards and seven touchdowns, said a source with knowledge of the situation. The source requested anonymity...
MORE STORIES >>
College Football News

Delivered to your inbox

You'll also receive Yardbarker's daily Top 10, featuring the best sports stories from around the web. Customize your newsletter to get articles on your favorite sports and teams. And the best part? It's free!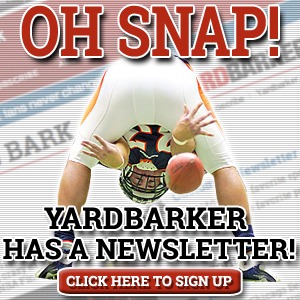 THE COLLEGE FOOTBALL HOT 10