Everyone knows it isn't easy being the new kid, but Randy Edsall and the Maryland football program are excited to begin their journey as members of the Big Ten. Above all else, Edsall looks forward to his players having the opportunity to be a part of the conference. Stefon Diggs is one of many Maryland players who will look to make his mark on the Big Ten this season"I'm happy...
Prior to Maryland's shift to the Big Ten Conference, the Atlantic Coast Conference has had the pleasure of hosting two of the nation's finest wide receivers in Sammy Watkins and now, Stefon Diggs. With that said, the sheer nomenclature — wide receiver (Diggs' listed position) is rather duplicitous, as it fails to encompass his entire skill set.In 2012, Rivals listed him as...
Stefon Diggs had a list of college football teams he could've played for after a stellar career at Good Counsel that propelled him to be a five-star WR recruit. Instead of some of the big named programs, Diggs decided to stay home playing at for the Maryland Terrapins. It's a decision he has stood by, and after NBA megastar LeBron James recently announced he was coming back to...
While most of America is packing coolers, slicing up some watermelon and getting the grill warm, Stefon Diggs is getting in an early morning workout at Byrd Stadium.  The Maryland wide receiver, for the time being, has said no to any Fourth of July partying, for what appears to be an individual workout on College Park's gridiron.  Trying make these fireworks .. pic.twitter.com...
Seen here is Maryland Terrapins wide receiver Stefon Diggs starring in a 5-Hour Energy spoof commercial for the fictitious "1-Hour Terrapin Energy."It shows the sophomore-to-be recounting all the activities he can do in an hour with the help of the fake beverage. Some of those activities include dominating in chess, doing backflips and somersaults in the end zone, racing...
In their second year under Randy Edsall, the Maryland Terrapins stumbled their way to a 4-8 (2-6 ACC) finish. Edsall, who was hired to replace the fired Ralph Friedgen following the 2010 season, has gone 6-18 in his first two years at Maryland (for comparison, Friedgen was 9-4 in his final season and recorded a bowl victory). In all, 2012 was a year to forget in College Park...mostly...
CAN YOU DIG IT?
Although Maryland's season has featured more ACL injuries than wins, one bright spot—and it is really bright because this kid I spectacular—is freshman wideout Stefon Diggs. If you haven't seen or heard of him yet, you're already missing out. Seriously, where have you been? Playing against Florida State, Diggs pulled off the catch of the [...]
CHARLOTTESVILLE, Va. (AP) -- Stefon Diggs returned the opening kickoff 100 yards, and Perry Hills threw for one touchdown and ran for another as Maryland defeated Virginia 27-20 in Atlantic Coast Conference action on Saturday. The kickoff return started a horrendous first quarter for Virginia (2-5, 0-3), which has now lost five in a row. A 20-yard touchdown pass from Hills to Justus...
Freshman Stefon Diggs took a short pass 63 yards to set up a 1-yard touchdown run by Justus Pickett with 5:37 left, and Maryland opened the Atlantic Coast Conference portion of its schedule with a 19-14 win over Wake Forest on Saturday. The Terrapins (3-2, 1-0) snapped a two-game skid and surpassed their victory total from 2011, when they went 2-10 in coach Randy Edsall's first...
It's taken freshman Stefon Diggs only four games to establish himself as a standout receiver, sensational kick returner and sideline cheerleader. Given the fashion in which Diggs has adapted to the college game at Maryland, there's no telling how good he will be four years from now - if he sticks around that long. A five-star prospect coming out of Good Counsel (Md.) High...
MORE STORIES >>
College Football News

Delivered to your inbox

You'll also receive Yardbarker's daily Top 10, featuring the best sports stories from around the web. Customize your newsletter to get articles on your favorite sports and teams. And the best part? It's free!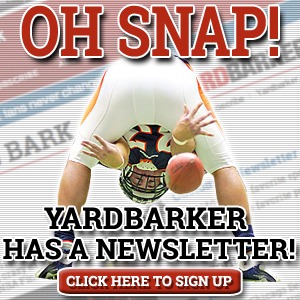 THE COLLEGE FOOTBALL HOT 10