North Carolina's Sylvester Williams (92) was an absolute beast and stalwart for the Tar Heels' defensive line during the 2011 and 2012 seasons. (Photo Credit: Robert Willett/News & Observer) Super Bowl XLVIII was a major disappointment for most fans, unless you were cheering for the Seattle Seahawks. The Seahawks dismantled the Denver Broncos 43-8 in one of the biggest blowouts...
Denver's top draft pick, Sylvester Williams, signed a four-year, $7.6 million deal Thursday, completing an unlikely path from 19-year-old factory worker to NFL riches at 24. Williams' deal includes a $3.9 million signing bonus and another $2.2 million in guarantees. The 313-pound defensive tackle from North Carolina will vie for a starting job with veterans Kevin Vickerson...
An abundance of riches on offense. An abundance of bigness on defense. The Denver Broncos added another big defensive tackle in the draft Thursday and felt like they got a big bargain, as well, when they chose 313-pound Sylvester Williams of North Carolina in the first round. A team that's all but set on offense with Peyton Manning, Wes Welker and company was thought to be...
The VitalsNFL Team: Denver BroncosPick No: 28Player Name: Sylvester WilliamsPosition: Defensive TackleSchool: North CarolinaHeight/Weight: 6'3", 313 How is the fit?Defensive tackle has been a hole for the Broncos for the last couple of seasons.They re-signed Kevin Vickerson and picked up Terrance Knighton in free agency during this offseason. Williams is a good value at...
PICK: Sylvester Williams, DT, North CarolinaANALYSIS: As Mel Kiper just said, Williams was the last of the big 4 defensive tackles. Williams has been mocked as high as 18 to the Cowboys, but this is a better area for him. Denver was certainly in need of a DT, and I think the decision came down to Williams or DE Tank Carradine. Both are decent value's here, so they had a tough...
The following is the 4th in a series of draft profiles for the 1st round pick for the Dallas Cowboys. These profiles are put together with the specific needs of the Cowboys in mind, and is an attempt to examine their resumes and game tape to get an idea of who might fit in best with Dallas come draft day. Surely, circumstances will dictate what actually happens on that day, but we...
In four of the last five years, North Carolina has produced a first round pick in the NFL draft. 2013 should be no different. UNC may never ascend to the top of the NCAA rankings, or even the ACC standings, but year after year they produce top NFL talent. Tune in this Saturday at 3:30 p.m. on NESNplus to see the Tar Heels (2-2) take on Idaho (0-4) at Kenan Memorial Stadium in Chapel...
MORE STORIES >>
College Football News

Delivered to your inbox

You'll also receive Yardbarker's daily Top 10, featuring the best sports stories from around the web. Customize your newsletter to get articles on your favorite sports and teams. And the best part? It's free!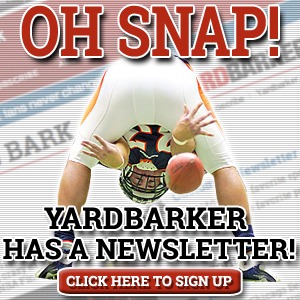 THE COLLEGE FOOTBALL HOT 10