On Wednesday, former LSU Tigers offensive lineman T-Bob Hebert took part in a Reddit AMA and a question came up about the 2010 LSU/Tennessee game. The 2-2 Tennessee Vols led the undefeated #12 LSU Tigers by a score of 14-10 late in the fourth quarter. With LSU inside the Vols five yard line and time running out, here's what happened…. All you can say about that is….wow. Here's...
Reddit was one of the sites that I featured on our list of favorite college football sites and one of my favorite things they do is their AMA (Ask Me Anything) series. If you missed the one they did with Kliff Kingsbury, you can catch up on that here. This week they had former LSU Tigers offensive lineman T-Bob Hebert. He was a part of the 2007 National Championship team (although...
If Bobby Hebert disappeared off the face of the earth, I highly doubt LSU coach Les Miles would shed a tear. Hebert is a die-hard Tigers fan but also one of the biggest Miles critics going, and he was back at it again during a recent interview with Les Carpenter of Yahoo! Sports. Hebert is a former New Orleans Saints quarterback and has a son, T. Bob Hebert, who played for LSU last...
Saturday night's game between Alabama and LSU was everything it was hyped up to be and more, as Nick Saban's team further proved that they are the best team in the nation by pulling off a fourth quarter comeback on the road. The game had fans on the edge of their seats, but none more than radio host and notorious LSU supporter Bobby Hebert. According to Jeff Duncan of The Times...
T-Bob Hebert is a senior offensive lineman for the LSU Tigers and he recently got into it with a certain sports writer. He happens to be a friend of the site. His name is Steve Holley and you should be following him at @WriterInBlack. Holley is a pretty cool/reasonable guy. I've never seen him write some piece to mess with someone or try and get PageViews for some crazy tactic...
www.youtube.com/watch?v=hpKW6AlaJJw I assume that, being a former Saints quarterback allows you the freedom to roam throughout the catacombs of the Superdome at your leisure without need for proper credentialing.  That would be an adequate explanation of how Bobby Hebert, father of current LSU lineman T-Bob Hebert, was allowed into the Les Miles post-game press conference…and...
Bobby Hebert was none too pleased with LSU coach Les Miles Monday night.You may recall Hebert as a colorful athlete during his stint as New Orleans Saints quarterback. Now he is a colorful host for WWL-AM sports talk radio shows.His passion for LSU football is intensified by the fact his son, the classically named T-Bob Hebert, is a Tigers offensive lineman.So Bobby was vexed by...
In Louisiana football, Bobby Hebert comes with the territory: The Cut Off, La., native was the first quarterback ever to lead the New Orleans Saints to the playoffs, and has spent the last six years as the most prominent voice on the local AM radio giant, WWL, where his enthusiastic, mush-mouthed stylings dominate the late afternoon drive slot. From Les Miles' perspective, he...
The sea was angry last night my friends. Like an old man trying to send soup back at a deli, Bobby Hebert's rant towards Les Miles commanded the media's attention. First, we need a little background. Hebert is the former Saints and Falcons quarterback. He's a current sports talk radio host in New Orleans, and his son, T. Bob Hebert, is the center on LSU's team. So not only...
Via TBob53This is how the Hebert family celebrates Christmas. I wonder how the Honey Badger is celebrating his. Geaux Tigers!
MORE STORIES >>
College Football News

Delivered to your inbox

You'll also receive Yardbarker's daily Top 10, featuring the best sports stories from around the web. Customize your newsletter to get articles on your favorite sports and teams. And the best part? It's free!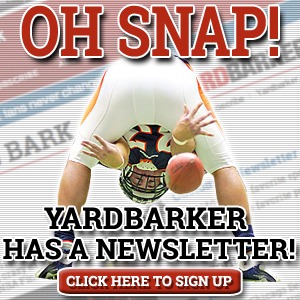 THE COLLEGE FOOTBALL HOT 10