In mid-May, we reported that former Michigan quarterback/one-time September Heisman Trophy leader Tate Forcier had signed a contract with the Hamilton Tiger-Cats of the Canadian Football League.  In mid-May we also reported that we would be surprised if Forcier enjoyed any type of success in the CFL. In mid-June, we are reporting that Forcier did not have any success in the CFL...
Former Michigan quarterback Tate Forcier's days as a Canadian Football League player have apparently come to an end. The Hamilton Tiger-Cats, who signed Forcier a month ago, have released him after one pre-season game appearance. He went 0-4 in passing, which is never good if you want to keep a job as QB. Especially if you want to have any kind of future playing football. ...
As you go down what you think is the last turn on this bumpy roller coaster ride, this story I'm sure is not over. Yet. Forcier left his college eligibility, and his LOI's and commitments to like 4 different colleges. I was starting to wonder when we would hear this story again, since we heard over the past few years that he was not happy in Ann Arbor with the Wolverines. When...
After two turbulent seasons with Michigan, a transfer request to Miami, and a brief stint with San Jose State, quarterback Tate Forcier has finally ended his college football quest and found a new home in the pro ranks.  Over the weekend, the once highly touted quarterback decided to take his talents north signing with the Hamilton Tiger-Cats of the Canadian Football League (CFL...
Forcier to Join the CFLFormer Michigan quarterback Tate Forcier isn't ready to give up his football dreams just yet. On Monday, the former Wolverine announced his intention to play for the Hamilton Tiger-Cats of the Canadian Football League. Forcier had an up and down college career that saw him transfer from Michigan to San Jose State where he never even took a snap.  He told...
"O, Canada..." It's been a while since we've heard from  Tate Forcier. That's about to change as former the Michigan quarterback has signed to play with the Canadian Football League's Hamilton Tiger-Cats. "I'm so excited and happy to have this chance after everything I've gone through," said Forcier, 21. Forcier...
In 2009, Tate Forcier became just the third true freshman starting quarterback at the University of Michigan.  That was then.  During his freshman year, Forcier was Mr. September leading Michigan to a 4-0 record with wins over powerhouses Eastern and Central Michigan, Indiana and lowly Notre Dame.  Amongst the Wolvie faithful, Forcier was a legit Heisman candidate. And then Tator...
The Rich Rodriguez Era at Michigan did at lot to screw up the standing of college football's winningest program. After a year of hindsight, Denard Robinson seems to be the only positive thing Rodriguez actually did while in Ann Arbor. Now everyone seems relieved that new coach Brady Hoke was competent enough to get the program back to something like normalcy when...
THE WAY OUT OF SAN JOSE
Tate Forcier's playing days at San Jose State are over before they even began. The former Michigan QB, who had transferred after the 2010 season, has reportedly left the school for academic issues.
Furman quarterback Chris Forcier has rediscovered his game in a most unlikely place. The UCLA transfer has persevered through a shoulder injury, a coaching change and the kind of anxiety that comes from not knowing where you stand in a program. But the former highly rated high school quarterback has fought through it all in a turnaround season for himself and the Paladins. Forcier...
MORE STORIES >>
College Football News

Delivered to your inbox

You'll also receive Yardbarker's daily Top 10, featuring the best sports stories from around the web. Customize your newsletter to get articles on your favorite sports and teams. And the best part? It's free!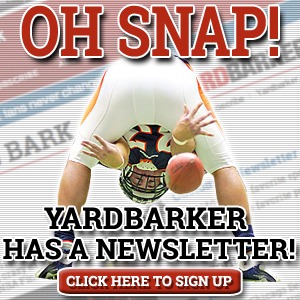 THE COLLEGE FOOTBALL HOT 10