Malcolm Mitchell (Photo Credit: Kevin C. Cox/ Getty Images) Two names will be missing from Georgia's receiving corps this upcoming season. With Tavarres King and Marlon Brown now playing in the NFL, most teams would be worried as to how to fill the gap left by such productive receivers. King, now with the Broncos, finished his career at Georgia with 21 receiving touchdowns and...
While a majority of fans will be focusing on the Georgia Bulldogs first official day of fall camp (in case you missed it: they received their play books yesterday and hit the practice field today), there are some former Dawgs…Read more →
The Georgia Bulldogs are in the process of putting a ferocious beatdown on the Auburn Tigers. It's not a unique occurrence on the Plains this season. Wide receiver Tavarres King's balletic grab in the end zone off a 17-yard bullet by Georgia quarterback Aaron Murray in the second quarter helped the 'Dawgs pop the top off that can of whoop-ass. On a day filled with incredible...
Tavarres King scoffs at the idea Georgia players could have difficulty playing with the same intensity in Saturday's game against Mississippi that they showed in last week's upset of then-No. 3 Florida. The 17-9 win over the Gators gave No. 7 Georgia control of the Southeastern Conference's Eastern Division. To earn a repeat trip to the SEC championship game, quarterback...
ATHENS - Tavarres King after Georgia's win over Buffalo.
(Covering Dixie Like Mildew is the SWRT roundup of SEC news, with the occasional pesky Southern school from another conference.) I was of a feeling it was out of control.  A look at the LSU QB Zach Mettenberger hype machine. (The Baton Rouge Advocate)   The Bolden and the Beautiful? Penn State quarterback Rob Bolden, who lost his starting job to Matt McGloin last season...
This picture is award winning, in my humble opinion.  There is nothing that screams Pulitzer like a 351-pound Georgia defensive lineman sleeping while sucking his thumb.  Tavarres King, a wide receiver also on Georgia, Tweeted this pic of his teammate which is so incredibly hard to not laugh at.  If I were Tavarres I would be afraid to sleep for the rest of my life. via...
From the "What goes on the internet stays in our collective nightmare closet" department comes this somewhat disturbing image of a sleeping Georgia defensive tackle John Jenkins sucking his thumb taken by Bulldog wide receiver Tavarres King. First, you probably don't want to know where that thumb has been. Second, you definitely don't want to know what's...
If you want to know what Tavarres King is doing, just hop on Twitter and check out @TKUnoDos. The tag is a play off his jersey number at Georgia, and like his main asset on the football field, his tweets come fast. King is relentless with his updates and responses to his friends and followers, often tweeting several times an hour and only stopping when he's asleep. "I...
 Chris Conley Scores (Photo: Brant Sanderlin) Don't look now Bulldog fans, but you may have the makings of a major play maker on your roster next season. No, I'm not talking about Malcolm Mitchell (you already know he's a gamer), or Michael Bennett (I told you about him a long time ago, remember?), and no, I don't mean Rhett McGowan (although I did enjoy his...
MORE STORIES >>
College Football News

Delivered to your inbox

You'll also receive Yardbarker's daily Top 10, featuring the best sports stories from around the web. Customize your newsletter to get articles on your favorite sports and teams. And the best part? It's free!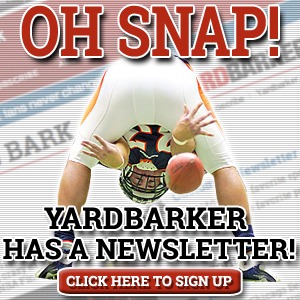 THE COLLEGE FOOTBALL HOT 10