Two games into his second season at Syracuse, Scott Shafer likes the direction his Orange seem to be headed after a disappointing start. ''I thought that they definitely improved. They definitely upgraded their game,'' Shafer said of Saturday's 40-3 road victory over Central Michigan. ''I did see good strides.'' Those steps came after plenty of...
Credit: Mitch Stringer-USA TODAY Sports Syracuse's upcoming contest against Maryland on Saturday could be a turning point for this team. Starting the season 3-0 after an embarrassing opening performance against Villanova would not only silence the doubters a bit longer, but also give the team momentum heading into the Notre Dame game. The Fighting Irish have a bye this week,...
Syracuse's coaching staff was under fire following the opening night near-disaster against Villanova. But Terrel Hunt highlighted a reassuring victory for the Orange on Saturday. SU coasted 40-3 over Central Michigan, in part to the starting quarterback's return to the lineup. The Syracuse offense lit up CMU's defense, while Cooper Rush looked frightened in the pocket on...
Using a well-balanced attack of power running and quarterback accuracy and power, the Orange surprised many with a dominating effort on the road. Central Michigan had just beaten up Purdue the week earlier, while SU struggled to defeat FCS Villanova. But Terrel Hunt played like the quarterback he insisted he was, the receiving group stepped up big, and the defense pressured the...
After Syracuse barely knocked off Villanova, the Orange try to make it two straight wins, but hopefully this one in better fashion. Two major things went wrong in the Villanova game. The defense was far less effective than last year. And Terrel Hunt used his fists (which never serves a point in football). But there's more to it. A program that has won three bowl games in four...
Syracuse quarterback Terrel Hunt will not receive additional punishment after he was ejected for punching Villanova linebacker Dillon Lucas in the second quarter of SU's 27-26 double-overtime win on Friday night, an Atlantic Coast Conference spokesperson said on Tuesday. With the Orange leading 10-7 and 3:24 left before halftime, Hunt took a draw play up the middle and was initially...
There is dumb and than there is dumb--and than there is the play Syracuse quarterback Terrel Hunt made Friday night against Villanova. After getting tackled for some stupid reason he decided to punch the defender across the facemask--with the ref standing just a few feet away watching.Talk about dumb, right?@cjzero/TwitterHunt was ejected and I am sure he is going to face one heck...
During tonight's game against the Villanova Wildcats, the Syracuse Orange lost their starting quarterback Terrel Hunt to a first quarter ejection. So what led to Hunt's ejection? After an almost late hit by Villanova linebacker Dillon Lucas, Hunt decided to give the linebacker a punch to the facemask. While the hit was probably a bit late, Hunt needs to know better than to throw...
The Syracuse football team got their 2014 season underway with a 27-26 double overtime victory over Villnova on Friday, but for the majority of the game they were without their starting quarterback. Late in the second quarter, Terrel Hunt was tackled by Joey Harmon during a rushing attempt. On his way to the ground, the […]
((HT: ACCDN))Without their starting QB, it took a failed 2-point conversion in the bottom of the second overtime for Syracuse to barely beat Villanova (otherwise known as FCS/Division I-AA Villanova)), 27-26.Syracuse starting QB Terrel Hunt got ejected after throwing a punch on Villanova LB Dillon Lucas. Hunt also received a 15-yard Unnecessary Roughness penalty on the play and it...
MORE STORIES >>
College Football News

Delivered to your inbox

You'll also receive Yardbarker's daily Top 10, featuring the best sports stories from around the web. Customize your newsletter to get articles on your favorite sports and teams. And the best part? It's free!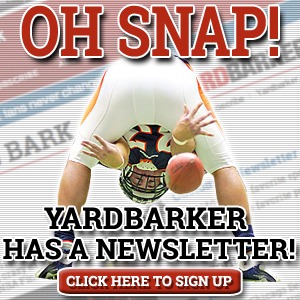 THE COLLEGE FOOTBALL HOT 10