Follow the Fizz on Twitter for the latest SU football news via espn Terrel Hunt seemed surprised after he was ejected for punching Villanova linebacker Dillon Lucas, and he wasn't the only one. Postgame, Scott Shafer talked about the incident as more of a competitive and fiery play than a mistake. He said three or four years ago it would not have been an issue. That may be...
There is dumb and than there is dumb--and than there is the play Syracuse quarterback Terrel Hunt made Friday night against Villanova. After getting tackled for some stupid reason he decided to punch the defender across the facemask--with the ref standing just a few feet away watching.Talk about dumb, right?@cjzero/TwitterHunt was ejected and I am sure he is going to face one heck...
During tonight's game against the Villanova Wildcats, the Syracuse Orange lost their starting quarterback Terrel Hunt to a first quarter ejection. So what led to Hunt's ejection? After an almost late hit by Villanova linebacker Dillon Lucas, Hunt decided to give the linebacker a punch to the facemask. While the hit was probably a bit late, Hunt needs to know better than to throw...
The Syracuse football team got their 2014 season underway with a 27-26 double overtime victory over Villnova on Friday, but for the majority of the game they were without their starting quarterback. Late in the second quarter, Terrel Hunt was tackled by Joey Harmon during a rushing attempt. On his way to the ground, the […]
Follow the Fizz on Twitter for the latest SU football news via syracuse.com Well, that escalated quickly. Syracuse needed double overtime to get its first win of the season–and let me tell you, it was not pretty at all. Terrel Hunt shocked the Carrier Dome when he was ejected late in the first half for throwing a punch at a Villanova player. A missed chip shot by Villanova gave...
((HT: ACCDN))Without their starting QB, it took a failed 2-point conversion in the bottom of the second overtime for Syracuse to barely beat Villanova (otherwise known as FCS/Division I-AA Villanova)), 27-26.Syracuse starting QB Terrel Hunt got ejected after throwing a punch on Villanova LB Dillon Lucas. Hunt also received a 15-yard Unnecessary Roughness penalty on the play and it...
Follow the Fizz on Twitter for the latest SU football news Syracuse football is back. Today is officially the day that the second year of the Scott Shafer era begins, and it all starts in the Dome against Villanova.  This team is coming off a 6-6 season and a bowl game win. The expectations are much higher going into this season, with hopes that Syracuse can compete in the ACC...
Follow the Fizz on Twitter for the latest SU football news   via nfl.com Terrel Hunt is the ninth-rated junior quarterback in college football, according to CBSSports' 2016 NFL draft prospect board. Since Hunt is in the top 10, that means that, as of right now, he has a realistic chance of being drafted after he graduates. Hunt definitely had a successful sophomore season last...
Here are four things we gleaned from Syracuse's 21-17 win over Minnesota in the Texas Bowl, the Gophers' second straight setback in this event: 1. Syracuse has developed an affinity for comeback wins On Nov. 30, the Orange pulled off their first last-minute victory of the season, the culmination of freshman QB Terrel Hunt hitting Josh Parris on a short touchdown pass with...
Sophomore Terrel Hunt will make his first start at quarterback for Syracuse on Saturday against Tulane in the Carrier Dome. Scott Shafer's...
MORE STORIES >>
College Football News

Delivered to your inbox

You'll also receive Yardbarker's daily Top 10, featuring the best sports stories from around the web. Customize your newsletter to get articles on your favorite sports and teams. And the best part? It's free!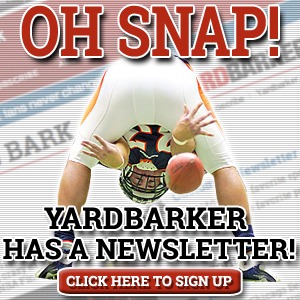 THE COLLEGE FOOTBALL HOT 10