Follow the Fizz on Twitter for the latest SU football news   via nfl.com Terrel Hunt is the ninth-rated junior quarterback in college football, according to CBSSports' 2016 NFL draft prospect board. Since Hunt is in the top 10, that means that, as of right now, he has a realistic chance of being drafted after he graduates. Hunt definitely had a successful sophomore season last...
Athlon Sports asked a bunch of anonymous ACC coaches (which could mean anything from head coaches to the strength & conditioning guys) to talk about all of the other teams in the conference. Altold, Anonymous ACC Coach seems to be rather fond of the Syracuse Orange... "They were very physical up front and defensively. By the end of the year they were playing extremely...
Follow the Fizz on Twitter for the latest SU football news via examiner.com As a part of the recent media days, many ACC coaches, including Scott Shafer, spent time at ESPN headquarters. While talking to Ivan Maisel, Shafer said the close wins at the end of last season were great for momentum—and especially for Terrel Hunt, who really came along against BC and Minnesota. Shafer...
Follow the Fizz on Twitter for the latest SU football news via ap When Syracuse revealed its depth chart for the upcoming football season, there were a lot of question marks.  There are disputes over positioning on both lines, as well as anticipation surrounding the wide receiver corps.  One position that is certainly not up for debate, however, is the play-caller. Unlike last...
Follow the Fizz on Twitter for the latest SU football news via rivals Even with six quarterbacks on the current roster, Syracuse still has young QBs on its radar. Lamar Jackson is a 6'2", 200-pound quarterback out of Boynton Beach Community High School in Boynton Beach, Fla.  He is a recruit in the Class of 2015 and could possibly be one of the guys to compete for a job when...
Here are four things we gleaned from Syracuse's 21-17 win over Minnesota in the Texas Bowl, the Gophers' second straight setback in this event: 1. Syracuse has developed an affinity for comeback wins On Nov. 30, the Orange pulled off their first last-minute victory of the season, the culmination of freshman QB Terrel Hunt hitting Josh Parris on a short touchdown pass with...
Sophomore Terrel Hunt will make his first start at quarterback for Syracuse on Saturday against Tulane in the Carrier Dome. Scott Shafer's...
Terrel Hunt ignited Syracuse with five first-half touchdown drives to carry the Orange to a 54-0 rout of Wagner Saturday at the Carrier Dome. The sophomore quarterback ripped the overmatched Seahawks (1-2), an FCS opponent, completing 15 of 18 passes for 265 yards and three touchdowns. Including Syracuse's loss against Northwestern last week, Hunt has quarterbacked seven drives...
One stood in the lobby of the Syracuse football complex, cameras in his face amid the glaring lights, answering question after question. The other, just a few feet away, spoke softly to the lone reporter who had requested to speak with him, happy to oblige for the good of the team. Such is life for Orange starting quarterback Drew Allen and Terrel Hunt, the man Allen beat out for...
The Syracuse Orange football spring game took place Saturday. Here's what happened... First of all, shame on all of us for not helping make George McDonald's dream a reality. He fell 16,178 short of his stated goal of 20,000 SU fans in attendance. Since you're bad at math (and so am I), that means 3,822 people did show up. McDonald remains unfazed... "I wasn'...
MORE STORIES >>
College Football News

Delivered to your inbox

You'll also receive Yardbarker's daily Top 10, featuring the best sports stories from around the web. Customize your newsletter to get articles on your favorite sports and teams. And the best part? It's free!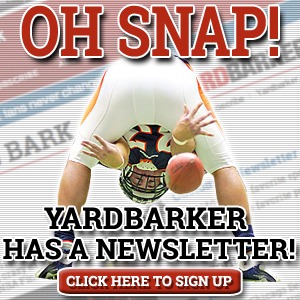 THE COLLEGE FOOTBALL HOT 10