A Look back at Ohio State/ Terrelle Pryor Saga   For years, the NCAA has battled numerous controversies and questions, regarding on how they punish their participants. In some eyes, punishments directed at players and personnel are viewed as too harsh; on the other side of the spectrum, some believe that punishments towards participants aren't […] The post A Look Back at Ohio...
The Ohio State football program is roughly three years removed from "Tattoo-Gate," the NCAA scandal that rocked the college sports world in 2011, eventually leading to Jim Tressell and E. Gordon Gee's resignation and the departure of star quarterback Terrelle Pryor.  Cleveland.com's Doug Lesmerises is doing a series of stories on the subject, "giving voice to those involved...
Millions of words have been written about Ohio State's starting quarterback from Huber Heights, Ohio. He is easily the most recognizable member of the entire football team. The leader. The captain. The Heisman Favorite. Miller will enter the season with enormous expectations and by all accounts, he appears to be ready for the task at hand. Only time will show whether or not he...
In 2010, Ohio State quarterback Terrelle Pryor was suspended for the first five games of the Buckeyes' season and mandated to pay back $2,500 as a result of selling his 2008 Big Ten championship ring and other Ohio State memorabilia. That very ring resurfaced and was up for auction on eBay last week.  The bidding ended Saturday with the ring going to the winning bidder for a mere...
The 2008 Big Ten championship ring that former Ohio State quarterback Terrelle Pryor sold — and partly led to his suspension in 2010 — is apparently up for sale again. The claimed ring is now available on eBay and is currently bidding at over $4,000 with less than 10 hours left in the auction. The ring's seller also claims to have other Buckeye memorabilia, including a 2002...
Considering that Ohio State finished the season with a 12-0 record; the 2012 College football season ended undecided even though Alabama did beat Notre Dame in the BCS Championship game.Alabama and the SEC should thank former Buckeyes quarterback Terrelle Pryor and former head coach Jim Tressel for their National Championship. Without the bowl ban on the Buckeyes; the Crimson Tide...
In case you were watching the College World Series and didn't realize the Heat & Thunder played Game 5 tonight, word on the streets in Miami is that Bron Bron got his first ring via a blowout. Maybe you missed this tweet from Terrelle Pryor. It's one that'll warm the heart of anyone who has sports rooting interests in the Buckeye State. Sweet dreams, Ohio. See you in the...
Patrick Maks is back, this time with a take on a former Ohio State player who has recently been in the news due to lengthy profile in Sports Illustrated. Patrick asks, was it all worth it? Before he'd ever taken a snap as a college quarterback, Terrelle Pryor received a standing ovation on a brilliantly sunny day against Youngstown State in Ohio State's cakewalk of an opener...
For all you BUCKNUTS out there, today is judgment day. Ohio State Athletic director Gene Smith confirmed to The Associated Press early Tuesday that the NCAA's committee on infractions would hand down its final sanctions on the storied college football program at 3 p.m. EST. This is when the NCAA will hold their teleconference. You know what this is about of course: Terrelle Pryor...
Remember the salad days when the Ohio State Buckeyes were the disgrace of the Big Ten? Or when Cam Newton at Auburn or Nevin Shapiro at Miami was considered the most polarizing and/or loathable figure in college football? Today however, free tattoos and Terrelle Pryor at OSU is overshadowed by a division rival in the very next state over. A renegade booster paying for prostitutes...
MORE STORIES >>
College Football News

Delivered to your inbox

You'll also receive Yardbarker's daily Top 10, featuring the best sports stories from around the web. Customize your newsletter to get articles on your favorite sports and teams. And the best part? It's free!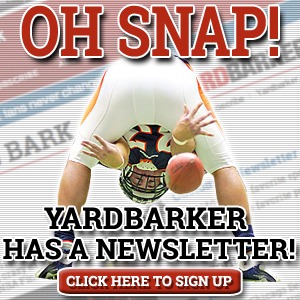 THE COLLEGE FOOTBALL HOT 10