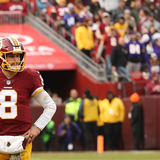 Week 10 saw one of the NFL's two remaining winless teams get a much-needed victory, plus a myriad of upsets or near-upsets, and some top performances. We also saw stars and teams struggle in unexpected fashion as the playoff race really begins to heat up.Here are the 15 biggest disappointments from NFL Week 10.Buffalo Bills' defenseA once-promising Bills season is headed in the completely...
The Carolina Panthers didn't take any chances this time, removing quarterback Cam Newton to evaluate him for concussion symptoms after a hard hit in the fourth quarter of their 48-33 loss to the Atlanta Falcons on Sunday. Newton was removed after he was hit cleanly by Falcons linebacker Deion Jones on a successful 2-point conversion run that pulled the Panthers within 34-18. Derek...
CHICAGO (AP) The Latest on the first day of the NFL draft (all times local): 7:45 p.m. Earlier Thursday, Raiders owner Mark Davis tried to get an early start on the NFL draft, all the way from Las Vegas. Appearing before a commission to discuss a new stadium for the team in Sin City, Davis began his comments with a light-hearted comment about the draft. ''I'm excited to announce...
CHARLOTTE, N.C. (AP) Three days before the NFC divisional playoffs and Carolina Panthers All-Pro linebackers Luke Kuechly and Thomas Davis were in a heated competition before practice. They were seeing who is better at throwing the football underhand on Thursday. There isn't much the two former first-round draft picks don't compete at, and it seems to be working. ''Whatever kind...
CHARLOTTE, N.C. (AP) The Carolina Panthers have never questioned veteran outside linebacker Thomas Davis' toughness. Now the national audience won't, either. During the fourth quarter of last Sunday's game against the Seattle Seahawks, the 32-year-old Davis dislocated his left ring finger while taking on a block, quickly popped it back into place and finished out the play by making...
Thomas Davis is one of the toughest players in the NFL and has proven himself to be a star throughout his career. He is also one of the most caring players in the league and is always looking to help the fans in any way that he can. However, it was something that he did on-field this past week that has been gaining a lot of attention from the media recently. Davis was pursuing the...
Carolina Panthers linebacker Thomas Davis dislocated his finger in the middle of a play against the Seattle Seahawks last week, but that wasn't enough to stop him from making the tackle. Bill Voth of Black and Blue Review passed along a rather shocking piece of the latest edition of NBC Sports Network's "Turning Point," which...Read More
Seattle Seahawks tight end Jimmy Graham has had some harsh words tossed his way abotu his trash talking and over concern over statistics, but Panthers linebacker Thomas Davis blasted the pass catcher after his team upset the NFC Champions on Sunday. Graham had a game-high 140 receiving yards Sunday against Carolina, but his team lost 27-23. "I don't even know what to call him. He...
The Carolina Panthers delivered an impressive comeback victory over the Seattle Seahawks on Sunday, and that gave at least one of their players the confidence to chirp afterwards. Linebacker Thomas Davis had eight tackles and a sack in Carolina's 27-23 win at Seattle and criticized Seahawks tight end Jimmy Graham afterwards. "He's probably one of those guys who is excited about...
The Carolina Panthers met with the media on Thursday as they are preparing for their week 6 matchup with the Seattle Seahawks. There wasn't too much trash talk that the Seahawks will be able to use as bulletin board material, but LB Thomas Davis did have some interesting things to say about Seahawks TE Jimmy Graham. "There won't be any love lost (between us)," Thomas said. Graham...
MORE STORIES >>
College Football News

Delivered to your inbox

You'll also receive Yardbarker's daily Top 10, featuring the best sports stories from around the web. Customize your newsletter to get articles on your favorite sports and teams. And the best part? It's free!
THE COLLEGE FOOTBALL HOT 10