Florida's favorite son has returned to Gainesville this afternoon.  Tim Tebow, the former Heisman and two-time national championship-winning Gators' quarterback, is on Florida's campus today as part of his SEC Network duties. The ESPN college football analyst is part of the SEC Network's team that is broadcasting live from Gainesville prior to Florida's home contest against...
Tim Tebow's full-time SEC Network analyst debut went fairly well by all accounts. The highlight was this impression of Steve Spurrier trying and failing to recruit him to South Carolina. Spurrier probably could have used Tebow last night as his Gamecocks were destroyed in the home opener by Texas A&M.  Hopefully this is a new beginning for Tebow as he can finally grow out...
Florida Gators fans sing Tim Tebow "Happy Birthday" as he waits to broadcast live for the SEC Network.
Tim Tebow previews the Florida Gators 2014 season, and is optimistic the team can compete better than it did in 2013.
While speaking at a football camp over the weekend, Ohio State head coach Urban Meyer said that his Florida Gators team of '08 was the best to ever play the sport.  As reported by ohiostatescout.com, Meyer said "I've been a part of a couple great teams, I think the best team to ever play the game in '08 (at Florida). And that was (because) animal instincts took over on...
According to the Cleveland Plain Dealer, the Ohio State Buckeyes self-reported a total of 43 secondary violations for all sports in its athletic department in 2013.Strangely, one of the violations involves former Florida Gators standout Tim Tebow. As the story goes, Tebow and ex-coach Urban Meyer, who nows serves as head man at Ohio State, were having lunch together in March of 2013...
That noise you hear? That is the book closing on Tim Tebow's football career. However, the former Florida Gators standout and Heisman Trophy winner will continue to be a part of your football lives, when he begins his new gig…Read more →
BLASPHEMY!
The Florida Gators legend recently admitted that with his former coach Urban Meyer at the helm, he has developed into a "pretty big fan" of the Ohio State Buckeyes.
ULTIMATE SOUVENIR
One of our goals here at BC is to bring you some of the most outrageous sports related items that the internet has to offer. This just might top everything we've shown you before: a 13 ft. alligator, stuffed and mounted rocking a Tim Tebow jersey. Topping this gem off is the football that is duct taped (yes, duct taped) to the gators hand. It's signed by Tebow, Steve Spurrier...
Tim Tebow and Cam Newton are featured on two separate covers of GQ magazine's September "NFL Kick-Off" Issue, but it's a photo from Tebow's spread that's receiving the most attention. In one photo Tebow poses on a football field with his arms spread like Jesus Christ on the crucifix. It turns out the photo was shot while Tebow was in college at the University of Florida...
MORE STORIES >>
College Football News

Delivered to your inbox

You'll also receive Yardbarker's daily Top 10, featuring the best sports stories from around the web. Customize your newsletter to get articles on your favorite sports and teams. And the best part? It's free!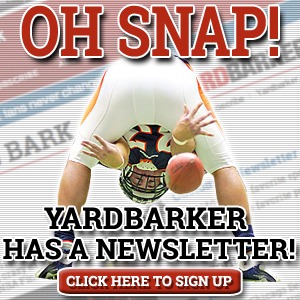 THE COLLEGE FOOTBALL HOT 10