Will Grier won't be Florida's starting quarterback–Jeff Driskell will be–but perhaps the Gators' freshman could see some time on the field due to his athleticism.  Yesterday, Grier and fellow freshman DeAndre Goolsby were having some fun at Ben Hill Griffin Stadium following a workout. Goolsby kicked a ball to Grier, who caught it midair while doing a backflip.  Check...
If you ask Urban Meyer, he will tell you that his 2008 Florida Gators squad was one of the best ever, maybe even the best. If you ask Jevan Snead though, he may give you a different answer. Coming off of a 9-4 2007 season, the Florida Gators got off to a 3-0 start and were ranked 4th in the Nation. Ole Miss was 2-2 having already lost to the duo of Vandy and Wake Forest and was headed...
While speaking at a football camp over the weekend, Ohio State head coach Urban Meyer said that his Florida Gators team of '08 was the best to ever play the sport.  As reported by ohiostatescout.com, Meyer said "I've been a part of a couple great teams, I think the best team to ever play the game in '08 (at Florida). And that was (because) animal instincts took over on...
Tim Tebow sat out the entire 2013 season because of lack of interest in his services. That has not stopped the former Heisman trophy winner from working hard at a comeback. Tebow is currently employed by ESPN as an analyst for the SEC network but that has not slowed down his desire to be a professional quarterback. Urban Meyer, Tebow's former collegiate coach with the Florida...
According to the Cleveland Plain Dealer, the Ohio State Buckeyes self-reported a total of 43 secondary violations for all sports in its athletic department in 2013.Strangely, one of the violations involves former Florida Gators standout Tim Tebow. As the story goes, Tebow and ex-coach Urban Meyer, who nows serves as head man at Ohio State, were having lunch together in March of 2013...
That noise you hear? That is the book closing on Tim Tebow's football career. However, the former Florida Gators standout and Heisman Trophy winner will continue to be a part of your football lives, when he begins his new gig…Read more →
BLASPHEMY!
The Florida Gators legend recently admitted that with his former coach Urban Meyer at the helm, he has developed into a "pretty big fan" of the Ohio State Buckeyes.
ULTIMATE SOUVENIR
One of our goals here at BC is to bring you some of the most outrageous sports related items that the internet has to offer. This just might top everything we've shown you before: a 13 ft. alligator, stuffed and mounted rocking a Tim Tebow jersey. Topping this gem off is the football that is duct taped (yes, duct taped) to the gators hand. It's signed by Tebow, Steve Spurrier...
Tim Tebow and Cam Newton are featured on two separate covers of GQ magazine's September "NFL Kick-Off" Issue, but it's a photo from Tebow's spread that's receiving the most attention. In one photo Tebow poses on a football field with his arms spread like Jesus Christ on the crucifix. It turns out the photo was shot while Tebow was in college at the University of Florida...
BORN TO BE MILD
Actually, this is not Tim Tebow's motorcycle. We don't imagine Tim Tebow would ride a motorcycle. That's way too much of a badass thing to do and, you know, he's a praise the lord kinda guy, which is basically anti-badass. What this is, is a custom-made NCAA Championship Florida Gators motorcycle autographed by The Chosen One, himself. Oh, and you can own it! That is...
MORE STORIES >>
College Football News

Delivered to your inbox

You'll also receive Yardbarker's daily Top 10, featuring the best sports stories from around the web. Customize your newsletter to get articles on your favorite sports and teams. And the best part? It's free!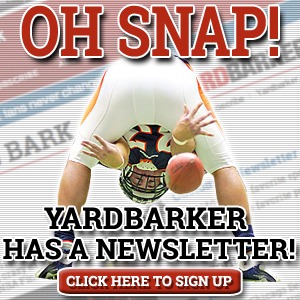 THE COLLEGE FOOTBALL HOT 10