North Carolina finally has depth at the running back position and all four backs will see the field early in the season.  It will be interesting to see how Seth Littrell involves each running back in the offense and if one or two of these players separates them self from the rest of group. TJ Logan was not available for North Carolina early in the year do to an injury however once...
Malik Simmons is a junior defensive back that plays for the North Carolina Tar Heels. He was a big piece of the defense last season, and figures to be an even more prominent player in the grand scheme of things this year. We were able to do an exclusive interview with him and we hope that you enjoy it! Q. Thanks for taking the time to do this interview Malik. How are you doing today...
GREENSBORO, N.C. --- C.J. Freeman has filled in admirably for Northern Guilford at the spot vacated by T.J. Logan, one of the best running backs the Tar Heel State has produced. North Carolina is among the many schools that have expressed interest in the 5-foot-10, 180-pounder.
The North Carolina Tar Heels have broken their Belk Bowl jinx. T.J. Logan returned a kickoff 78 yards for a touchdown, and Ryan Switzer scored on an 86-yard punt return to help North Carolina beat Cincinnati 39-17 on Saturday for its first Belk Bowl victory in four attempts. Marquise Williams threw for 171 yards and a touchdown for the Tar Heels (7-6) in their first bowl victory...
North Carolina Tar Heels freshman running back T.J. Logan scored a 78-yard kickoff return for a touchdown in the Belk Bowl against Cincinnati.
UNC is now bowl eligible and will face Duke next week When Saturday began UNC's football team was on the verge of knocking on the door of bowl eligibility. I guess head coach Larry Fedora was scared that if he just knocked they might not hear him, so his team decided to blow the hinges off the door as North Carolina (6-5) demolished Old Dominion (8-3) by the score of 80 to 20....
When head coach Larry Fedora was hired as the North Carolina football coach prior to the 2012 season, he warned fans of offensive explosions, such as the one Saturday against Old Dominion. Running back T.J. Logan (8) celebrates one of his four touchdowns during North Carolina's 80-20 victory over Old Dominion on Saturday. (Photo Credit: Chris Seward/News & Observer) "You...
Freshman T.J. Logan ran for a 14-yard touchdown with 11:19 left to help North Carolina beat rival North Carolina State 27-19 on Saturday. Quinshad Davis had two touchdown catches for the Tar Heels (3-5, 2-3 Atlantic Coast Conference), who won in Carter-Finley Stadium for the first time since 2005. Davis' second score came off a 59-yard pass from Ryan Switzer on a trick play...
CHAPEL HILL, N.C.—After being sidelined for nearly two months with an undisclosed knee injury, freshman running back T.J. Logan saw his first collegiate action against Virginia Tech on Saturday and looks to provide a spark for North Carolina's struggling ground game.
CHAPEL HILL, N.C. – While various North Carolina freshmen have been singled out for solid play this training camp, three in particular have received the most fanfare – Ryan Switzer, T.J. Logan and Jonathan "Bug" Howard.
MORE STORIES >>
College Football News

Delivered to your inbox

You'll also receive Yardbarker's daily Top 10, featuring the best sports stories from around the web. Customize your newsletter to get articles on your favorite sports and teams. And the best part? It's free!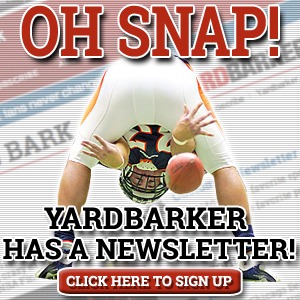 THE COLLEGE FOOTBALL HOT 10