Nebraska athletic director Tom Osborne says he's glad he made it to the other side of the field when he jogged out of the tunnel into Memorial Stadium before the game against Minnesota last weekend. Coach Bo Pelini asked the Hall of Fame coach to join the team for the Tunnel Walk as part of ''Salute to Tom Osborne Day.'' Osborne is retiring Jan. 1. The 75-year...
Tweet     After five years as the University of Nebraska's athletic director Tom Osborne will retire Jan 1, 2013. Prior to that he spent twenty-five seasons as head coach of the school's football program, compiling a record of 255-49-3. Osborne led the Cornhuskers to three national championships (1994, 1995, 1997), thirteen conference championships, and [...]
Tom Osborne, the former Nebraska football coach who will retire as the school's athletic director Jan. 1, is the recipient of the Walter Camp Football Foundation ''Distinguished American'' Award. The foundation said Wednesday that Osborne will receive the award presented to ''an individual who has used his or her talents to attain great success in business...
Nebraska AD Tom Osborne announced on Monday that Nebraska and Oklahoma will be reviving their classic rivalry. Osborne claimed that the Sooners and Huskers have agreed to a home and home series "in principle." The series will begin in Norman in 2021, the 50th anniversary of the "Game of the Century." The game will continue the following year in Lincoln. Nebraska and Oklahoma...
University of Nebraska Athletic Director Tom Osborne, the legendary national title winning college football coach with the Cornhuskers is stepping down. And what a career he's had before he retires. From the football field to the administrative offices to the political realm, Osborne was a success and a Big Ten icon every step of the way. From the L.A. Times: "At some point...
INSTITUTION AT INSTITUTION
Tom Osborne, involved in Nebraska athletics in some capacity since 1962, announced his retirement as the school's athletic director, effective Jan. 1, 2013.
Nebraska to wear black uniforms? Retro? Your guesses are now allowed Nebraska will wear an alternate uniform in 2012. Will it be black, or something more traditional? Image source: TheJonGates.com. Nebraska has one of the best uniforms in college football, as evidenced by their run to the Final Four in Crystal Ball Run's Uniform Madness (which determined the top uniform, rather...
Apparently in response to an Omaha newspaper report that Wichita State coach Gregg Marshall turned down a $2 million offer to become Nebraska's basketball coach, athletic director Tom Osborne issued a statement saying that the school has not offered the job to anyone. The Omaha World-Herald, citing two unnamed sources, reported that Marshall rejected the offer. Nebraska spokesman...
Nebraska Cornhusker Basketball fans have been plagued by terrible basketball for eternity. No wins in the NCAA tournament, only three BCS programs to have never won a single game in the NCAA Tournament. They haven't been to a NCAA Tournament since 1994-95 season. Doc Sadler is keeping the long line of sh***y coaching alive this year by going 12-13 so far. What does this mean?...
Penn State has beefed up security for Saturday's noon game at the request of Nebraska athletic director Tom Osborne.  After the little student gathering in the streets of Happy Valley Wednesday night, which included flipping a news van on its side, I'd say that request was justified. And while Osborne said Thursday that he feels certain his school's travelling party...
MORE STORIES >>
College Football News

Delivered to your inbox

You'll also receive Yardbarker's daily Top 10, featuring the best sports stories from around the web. Customize your newsletter to get articles on your favorite sports and teams. And the best part? It's free!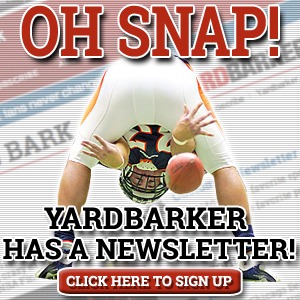 THE COLLEGE FOOTBALL HOT 10