The Green Bay Packers are one of the teams fortunate enough not to need a franchise quarterback from the 2014 NFL Draft — they already have their franchise quarterback in Aaron Rodgers, one of the game's truly elite players. However, that doesn't mean Green Bay isn't looking for a little help at the position. Ever since last season's fiasco, when Rodgers was lost for nearly...
The New England Patriots might have found their future starting quarterback. The Patriots are "incredibly high" on Pittsburgh quarterback Tom Savage, DraftInsider.net's Tony Pauline reported Monday. Savage, not surprisingly, started his career at Rutgers before transferring to Arizona, then Pittsburgh. Savage lost his starting role at Rutgers under head coach Greg Schiano,...
Tom Savage QB PittsburghMeasurables: 6'4 228 lbs 31 5/8" arms 9 5/8" handsTesting Results: 4.97 40 yard dash, 27" vertical, 105" broad jump, 4.36 20 yard shuttle, 7.33 3 cone drillScouting Notes: Started his career at Rutgers and enjoyed an outstanding season as a true freshmen setting Big East freshmen passing records for yardage and touchdowns and being...
A road less traveled for some of the top quarterbacks with aspirations of making the National Football League. Panthers senior signal caller Tom Savage began his career at Rutgers prior to his final season at Pitt. The last time Savage attempted a pass prior to 2013 was in 2010 with the Scarlet Knights. Savage makes all the throws and is big enough and smart enough to make it ...
Pittsburgh coach Paul Chryst says there's plenty of blame to go around for his team's pass protection woes. The Panthers have allowed 15 sacks in their last two games, including eight in a loss to Virginia Tech last Saturday, though Hokies coach Frank Beamer says his team could have had at least eight more. Chryst says it's not fair to single out the offensive line...
PITTSBURGH - Beautiful autumn skies overhead it was a perfect setting for another weekend of college football. Pitt was looking for their third consecutive victory in 2013, against Virginia. For a series that started back in 1953, both teams have faced off only six times. Each season for both teams has been a mix of the good, the bad, and the ugly. Both Pitt and ...
Pittsburgh quarterback Tom Savage is recovering from concussion-like symptoms and is expected to play on Oct. 12 against Virginia Tech. Savage left last Saturday's 14-3 win over Virginia in the fourth quarter after taking a helmet-to-helmet shot from Cavaliers defensive back Daquan Romero. Wide receiver Tyler Boyd described Savage as "drowsy" on the sideline while...
Pittsburgh quarterback Tom Savage's nomadic collegiate career is flourishing with the Panthers. Savage tied an ACC record by throwing for six touchdowns in a 58-55 win over Duke last week. His 424 yards passing were the fourth-highest total in school history. It's heady territory for a player who didn't play in 2011 or 2012. Savage started as a freshman at Rutgers in...
Tom Savage has been selected to start at quarterback for Pittsburgh when it opens the season against Florida State on Labor Day in its first Atlantic Coast Conference game. Panthers coach Paul Chryst made it official on Wednesday, though Savage was considered the front-runner to win the job since spring practice. Savage, who transferred twice before landing at Pitt, hasn't...
A highly touted recruit coming out of high school, former Rutgers quarterback Tom Savage hasn't quite had the collegiate career many thought he would. After transferring from the Scarlet Knights earlier this year to Arizona, Savage announced earlier this month through the school that he would be leaving the program after just one semester —…
MORE STORIES >>
College Football News

Delivered to your inbox

You'll also receive Yardbarker's daily Top 10, featuring the best sports stories from around the web. Customize your newsletter to get articles on your favorite sports and teams. And the best part? It's free!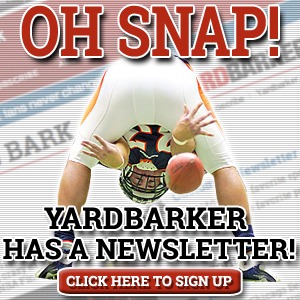 THE COLLEGE FOOTBALL HOT 10