The Sooners' defense will be a huge question mark this season, just as it was last year when the "D" had many folks scratching their heads. As is the case with the defensive line this spring, uncertainty is the dominant theme at linebacker. There's talk that defensive coordinator Mike Stoops is going to switch from the 4-3 to a 3-4 base defense. Whatever he does, he will...
Middle linebacker Tom Wort will skip his senior season at Oklahoma and declare his eligibility for the NFL draft. Coach Bob Stoops announced Wednesday that Wort would not be back for next season, noting that he had already earned his degree. He's the third Oklahoma player who's leaving early, joining safety Tony Jefferson and receiver Kenny Stills. Wort started 33 games...
The Oklahoma Sooners continue to lose underclassmen to the NFL Draft. Earlier this week wide receiver Kenny Stills and defensive back Tony Jefferson opted to skip their senior year with the Sooners and Wednesday linebacker Tom Wort joined them. "We wish Tom the very best as he concludes his time at the University of Oklahoma," head coach Bob Stoops said. "Tom has...
ARLINGTON, Texas — Sooners Illustrated met up with linebacker Tom Wort to talk about the San Antonio connection with Johnny Manziel and more at Sunday's Cotton Bowl media day.
What did we think/hope would happen? Returning starters Corey Nelson and Tom Wort would thrive in Mike Stoops' defense, which would let play like more traditional linebackers – stopping the run and covering short passing routes. OU would also start to develop some depth by playing backups Franklin Shannon and Aaron Franklin. What did happen? The LBs struggled...
NORMAN, Okla. — Linebacker Tom Wort spoke with Sooners Illustrated about how the team will bounce back from their loss to Kansas State.
EL PASO, Texas — Linebacker Tom Wort met up with Sooners Illustrated afterwards to talk about some of the defense's issues in the opener.
(Dancing in the Ruins is SWRT's look at the Big XII Conference. Or at least what's left of it.) The Future's So Bright, I Gotta Wear Shades. Oklahoma State head football coach Mike Gundy is positive about the Cowboys' 2012 defense. (The Oklahoman) An Astro-nomical gift. Former Houston Astros' owner Drayton McLane Jr. gives "a sizable financial...
It's a cold, brisk day here in Norman, Oklahoma and we're pleased you stopped by for this quick read. We answer many Twitter questions here and encourage those that follow us on Twitter @JRsBBQ to become regular readers of these ramblings. We also invite those that haven't tried our products to visit this link http://www.wweshop.com/Category/JimRoss.     more »
TEMPE, Ariz. — Sooners Illustrated met up with linebacker Tom Wort after the first practice and has his thoughts.
MORE STORIES >>
College Football News

Delivered to your inbox

You'll also receive Yardbarker's daily Top 10, featuring the best sports stories from around the web. Customize your newsletter to get articles on your favorite sports and teams. And the best part? It's free!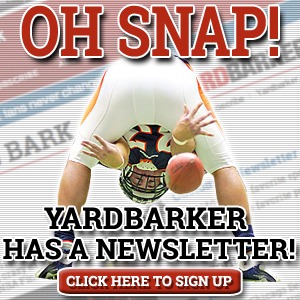 THE COLLEGE FOOTBALL HOT 10