The University of Notre Dame and The Ohio State University announced Thursday that they have agreed to a two-year, home-and-home football series beginning in 2022. The Irish and Buckeyes will play Sept. 3, 2022, at Ohio Stadium in Columbus, and Sept. 23, 2023, at Notre Dame Stadium. The two games will mark the first regular-season meetings between the two teams since a two...
Notre Dame, a Catholic university built upon a strong faith, ironically has the least faithful fans in college football. When faced with faux-adversity (let's be honest, it's just football, it's not cancer), the Irish fan base is just doing what…Read more →
Notre Dame fans have always had a love/hate relationship with senior quarterback Tommy Rees. While he's stepped up and saved the Irish on numerous occasions (think 2012 here), he's also had his share of turnover-laden performances. Yesterday's game against Oklahoma was a tough go for Rees, as he completed just 9 of 24 passes along with two touchdowns and three interceptions...
In a sloppy, mistake filled game the Notre Dame Fighting Irish were able to take advantage of several Spartan miscues – including an interception off of a failed trick play – to defeat Michigan State for the third consecutive time 17-13. The game featured little in the way of offense. Notre Dame quarterback Tommy Rees was off most the day, completing just 14 passes of 34 attempts...
  Will Saturday night be the final game that the Notre Dame Fighting Irish play in Ann Arbor? It's entirely possible. (Check out the Michigan perspective here) The Notre Dame-Michigan rivalry will be taking a "hiatus" beginning with the 2015 season that will last until at least 2017, and may not resume until after 2020, if ever. When Notre Dame agreed to join the ACC in...
Tommy Rees (Photo by: Jonathan Daniel/Getty Images) Notre Dame football has done a really impressive job maintaining unwanted media attention. From rough and ruthless criticism following an embarrassing National Championship blow out at the hands of the Alabama Crimson Tide; to fake Internet girlfriends, the UND football squad cannot seem to stay out of the media's negative light...
When Notre Dame unveiled their uniforms for the 2011 "Shamrock Series" game against Maryland I posted them with the headline Notre Dame Just Killed My Dad because I didn't think the program could possibly sink any lower. Whoops. Yesterday the Irish unveiled the 2012 "Shamrock Series" uniform for the Miami game, and I can only image they went to adidas...
Alex Anzalone is the latest Irish recruit to commit. With a majority of last year's starters either graduating or moving on the NFL after this past season, and a dearth of inexperience on this year's depth chart, head coach Brian Kelly and the Irish have a major need to restock this off-season. Here's a look at the recruits who have committed to date (please note commitments...
Notre Dame quarterback Tommy Rees will held to court on May 17th, in which he'll face four misdemeanor counts, including resisting arrest, battery and underage consumption. But he's not the only Rees sibling who's run afoul of the law via alcohol. His sister Meghan Rees was kicked out of the Purdue game last fall and arrested for an alcohol offense as well. Is this is a new...
POLICE BLOTTER
The 19-year-old was arrested Thursday morning on charges of resisting law enforcement, battery to law enforcement, minor consumption and public intoxication.
MORE STORIES >>
College Football News

Delivered to your inbox

You'll also receive Yardbarker's daily Top 10, featuring the best sports stories from around the web. Customize your newsletter to get articles on your favorite sports and teams. And the best part? It's free!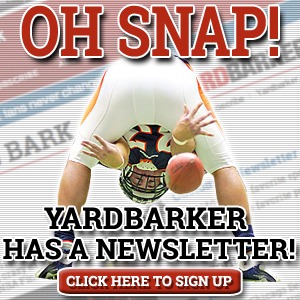 THE COLLEGE FOOTBALL HOT 10