On Thursday the NFL will hold its supplemental draft, here is a list of the players that are eligible to be selected. Chase Clayton, WR from New Mexico Darius Lipford, LB from UNC Lakendrick Ross, DT from Virginia University of Lynchburg Traylon Shead, RB from SMU From reports Ross and Shead maybe the only two who get selected, but even at that most reports suggest they may only...
The New York Giants were one of nine teams present at a workout held on July 2 for former SMU running back Traylon Shead, Shead's agent Louis Bing told The Star-Ledger's Conor Orr. Shead, a high-profile high school prospect out of Texas, is a interesting project for many in Friday's NFL Supplemental Draft. After two seasons at Navarro College (he was originally a University...
According to agent Louis Bing the Houston Texans attended running back Traylon Shead's pro day who is eligible for the NFL's 2014  supplemental draft. The Texans were one of nine teams to attend the pro day on July 2nd. Shead was slowed by injuries when he was hurt in the season opener against Texas Tech and once again versus Temple. In 2013, Shead rushed for 197 yards on 51...
  Mike Florio of Pro Football Talk reports that 10 NFL teams were in attendance for SMU RB Traylon Shead's Pro Day workout on July 2. According to Shead's agent, Louis Bing, the Bears, Colts, Cowboys, Dolphins, Giants, Lions, Packers, Seahawks, and Texans were all on hand. Shead hasn't been all that productive at SMU, even though he was highly regarded coming out of...
  Mike Wilkening of Pro Football Talk reports that eleven NFL teams were in attendance for Virginia University of Lynchburg DT LaKendrick Ross' workout on Monday. According to Ross' agent, Glen Lansky, the Bears, Cardinals, Chiefs, Colts, Eagles, Falcons, 49ers, Patriots, Raiders, Rams and Texans were all on hand.  Ross was originally slated to begin his collegiate career...
  According to Dane Brugler of CBS Sports, it "sounds" like SMU RB Traylon Shead will make himself eligible for the 2014 Supplemental Draft. Burgler adds that New Mexico WR Chase Clayton is another player who could be available as well. It's worth mentioning that this news basically reiterates a report from Dan Pompei of the Bleacher Report. Pompei reported last week...
Garrett Gilbert threw for 321 yards and two touchdowns, Traylon Shead ran for two more scores and SMU won its first American Athletic Conference game with a 34-29 victory over Memphis on Saturday afternoon. Gilbert was 27-43 in the game as the Mustangs (2-4, 1-1 AAC) went out to a big lead in the first half and held on as Memphis linebacker Ryan Collins scored on a pair of fumble...
In the third quarter SMU running back Traylon Shead went down with what looked like one heck of an injury. While trying to turn the corner on a run he was ridden down hard by a Texas Tech defender who dragged him down from behind (a horse collar tackle). In the process his left leg gets bent up underneath him. You don't have to look at the clip to  see how much pain he is...
Former Texas running back Traylon Shead is finishing up a semester at Navarro Junior College, then plans to transfer to Division 1 program. Could he head for the SEC?
Texas redshirt freshman running back Traylon Shead is leaving the No. 21 Longhorns and will transfer to another school. A former high school All-American at Cayuga High School, Shead announced his decision Sunday night through a team spokesman. Shead did not say which school he will attend. Shead played high school football in Class 1A, the state's division for the smallest...
MORE STORIES >>
College Football News

Delivered to your inbox

You'll also receive Yardbarker's daily Top 10, featuring the best sports stories from around the web. Customize your newsletter to get articles on your favorite sports and teams. And the best part? It's free!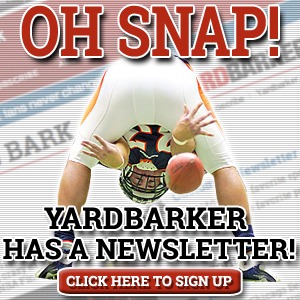 THE COLLEGE FOOTBALL HOT 10