Hall of Famer Ken Griffey Jr. was known for his miraculous home run-robbing catches and that supreme athleticism seems to have been inherited by his son. Trey Griffey scored his first career touchdown for the University of Arizona in the AdvoCare V100 Bowl and it was a doozy. The reshirt freshman out-jumped two defenders to reel in this tremendous catch, just his 12th of the season...
The Kid's kid is doing big things. In the second quarter of today's AdvoCare V100 Bowl, Arizona Wildcats freshman Trey Griffey, son of former baseball star Ken Griffey Jr., caught his first collegiate touchdown pass. The score came on a beautiful 26-yard toss from quarterback B.J. Denker. Arizona leads Boston College 21-6 at the half.
TUCSON, Ariz. -- It's been a year and a half in the making, but Trey Griffey made it into the stat sheet for Arizona football. On Saturday, the redshirt freshman had four catches for 45 yards -- the first catches of his career. How did he feel about the first catch? "It felt good," he said. "I was nervous, but then it was over." How much he plays against...
Superstar athletes who have sons are always expected to have their kids play whatever sports they did. Fans want to see these children go on to be great as their dads were, but that's not always the best road to follow. As we know it's always difficult to live up to a legend. Ken Griffey Jr is one parent who understands that and is supportive of whatever his kids want to pursue...
He operated with no script and no net. Most importantly, it was from the heart. Arizona redshirt freshman receiver Trey Griffey got through it, wishing his dad Ken Griffey Jr. congratulations on Saturday after he became the seventh member of the Seattle Mariners to be inducted into the team's Hall of Fame. "I just spoke how I felt," Trey said Monday after practice...
SEATTLE -- The stadium was packed to the brim with Griffey jerseys all standing, waiting for the entrance of an icon. Then the seventh member of the Mariners Hall of Fame made his entrance from behind the centerfield fence, which he used to hit balls over and stop balls from sailing over. Walking over his own signature Number 24 with that patented smile on his face. As Junior made...
Ken Griffey Jr. kept telling stories, continued to acknowledge his appreciation to the fans and reminisced about his career, even as the scheduled game time came and went. On this night, as the Seattle Mariners honored Griffey with induction into their Hall of Fame, no one was going to stop the greatest player to ever wear the team's uniform. Griffey became the seventh member...
Trey Griffey redshirted his first year at Arizona and is ready to get on the field. Read on for his thoughts on the upcoming season, the quarterback situation, and more.
TUCSON, Ariz. Make no mistake, this is a big spring for Trey Griffey. Whether hes a hit at Frank Sancet Field -- and whether that later translates into big games at Arizona Stadium -- will be up to him. His redshirt year at Arizona is over, and now he must prove himself -- again. But isnt that the rite of passage for just about every player in college football, good athletic bloodlines...
TUCSON The most sought-out player at Arizona's annual Media Day on Sunday wasn't quarterback Matt Scott, running back Ka'Deem Carey or wide receiver Dan Buckner. It was a player who has yet to take a snap before the fans at Arizona Stadium, and has no guarantee of any meaningful snaps this season. Say hello to freshman wideout Trey Griffey, son of future baseball Hall...
MORE STORIES >>
College Football News

Delivered to your inbox

You'll also receive Yardbarker's daily Top 10, featuring the best sports stories from around the web. Customize your newsletter to get articles on your favorite sports and teams. And the best part? It's free!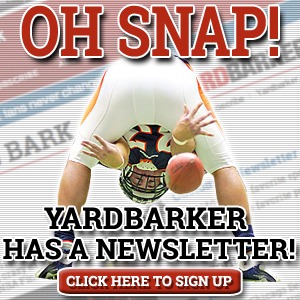 THE COLLEGE FOOTBALL HOT 10