Considering how dependent we are on him this season, we really don't know much about Tyler Murphy. The Spring Game and his stats tell a bit of the story, but did many BC fans watch much Florida Football last year? Fortunately there are a few Youtube clips that provide a little more insight into Murphy's abilities and his experience in game situations. Obviously Florida ran...
Monday a little online controversy bubbled up over the status of former Florida QB Tyler Murphy. For those that didn't follow it, despite some frustration and confusion, Murphy is eligible to transfer and play immediately. Given his previous relationship with Addazio, BC is mentioned as one of his potential options. UConn and Louisville are also possible destinations. I don&...
Well, it doesn't get much worse than this. The Florida Gators (4-7, 3-5 SEC) lost their sixth straight game Saturday, 26-20 to the Georgia Southern Eagles (7-4, 4-4 SoCon), of the FCS. It is without a doubt the most embarrassing loss in school history. Florida came out with a similar game plan they had from the week before against the South Carolina Gamecocks, running the ball...
The Florida Gators (4-4, 3-3 SEC) will return home for the first time in over a month to take on the Vanderbilt Commodores (4-4, 1-4 SEC) this Saturday at Ben Hill Griffin Stadium. Kick-off is scheduled for noon and the game will be televised on FSN/Sun Sports. Florida is coming off a heartbreaking 23-20 loss against rival Georgia in Jacksonville. Vanderbilt was off last week after...
Yes, I am alive. And yes, my love of the Florida Gators hasn't died. It has just been dormant on this one particular display vehicle. While active on other mediums, The Bull Gator site has been left out in the cold. My name is Joel and I haven't posted anything on this site in 63 days. In that time, the Gators have marched (if that's one way of putting it) to a 4-1 start behind...
The No. 19 Florida Gators (3-1, 2-0 SEC) return home this week to take on the Arkansas Razorbacks (3-2, 0-1 SEC) this Saturday at Ben Hill Griffin Stadium. Kick-off is scheduled for 7 p.m. and the game will be televised on ESPN2. Florida is coming off a 24-7 win against the Kentucky Wildcats. Arkansas fell last week to No. 10 Texas A&M by a score of 45-33. This is the first meeting...
Until Saturday, Tyler Murphy was a relative unknown, even amongst his own fan base. He had never taken a snap from under center in a Florida uniform. In fact, his only game action was a few plays at wide receiver in 2012. He hadn't attempted a pass in a game since high school, apart from an incompletion on a failed two-point conversion attempt against the Miami Hurricanes just...
We've had the Butt Fumble. We've had the Butt Slide. Now, thanks to new Florida Gators quarterback Tyler Murphy we have the Face Fumble. Gifulmination.com That play was not really his fault. He was in the midst of his pe-snap reads when the center snapped the ball even though Murphy hadn't called for it. He wasted no time making up for it tossing a 52-yard...
GAINESVILLE, Fla. -- He stood calmly in front of a crowded room full of assembled media wearing a blue Gators polo shirt and an occasional smile. He looked the part. He sounded the part. In Florida's 31-17 win over Tennessee on Saturday, Tyler Murphy played the part. Murphy played it well, too. Florida fans, meet your new starting quarterback. He is a redshirt junior from...
Florida and Tennessee are giving college football fans a clinic on how not to play offense. The Gators and Vols committed seven turnovers total in the first half – an abysmal stat. And while Tennessee was technically worse in terms of production (just 31 total yards), it was Florida that provided us the most ridiculous highlight. Via @BubbaProg, here's a GIF of Florida QB Tyler...
MORE STORIES >>
College Football News

Delivered to your inbox

You'll also receive Yardbarker's daily Top 10, featuring the best sports stories from around the web. Customize your newsletter to get articles on your favorite sports and teams. And the best part? It's free!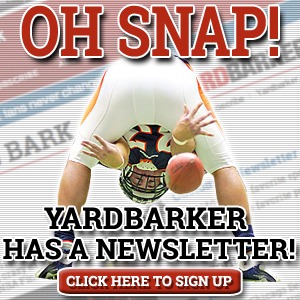 THE COLLEGE FOOTBALL HOT 10