When Vontaze Burfict arrived at Arizona State in the summer of 2009, defensive coordinator Craig Bray saw a player rife with exhilarating and exasperating contradictions. He showed so many signs of incredible potential, Bray said. But one of the other things that I noticed right away was that effort wasnt a habit. I think things came so easy for him in high school that he really...
Damond Talbot the writer for Mocking the Draft and PFZ, has published a new tell all interview with Vontaze Burfict, the Inside Linebacker of Arizona State University.  Vontaze goes into detail and releases an exclusive video inside his training. Check it out for yourself.  Pretty amazing workout video.  He could be the ultimate story of Redemption come April 26th-28th. Exclusive...
Mocking the Draft and Pro football zone writer Damond Talbot, was able to get the inside story on the troubled linebacker Vontaze Burfict of Arizona State.  Vontaze has had to really fight through tons of bad publicity this year, but maybe his checkered past has played a part in his outbursts. Make sure to check out Part 1 of the All Eyez on Me, Vontaze Burfict Story and tomorrow's...
It was a moment that for many became the lasting image of the 2011 college football season. In a heated game between Arizona State and Southern Cal, Arizona State linebacker Vontaze Burfict menacingly stared down his longtime rival, Southern Cal's Matt Barkley, from across the line of scrimmage. In those few seconds before the snap, it was clear why Burfict had once been regarded...
Former Arizona State linebacker Vontae Burfict wants you to know he's changed. He knows it's been rough in the past, baby. He said some things. He's punched some people. He's blamed everyone but himself for a bad (by his standards) 2011 season. He sucked at the combine. That 5.09 40? He was just thinking of you and how much he missed you. But that's all in the past, honey...
My first reaction to Vontaze Burfict's media interviews at the NFL Scouting Combine was: "Wow, he really does have a voice." My second reaction? So this is why former coach Dennis Erickson and the Arizona State media relations staff didnt force Burfict to speak to us. In that short span in Indianapolis, Burfict managed to: Throw his former coaches under the bus...
The NFL Scouting Combine is capable of both making and breaking NFL prospects, and Arizona State linebacker Vontaze Burfict is about to learn that the hard way, after he spent the majority of his interview session attacking the media and former teammates/coaches for the consensus notion that his mental makeup is not conducive to being a first round pick in the draft. According to...
Vontaze Burfict ILB Arizona State #7 Ht: 6'3″ Wt: 250   Strengths: Prototypical size and strength. Strong, fundamentally sound tackler. Has the ability to deliver the big hit and knock the ball loose. Impressive speed and athleticism for his size; when he takes the correct angle, he can close on the ball carrier in a flash and deliver a big hit. Tons of upside if he...
Arizona State linebacker Vontaze Burfict says he'll skip his senior season and make himself eligible for the NFL draft. Burfict made the announcement Tuesday in a one-paragraph statement. He thanked his coaches and professors and added that he plans to return to school in the future to get his degree. The 6-foot-3 Burfict was the Sun Devils' second-leading tackler this...
Arizona State lost a player to the NFL on Monday. It also lost one giant headache. In a widely anticipated move, middle linebacker Vontaze Burfict announced on his Facebook page that he will declare for the NFL Draft. The deadline for that decision is Jan. 15. Burficts loss means the Sun Devils will enter the 2012 season without four linebackers who played significant minutes last...
MORE STORIES >>
College Football News

Delivered to your inbox

You'll also receive Yardbarker's daily Top 10, featuring the best sports stories from around the web. Customize your newsletter to get articles on your favorite sports and teams. And the best part? It's free!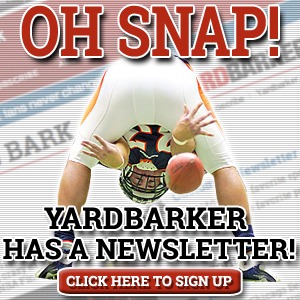 THE COLLEGE FOOTBALL HOT 10