On Monday afternoon the Wisconsin Badgers will take to Camp Randall for the second scrimmage of fall camp. It will be vitally important, not only for the players but for those in the media that will be in attendance. See, from here on out everything will be pure speculation. That's because following the scrimmage, all practices are closed to the media. It means that some big questions...
CHICAGO -- Perhaps this is obvious, but you don't play nose guard in the Big Ten without being a big boy. It requires a special skill -- and body composition -- to constantly slam into 600 pounds of human resistance on the offensive line, control two players and deal with multiple gaps in the middle of the football field. Bigger, then, is usually better. Unless, that is, you...
Defensive tackle Warren Herring is one of jus two experienced members of the Badgers defensive line, find out what he had to say on Tuesday during Big Ten Media Days:  
  Wisconsin Badgers beat writer Jesse Temple will be analyzing the 25 most important players to the Badgers' success in the 2014 season. Check back each weekday to see the latest player on the list. You can find every report here. Note: This is not a list of the team's 25 best players or a series about past success, but rather which of them means the most to how Wisconsin...
Although he's playing his third position in four seasons at Wisconsin, junior nose tackle Warren Herring is starting to find his footing, entering this weekend's nonconference game against BYU as the team's leader in sacks and tackles for loss.
MADISON, Wis. -- They have not developed a clever moniker. No "Smash and Dash" or "Thunder and Lightning." Nose guards don't garner much publicity anyway, so Wisconsin's Beau Allen and Warren Herring are fine keeping it that way. "We'll talk about it," Herring said. "I don't know. I don't have a nickname yet." What they...
MADISON, Wis. -- If Beau Allen and Warren Herring do their jobs correctly on the football field, then 600 pounds of human flesh will simultaneously converge on them dozens of times every Saturday in the fall. They will draw double teams from the biggest, burliest offensive linemen to the point of sheer exhaustion, and then begin the process all over again the next play. And if they...
Another day closer to the start of Badger football and the new era ahead, who else isn't already excited? Well, if you aren't perhaps remembering that it's all of 45 days to Badger football, or as we like to say here at MTB... Just Warren Herring to Badger football 2013!  Herring was thrust into action thanks to nagging injuries all season long along the defensive...
The Wisconsin University football team broke up spring practice this week with an entertaining one-on-one dance off in front of the whole team. As this video can attest, some of these Badgers are pretty agile for 300-pound, cheese-fed, Midwestern boys. Although anyone on this Big Ten dance team would be lucky to score a six anywhere but the football field. After some surprisingly...
It's been the spring of dance memes in college football, primarily the played-out "Harlem Shake." Wisconsin went a different way in practice this week. What looks like your typical "Bull in a Ring" session breaks out in a dance-off among the Badgers. Stick around for Warren Herring getting his groove on. Big fella can move, but hope he wore a cup.
MORE STORIES >>
College Football News

Delivered to your inbox

You'll also receive Yardbarker's daily Top 10, featuring the best sports stories from around the web. Customize your newsletter to get articles on your favorite sports and teams. And the best part? It's free!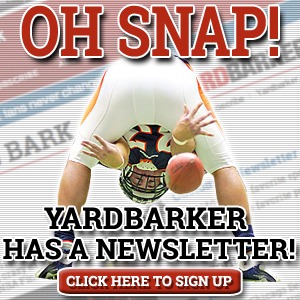 THE COLLEGE FOOTBALL HOT 10