The ALS Ice Bucket Challenge has helped raise nearly $10 million for research for the disease most famously had by Lou Gehrig. After a while, though, watching people dump chilling buckets of water over their heads can get repetitive.  Georgia's Watts Dantzler has reminded everyone what the point of this social media campaign truly is. The senior offensive lineman lost his father...
Welcome to the Fallout - Friday edition.It's Gonna Be Me.Notre Dame quarterback Malik Zaire is confident that he will be able to beat out Everett Golson in the race to become the starting QB for the Fighting Irish in 2012. (AP/ESPN)Slow down, you move too fast. Maryland head coach Randy Edsall wants to put the brakes on college recruiting by barring coaches from verbally offering...
Wide receiver Marlon Brown and cornerback Malcolm Mitchell were limited and offensive tackle John Theus was held out Monday as No. 6 Georgia opened practice for Saturday's SEC opener at Missouri. Theus sprained his left ankle in last week's 45-23 win over Buffalo. Mitchell (sprained left ankle) did not play. Brown missed the game with a left hamstring strain. Running back...
Aaron Murray is the quarterback for the Georgia Bulldogs and his offensive tackle is Watts Dantzler. They were both wakeboarding this weekend where Aaron Murray posted photos of Nick Saban's lake house, Dantzler wakeboarding, himself wakeboarding, and them jumping off a random person's lake house. Dantzler even said he hoped that the owners of said lake house were not on Twitter...
(Covering Dixie Like Mildew is the SWRT roundup of SEC news, with the occasional pesky Southern school from another conference.) Stuck in a Moment You Can't Get Out Of. Spencer Hall looks at the fickle hand of fate handed to Tennessee head football coach Derek Dooley that has him on the Hot Seat in 2012. (EDSBS) Strange attractors. Hall's article on Dooley is related...
Okay, this is one of the things Twitter is good for, finding stories you might not otherwise ever see or know about unless you follow a particular person's feed. Thankfully, this story isn't taking too long to catch fire as it is quite simply a riot. Watts Dantzler played in several games as a true freshman for Georgia this past football season and, on the cusp of his...
MORE STORIES >>
College Football News

Delivered to your inbox

You'll also receive Yardbarker's daily Top 10, featuring the best sports stories from around the web. Customize your newsletter to get articles on your favorite sports and teams. And the best part? It's free!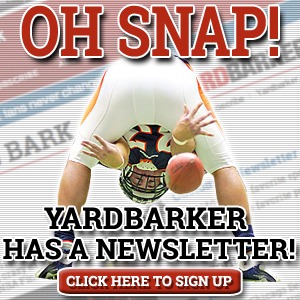 THE COLLEGE FOOTBALL HOT 10