The Boren family has been making an impact at The Ohio State University for what seems like forever. The story began way back in 2008 when an unhappy Justin Boren left the University of Michigan to join the Buckeyes. In doing so, Justin, unknowingly, created a Buckeye legacy and shocked just about everyone, including his father, a Michigan grad. Justin went on to some successful...
An Ohio State Buckeye fan stormed the field and videobombed an ESPN interview with linebacker Zach Boren after Saturday's win over Michigan. The OSU fan first popped in front of the camera, then stepping back and peeking between Boren and his interviewer. To top it off, the Buckeye fan overshadowed both of them by making the 'OHIO' letters with his arms and destroying...
  Zach Boren has played fullback for Ohio State for three seasons, and just as his senior year was under way, he swapped sides of the ball and is the Buckeye's new linebacker. When Boren wears his jersey on Saturdays, it truly is to represent the name on the front, not the back; his selflessness will help the Buckeyes stay undefeated this season. While he's played fullback since...
Injuries, departures and disappointing play led Ohio State's coaches to look for somebody to help out at linebacker. They got a volunteer - their starting fullback. Now Zach Boren, a standout linebacker in high school, has made the transition from offense to defense after three years with the Buckeyes. Not only that, he led the team in tackles in last week's 52-49 win at...
ANN ARBOR, Mich. - Michigan's post-game celebration Saturday, after ending seven years of frustration against Ohio State, wasn't appreciated by at least one of the Buckeyes. As time ran out in the 40-34 thrilling victory, Michigan quarterback Denard Robinson took the ball and tossed it into the air. Robinson and some of his teammates then fell to the Michigan Stadium field...
MORE STORIES >>
College Football News

Delivered to your inbox

You'll also receive Yardbarker's daily Top 10, featuring the best sports stories from around the web. Customize your newsletter to get articles on your favorite sports and teams. And the best part? It's free!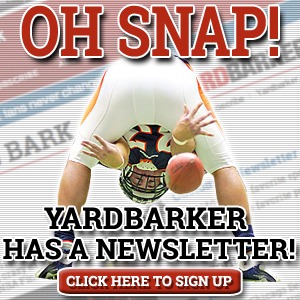 THE COLLEGE FOOTBALL HOT 10