The following member of the Bearcats Blog countdown club, I'm sure all the players who have been named so far are calling it the Bearcats Blog countdown club stay with me, is one of the most recent to have played. It's Zach Collaros. Even thought I've written about young Zachary for years, I still write Zack half the time. I blame Zack Morris for making me think everyone...
When the cart came for Zach Collaros on the Paul Brown Stadium field last November, Collaros was pretty sure of a couple things. That his ankle was broken. And that his football career was over. "I cried on the field," Collaros said. "I really thought it was my last time playing football, and it was emotional for me. I love the game. Later when I found out I'...
In the grand scheme of things, Cincinnati's match-up with the Vanderbilt Commodores in the 2011 Liberty Bowl didn't mean a whole lot. The Bearcats were going for their 10th win of the season and their first bowl victory since 2007. For a program that is two years removed from back-to-back appearances in BCS games, that's a little "meh." Cincy senior quarterback...
Breaking news, according to Bearcats twitter feed that you can see above, Butch Jones has announced that Zach Collaros will start the Liberty Bowl on Saturday. Collaros fractured his ankle against West Virginia on November 12. Word after the injury was that UC hoped Collaros could return by the Bearcats bowl game. Due to being stolen by ghosts before the South Florida game, Collaros...
Bearcats quarterback Zach Collaros looked good in his first full practice since he had surgery to fix his broken right ankle five weeks ago. Collaros ran the offense during a two-hour practice Monday as Cincinnati prepared for its Liberty Bowl game against Vanderbilt. His passes were sharp, and he moved around well in the pocket. The senior quarterback says his ankle still hurts...
Bearcats quarterback Zach Collaros is two weeks ahead of schedule in his recovery from a broken right ankle, leaving Cincinnati hopeful that he could play in the Liberty Bowl. Coach Butch Jones said on Tuesday that Collaros might be able to resume throwing during practice next week. The senior broke his ankle during a loss to West Virginia on Nov. 12 and had a plate and two screws...
Cincinnati quarterback Zach Collaros had surgery on Monday for his broken right ankle, which will sideline him for the Bearcats' last three regular-season games and leave the Big East leaders in the hands of sophomore Munchie Legaux. Collaros broke his ankle during the second quarter of a 24-21 loss to West Virginia on Saturday that opened up the Big East. The league-leading...
Via AP on Fox
Cincinnati quarterback Zach Collaros will have surgery for a broken right ankle, sidelining him for the Bearcats' last three regular-season games. Collaros hurt the ankle during the second quarter of a 24-21 loss to West Virginia on Saturday that left the Big East race wide open. He'll have surgery on Monday and miss games at Rutgers, at Syracuse and home against Connecticut...
Via AP on Fox
The worst case scenario for Zach Collaros' injury has come true. Bill Koch broke the news that Zombie has a fractured ankle. He's out for the rest of the regular season. Butch Jones is holding out hope that Collaros could return in a bowl game. It would have to be the Orange Bowl one would think. Munchie Legaux is the starter for the last 3 games of the season. He has played...
CINCINNATI - University of Cincinnati quarterback Zach Collaros suffered a right leg injury and was forced to leave the Bearcats' game with West Virginia Saturday. Collaros was carted off the field. He returned to the sideline in the second half and watched while standing on crutches. The extent of the injury is not known, though it was obviously concerning to see Cincinnati...
MORE STORIES >>
College Football News

Delivered to your inbox

You'll also receive Yardbarker's daily Top 10, featuring the best sports stories from around the web. Customize your newsletter to get articles on your favorite sports and teams. And the best part? It's free!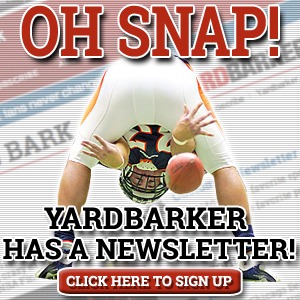 THE COLLEGE FOOTBALL HOT 10