LSU quarterback Zach Mettenberger isn't playing in the Outback Bowl thanks to an injury, but someone should let him know that he's still going to be shown on TV. I'm assuming he had no clue when he decided to eat his boogies on the sidelines. Gross. [The Big Lead] Article found on: Next Impulse Sports
After a trip to the home of the King of the FCS last week, visiting North Dakota State in Fargo, ESPN's College GameDay show is back to the big leagues. No. 6 LSU travels to Athens to take on the No. 9 Georgia Bulldogs, and ESPN's top crew didn't want to miss it. Naturally, this game between two top-10 SEC teams has huge implications, particularly for Georgia, which is looking...
Not so long ago they were raw freshmen, both wearing the red and black, battling each other for the same prize. Starting quarterback of the Georgia Bulldogs. Of course, Aaron Murray and Zach Mettenberger wound up taking much different paths. Murray won the job, guided Georgia back to national prominence, and became the most prolific passer in school history. Mettenberger ran into...
The SEC's first week was a fun week for our conference. The Georgia-Clemson game lived up to predictions. Zach Mettenberger looked like a quarterback. Alabama looked like an Alabama side that needs to blow away some cobwebs. There's hope again in Auburn and Tennessee. And Kentucky has some work to do. SO WHAT DO WE KNOW? We know that Georgia's best wide receiver managed...
getty images How serious is Zach Mettenberger about football? He is taking just one class this semester. The fifth-year quarterback will take only an online English class at LSU this year. Mettenberger, who will start for the second consecutive season, is a fifth-year senior and needs only three hours to graduate in General Studies. NCAA rules allow Mettenberger to take just one...
Zach Mettenberger (allegedly) left a nice tip for his server…(picture after the jump) Ha! That's original. Ass. (H/t @ChrisRAllen on the Twitter)
The Alabama Crimson Tide and LSU Tigers are set to face off this weekend in Death Valley. Thank you LSU for creating this. Tony Stark aka Iron Man quotes were interjected with LSU Head Coach Les Miles giving ever quotable lines. Everything just came together. Alabama could make it to the BCS National Championship game. I'm sure the LSU Tigers would like to stop that from happening...
LSU went into Auburn and earned a victory, and that's only the second time since 1998 that we've been able to say that.  However, the general feeling among Tiger fans right now is one of "Uh-oh!" and that's certainly understandable considering the circumstances.   I'm certainly concerned, but after watching the game a second time, I'm less concerned...
Covering Dixie Like Mildew Back Where You Belong. Alabama and LSU occupy the first and second spots in both the USA Today coaches' poll and the AP writers' poll. (USA Today, AP via Yahoo!) The Long and Winding Road.  Things won't be getting better for Tennessee after the heart-crushing loss to Florida. (The Knoxville News Sentinel) I'm a loser, baby...
By Len Pasquarelli The Sports Xchange More than 10 months before the 2013 draft, some analysts, including those from NFLDraftScout.com, have begun prognosticating about the quarterbacks who could be selected in the first round of next year's lottery. The consensus, albeit perilously early, includes Matt Barkley (Southern Cal, just about everyone's possible overall No. 1...
MORE STORIES >>
College Football News

Delivered to your inbox

You'll also receive Yardbarker's daily Top 10, featuring the best sports stories from around the web. Customize your newsletter to get articles on your favorite sports and teams. And the best part? It's free!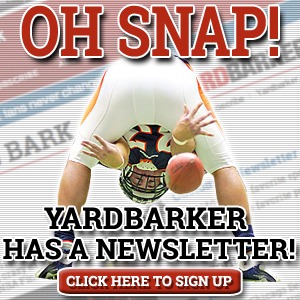 THE COLLEGE FOOTBALL HOT 10