Q&A! Q&A! Q&A! Like we did with Stephon Gilmore, Cordy Glenn and TJ Graham, we got a Q&A fired up about Nigel Bradham and Zebrie Sanders. Dishing out the info are the boys from Unconquered Noles, the FSU blog for Bloguin. Enjoy. 1) What are his pros and weaknesses? Bradham is a physical specimen with incredible functional strength, good linebacker speed and...
The Buffalo Bills have selected Florida State offensive tackle Zebrie Sanders with their first of two fifth-round picks in the NFL draft on Saturday. Listed at 6-foot-5 and 308 pounds, Sanders was selected with the 144th overall pick. He predominantly played at right tackle with the Seminoles, but did see playing time on the left side in 53 career games, including 50 starts. Sanders...
Florida State football players Rashad Greene, Dustin Hopkins and Zebrie Sanders have been selected to the 52-member 2011 All-Atlantic Coast Conference Academic Team, announced Wednesday by Commissioner John Swofford.
Zebrie Sanders OT Florida State #77 Ht: 6'5″ Wt: 308   Strengths: Adequate height and overall size. Impressive athleticism and quickness; easily gets to the second level and can get down the field on screens, draws, etc. Quick feet allows him to stay with more athletic pass rushers. Clearly has the raw skills necessary to play left tackle. Excellent awareness on the...
The Detroit Lions' coaching staff sat down with Florida State University left tackle Zebrie Sanders as it explores possible replacements for 34-year old Jeff Backus.
Florida State offensive tackle Zebrie Sanders spent a little time with Nole Digest on Day 1 of the Senior Bowl in Mobile and chatted about the possibility of being a first-round pick in the NFL Draft.
Florida State is sending two Seminoles to the Senior Bowl: Zebrie Sanders and Nigel Bradham. What kind of competition will they see in Mobile? John Crist is scheduled to be there and provides this preview.
As the Jets journey towards the draft in April, I will examine prospects that could potentially be on the Jets' draft board. Please feel free to leave your thoughts or suggest a prospect in the comments. College: Florida State Measurables: 6'5″ 307 lbs Projected Round: 1st or 2nd  Positives Sanders has the size and agility to become a dominant pass blocker at the next...
Notre Dame versus FSU is a rare match up of two national powerhouses usually reserved for BCS Bowl games. Florida State in year 2 of the Jimbo Fischer regime has the second highest ranked non SEC defense in the country (6th overall.) Notre Dame is led by receiver Michael Floyd, a projected first round pick in April. FSU offensive tackle Zebrie Sanders will lead FSU's offensive...
This afternoon the All-ACC teams were released which included some big talent from around the conference. The Seminoles featured three players on the first team and several others received honor as well. Seniors Zebrie Sanders (Offensive Line) and Shawn Powell (Punter) and junior Dustin Hopkins (Kicker) received spots on the All-ACC First Team. On the second team were junior Brandon...
MORE STORIES >>
College Football News

Delivered to your inbox

You'll also receive Yardbarker's daily Top 10, featuring the best sports stories from around the web. Customize your newsletter to get articles on your favorite sports and teams. And the best part? It's free!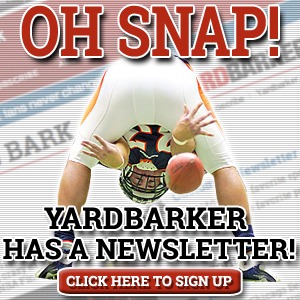 THE COLLEGE FOOTBALL HOT 10