CONWAY, Ark. (AP) Willie Matthews ran for three touchdowns, including a 37-yarder straight through a pack of defenders, to help lead Central Arkansas to a 58-35 win over Northwestern State on Saturday night. Central Arkansas (5-4, 4-1 Southland Conference) took control in the first quarter with an interception by Bobby Watkins that set up the go-ahead touchdown, punched in from...
Zach Adkins threw three touchdown passes and ran for a fourth as Northwestern State hung on to beat Central Arkansas 31-28 Saturday night. The Demons (4-5, 1-3 Southland Conference) led 14-3 early in the second as Adkins threw a 25-yard touchdown to Shakeir Ryan and connected with Tuff McClain for a 33-yard strike. Two rushing touchdowns by Willie Matthews gave the Bears (5-4,...
Ryan Howard threw for 403 yards and four touchdowns, including three for more than 40 yards, to lead Central Arkansas over Stephen F. Austin 66-31 Saturday night. Central Arkansas (5-3, 2-1 Southland Conference) avenges last season's loss to SFA (3-5, 1-2). The Lumberjacks were the only conference team to beat UCA during its co-championship run last season. Howard's longest...
Wynrick Smothers completed 22 passes for 177 yards and added a rushing touchdown as Central Arkansas routed Nebraska-Kearney 31-0 on Saturday. A balanced offensive attack paced the Bears (3-3), while the defense forced two turnovers and held Nebraska-Kearney (1-5) to just 169 yards of total offense. No player scored more than one touchdown for Bears, who used three quarterbacks...
The NCAA may be terrible at doling out punishments where they're needed most (e.g., Miami, Oregon), but boy, are they good at cracking down on the little harmless rules. Justin Heard, a senior linebacker at FCS Central Arkansas, recently was suspended indefinitely for reportedly giving several hundred dollars of his scholarship money to his brother, also a UCA student and member...
Jan 25, 8:00 PM | SLU University Center Central Arkansas Bears vs Southeastern Louisiana Lions Odds 7-10TEAM RECORD7-10 The Lions will try to cover the spread at SLU University Center on Wednesday when they get a visit from the Central Arkansas Bears in college basketball action. The Lions are 7-10 so far on the season, and 1-0 ATS vs. the number. The Bears, meanwhile,...
Jan 18, 8:00 PM | Farris Center Nicholls State Colonels vs Central Arkansas Bears Odds 4-12TEAM RECORD6-9 Bettors will hope to hit paydirt on Wednesday when the Central Arkansas Bears try to run the Colonels off the court at Farris Center in college hoops action. The Bears are 6-9 so far on the season, and 0-1 ATS vs. the number. The Colonels, meanwhile, are 4-12 and 2...
Jan 14, 3:00 PM | Prather Coliseum Central Arkansas Bears vs Northwestern State Demons Odds 5-9TEAM RECORD9-7 Many eyes in the college basketball world will be on Prather Coliseum Saturday as host Northwestern State looks to handle the Central Arkansas Bears in NCAAB action. Supporters of the Bears have watched them go 5-9 and 0-1 ATS on the year, while the Demons are at...
Jan 11, 8:00 PM | Farris Center Stephen F. Austin Lumberjacks vs Central Arkansas Bears Odds 8-7TEAM RECORD5-8 The college hoops wagering menu features a clash between Central Arkansas and Stephen F. Austin on Wednesday, with the host Bears trying to win and cover the NCAAB point spread. The Bears are 5-8 so far on the season, and 0-1 ATS vs. the number. The Lumberjacks...
Nov 16, 8:00 PM | Farris Center Philander Smith Panthers vs Central Arkansas Bears Odds 0-0TEAM RECORD0-2 The Central Arkansas Bears will try to pay off for their supporters on Wednesday when they play host to the Panthers at Farris Center in NCAAB action. The Bears currently sports a 0-2 record overall in NCAAB action, and have posted a corresponding betting slate of 0...
Kevin "Kevo" Danna provides the faithful with this preview of the Central Arkansas Bears, Stanford's opening opponent for the 2011-12 season. Kevin reached deep into the depths of his knowledge (and those with connections to the CAU program) and came up with some great nuggets on this team out of the Southland Conference.
MORE STORIES >>
Central Arkansas News

Delivered to your inbox

You'll also receive Yardbarker's daily Top 10, featuring the best sports stories from around the web. Customize your newsletter to get articles on your favorite sports and teams. And the best part? It's free!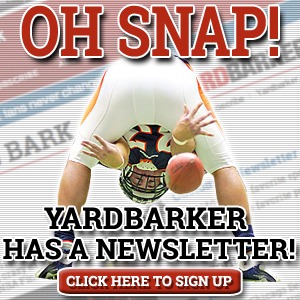 THE HOT 10: Who's Trending