SAN LUIS OBISPO, Calif. (AP) Ridge Shipley scored 21 points, including 5-of-9 shooting from 3-point range, to lead Cal Poly to a 78-60 victory over Delaware on Friday night. Brian Bennett added 12 points and David Nwaba finished with 10 points for the Mustangs (2-1), who shot just 39.7 percent from the field but pulled down 16 offensive rebounds while limiting themselves to just...
DURHAM, N.H. (AP) Sean Goldrich threw four touchdown passes, three into the hands of Harold Spears, and New Hampshire clocked its ninth-straight win with a 43-14 victory over Delaware on Saturday afternoon. Goldrich was 24 of 33 for 285 yards to lead the Wildcats (9-1, 7-0 Colonial Athletic Association). Spears set a career-high with three touchdown receptions, and finished with...
Thanks Reed and Justin for taking care of most of the post-mortem. Two days later that just leaves the final clean-up to me. Mid-way through the 3d quarter I was talking with another guy in the press box. We were half-joking, wondering what Pitt fans were going to be complaining about after the game — other than whether Boyd should have been returning punts. Considering the complete...
The Pitt Panthers will host the Delaware Fightin Blue Hens on Saturday as the 2014 NCAA Football season gets underway. Coverage of the contest between Pittsburgh and Delaware will get underway at 12:00 pm ET on ESPN3. The Odds: The Pitt Panthers are 22 point favorites against the Delaware Fightin Blue Hens. This contest has all the makings of blowout. How many points do you envision...
Andrew Pierce rushed for 117 yards and three touchdowns to lead Delaware past Rhode Island 35-13 in a Colonial Athletic Association game on Saturday. Following Pierce's first score of the game, Bob Bentsen connected with Robbie Jackson on a 20-yard scoring strike but the Rams botch the PAT and Delaware (6-2, 3-1) led 7-6 early in the second quarter. The Blue Hens then rattled...
The Newark (Delaware) Police Department says it has arrested Michael J. Creed, 25, of Newark, and charged him with first-degree assault and possession of a deadly weapon during the commission of a felony in connection to the Sunday stabbing of a University of Delaware quarterback, the Philadelphia Inquirer reports. The university is not confirming the identity of the quarterback...
Score: No. 6 Delaware 66, No. 11 West Virginia 53 Star(s): West Virginia: Ayana Dunning 15 Pts, 10 Reb. Delaware: Elena Delle Donne 33 Pts, 7 Reb, 4 Blks. Story: The West Virginia women's basketball team had its opportunity to advance to the second-round and potentially face third-seeded North Carolina on Sunday afternoon. That was, until Delaware's Elena Delle Donne took the...
Trumae Lucas scored 14 points as No. 11 Delaware relied on defense to defeat Sam Houston State 63-31 Friday night in the season opener for both teams. With the Blue Hens' offense struggling - in part due to the absence of All-American Elena Delle Donne - the defense took over in the opening round of the preseason WNIT. Delaware held the Bearkats to just 11 total field goals...
Trent Hurley passed for two touchdowns and Tim Donnelly connected for a 49-yard score on the only pass he threw to lead Delaware to a 38-14 victory against Delaware State on Saturday afternoon. The game was delayed by lightning for 50 minutes. The Blue Hens (2-0) opened the scoring when Ricky Tunstall intercepted Nick Elko's pass and returned it 91 yards for a touchdown. Delaware...
MORE STORIES >>
Delaware News

Delivered to your inbox

You'll also receive Yardbarker's daily Top 10, featuring the best sports stories from around the web. Customize your newsletter to get articles on your favorite sports and teams. And the best part? It's free!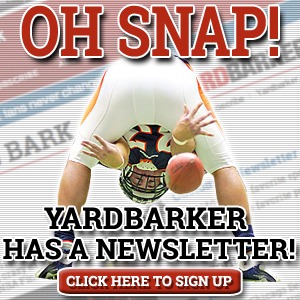 THE HOT 10: Who's Trending