NEWARK, Del. (AP) Trent Hurley scored on a 5-yard run with 41 seconds remaining to lift Delaware to a 28-25 victory over Colgate on Saturday night. The winning touchdown came after Colgate went three-and-out for the only time. Michael Johnson returned the punt to the Delaware 43 and Hurley directed the winning 12-play drive, including two fourth-down conversions. Johnson ran in...
Thanks Reed and Justin for taking care of most of the post-mortem. Two days later that just leaves the final clean-up to me. Mid-way through the 3d quarter I was talking with another guy in the press box. We were half-joking, wondering what Pitt fans were going to be complaining about after the game — other than whether Boyd should have been returning punts. Considering the complete...
The Pitt Panthers will host the Delaware Fightin Blue Hens on Saturday as the 2014 NCAA Football season gets underway. Coverage of the contest between Pittsburgh and Delaware will get underway at 12:00 pm ET on ESPN3. The Odds: The Pitt Panthers are 22 point favorites against the Delaware Fightin Blue Hens. This contest has all the makings of blowout. How many points do you envision...
For a while I was afraid I wasn't going to be able to find a line for Pitt's game against Delaware this weekend. Most books don't offer odds for FBS-FCS games, but I was able to dig up one. According to this super-accurate page, Pitt is 24-point favorites against the Blue Hens on Saturday. My guess would have been somewhere around 20, but either way, the Panthers are...
Get your game faces on, it's almost show time!!  Saturday we host the Blue Hens of Delaware at Heinz Field for the opening game of our 2014 season. Yeah Us!! Here is the PITT SID's office's overview of the match-up.  Here are the much more detailed "PITT vs. Delaware Game Notes" that are distributed by that office to the local and visiting media writers up in the press...
Trevor Sasek connected with Rob Jones for a two-point conversion with 19 seconds left to complete Delaware's furious 22-point fourth quarter comeback to beat Towson 32-31. The conversion followed Sasek's 3-yard touchdown pass to Jones to complete a 3-play, 51-yard drive, set up when the Fightin Blue Hens recovered an onside kick. Delaware (7-2, 4-1 Colonial Athletic Association...
Andrew Pierce rushed for 117 yards and three touchdowns to lead Delaware past Rhode Island 35-13 in a Colonial Athletic Association game on Saturday. Following Pierce's first score of the game, Bob Bentsen connected with Robbie Jackson on a 20-yard scoring strike but the Rams botch the PAT and Delaware (6-2, 3-1) led 7-6 early in the second quarter. The Blue Hens then rattled...
The Newark (Delaware) Police Department says it has arrested Michael J. Creed, 25, of Newark, and charged him with first-degree assault and possession of a deadly weapon during the commission of a felony in connection to the Sunday stabbing of a University of Delaware quarterback, the Philadelphia Inquirer reports. The university is not confirming the identity of the quarterback...
Score: No. 6 Delaware 66, No. 11 West Virginia 53 Star(s): West Virginia: Ayana Dunning 15 Pts, 10 Reb. Delaware: Elena Delle Donne 33 Pts, 7 Reb, 4 Blks. Story: The West Virginia women's basketball team had its opportunity to advance to the second-round and potentially face third-seeded North Carolina on Sunday afternoon. That was, until Delaware's Elena Delle Donne took the...
Trumae Lucas scored 14 points as No. 11 Delaware relied on defense to defeat Sam Houston State 63-31 Friday night in the season opener for both teams. With the Blue Hens' offense struggling - in part due to the absence of All-American Elena Delle Donne - the defense took over in the opening round of the preseason WNIT. Delaware held the Bearkats to just 11 total field goals...
Trent Hurley passed for two touchdowns and Tim Donnelly connected for a 49-yard score on the only pass he threw to lead Delaware to a 38-14 victory against Delaware State on Saturday afternoon. The game was delayed by lightning for 50 minutes. The Blue Hens (2-0) opened the scoring when Ricky Tunstall intercepted Nick Elko's pass and returned it 91 yards for a touchdown. Delaware...
MORE STORIES >>
Delaware News

Delivered to your inbox

You'll also receive Yardbarker's daily Top 10, featuring the best sports stories from around the web. Customize your newsletter to get articles on your favorite sports and teams. And the best part? It's free!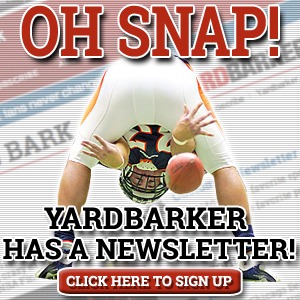 THE HOT 10: Who's Trending