I'm sure CBS announcer Andrew Catalon wishes he could take back his comment about Gonzaga's center Przemek Karnowski. With Gonzaga up and Oklahoma State resorting to fouling, Karnowski, a Polish native and 50% free-throw shooter, Catalon dropped the comment that OK State was going for the "Hack-a-Polack" strategy. To make matters worse, his color-commenting partner, Mike...
Today, all is sunny in the Gonzaga constellation. The Zags are in their accustomed spot in the NCAA tournament, about to play Oklahoma State on Friday for the right to keep suiting up in San Diego. Soon, though, their run will end, and perhaps then it will be more piercing — how much better it could have all been with a healthy Kevin Pangos. As the team bus idled last week outside...
Gonzaga (23-4, 13-1 WCC) took on Loyola Marymount (11-6, 3-12 WCC) in the final home game of the season Saturday night. The Zags hosted a clinic down low as Gonzaga's big men took it to LMU all night long. Three-pointers also continued to fly as guard Kevin Pangos, who scored 17 points, led the charge in the first half while forward Sam Dower Jr., who posted 25 points and grabbed...
Joe Jackson is 6'1". Przemek Karnowski is 7'1". Who ever said that size matters?! I hope that Jackson makes it to the NBA next year so that we can see him participate in the Dunk Competition one day. Such a talented athlete. [.GIFDSPORTS] The post Joe Jackson comes up with ridiculous block on Gonzaga's Przemek Karnowski appeared first on Diehardsport.
Haiden Palmer scored a jumper on the first play of the game and the Gonzaga Bulldogs raced out to an initial lead of 16-2, scored 50 in the first half and pounded No. 24 San Diego 79-50 on Saturday. The loss was the second straight for the Toreros (15-2, 4-2 West Coast Conference), who began the week undefeated and nationally ranked for the first time in program history. San Diego...
Gonzaga forward Kelly Olynyk said Friday he will skip his senior season to enter the NBA draft. The decision caps a whirlwind season in which Olynyk went from afterthought to All-America selection and led Gonzaga to the top spot on The Associated Press poll for the first time in school history. The 7-foot forward said he made the final decision Thursday night and informed coaches...
Gonzaga's special season has ended with another early exit in the NCAA tournament. Although they reached No. 1 in The Associated Press Top 25 and earned a top seed in the tournament, the Zags were bounced 76-70 in the round of 32 on Saturday by Wichita State. Now attention turns to whether star center Kelly Olynyk will return for his senior season. Gonzaga (32-3) became just...
The Gonzaga Bulldogs put their own, championship-style, touch on the done-to-death Harlem Shake.
WHERE'S WALDOW?
Star Gonzaga Bulldogs forward Kelly Olynyk throws down a monster dunk over Saint Mary's during the WCC Tournament Championship game.
If you've been watching college basketball at all this season, then you've heard of Kelly Olynyk. He's the best player on the #1 team in the country, the Gonzaga Bulldogs, and he's having an insane season where he's averaging over 17 points per game on 65.5% shooting. Tonight against St. Mary's, Olynyk was again putting on a clinic, including this vicious dunk on St....
The Gonzaga Bulldogs are No. 1 for the first time ever, and students are lighting up their dorm rooms accordingly.
Kelly Olynyk had 26 points and nine rebounds and Elias Harris added 17 points and 13 rebounds to carry No. 5 Gonzaga past pesky San Francisco 71-61 on Saturday, snapping a three-year losing streak at War Memorial Gymnasium.
Gonzaga walk-on basketball player Rem Bakamus may not be getting any playing time, but he certainly made the most of his TV time during Saturday's game against Illinois where he was seen on the bench rocking out on the air guitar. Unfortunately, Bakamus' celebration may have been a bit premature, as Illinois defeated Gonzaga 85-74. H/T Cosby. Win a Blu-Ray copy of...
Undefeated Illinois continued their winning trend this weekend with a 85-74 victory over No. 10 Gonzaga, but the player of the game award goes to Gonzaga's 150 lb walk-on Rem Bakamus. Check out the extremely enthusiastic air guitar celebration which made him Internet famous today. Read more here: http://www.kansascity.com/2012/12/08/3956898/recap-gonzaga-vs-illinois.html#storylink...
MORE STORIES >>
Gonzaga News

Delivered to your inbox

You'll also receive Yardbarker's daily Top 10, featuring the best sports stories from around the web. Customize your newsletter to get articles on your favorite sports and teams. And the best part? It's free!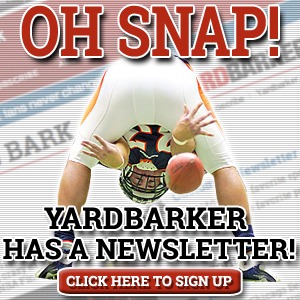 THE HOT 10: Who's Trending