ST. LOUIS -- Mizzou's men's baseball squad filled a legitimate need Tuesday, as former Hawaii point guard Keith Shamburger signed on to join the Tigers as a graduate student next season. Shamburger led the Big West inassists last season and adds veteran depth to the Tigers' roster with his immediate eligibility for next season. "Keith is going to be a great addition...
And you thought our GateKeeper went to Hawaii for mere pleasure? Think again. GK Brizer was all about football business this past week as he scoured the Hawaiian islands for prospects. He gathered metrics on draft-eligible players who spent their college careers in our 50th state. Most of Brizer's reports for the Eagles are classified as top-secret. And most of the prospects he...
The University of Hawaii took on UC Santa Barbara on Friday night in Santa Barbara, and a wild UCSB fan decided to rush the court on his own and attempt to intimidate Hawaii coach Gib Arnold. It all went down when Hawaii's Brandon Spearman was assessed a technical foul, and Arnold came on the floor to argue. That set something off in the mind of the UC Santa Barbara fan, who thought...
Hawaii coach Gib Arnold had just received a technical foul, and then things turned very weird during Thursday night's game with UC Santa Barber. A crazed fan came rushing onto the court during the first-half, confronting the coach and cursing in his face.  Lucky, before anything else escalated, a Hawaii player, Christian Standhardinger, pushed away the fan. The Gaucho's would...
Isaac Fotu scored 17 of his 24 points in the second half as Hawaii won its fourth consecutive road game - for the first time since the 1971-72 season - beating Cal State Fullerton 83-80 Saturday night. Garrett Nevels hit a 3 with 1:03 remaining, giving Hawaii an 81-78 lead. Alex Harris made a pair of free throws 8 seconds later to make it a one-point game. Nevels pushed the Rainbow...
UC Irvine's Alex Young and Hawaii's Keith Shamburger both nailed buzzer-beating three-pointers yesterday. Shamburger's off-balance throw, however, sent the game into overtime and should be watched many, many times... The Rainbow Warriors go on to win in OT, 90-86.**Follow us on Twitter, Subscribe by Email, View via Our Mobile Site, or Return Home
NFL Draft Diamonds Spotlight Interview: Brenden Daley, LB, Hawaii How many teams were recruiting you out of high school? Out of high school I was heavily recruited by UCLA, Utah, Fresno State. I took an official visit to the University of Oregon. How did you come to make your college decision? After receiving my AA […]The post Draft Diamonds Prospect Interview: Brenden Daley, LB...
Christian Standhardinger and Keith Shamburger combined to score six points in the final 1:38 as Hawaii rallied for a 77-73 win over Nebraska-Omaha on Friday night. Hawaii (11-3) took its first lead of the second half after three free throws with 53 seconds remaining. The Warriors made 6 of 8 free throws in the final minute to seal the comeback. Isaac Fotu scored Hawaii's first...
Christian Standhardinger made a 14-foot baseline jumper with 1.4 seconds left as Hawaii beat Saint Mary's 76-74 in a thrilling consolation semifinal of the Diamond Head Classic on Monday. Standhardinger scored 14 of his game-high 22 in the first half and three other players scored in double-figures for the Rainbow Warriors (8-3). Isaac Fotu scored 13 points, Brandon Spearman...
Christian Standhardinger matched his career high, scoring 31 points in leading Hawaii to a 94-84 win over Division II-Chaminade, at Kauai High School on the island of Kauai Saturday night. Standhardinger's 31 points are a season high. Chaminade raced to a 13-point lead at 25-12 with 12 minutes left in the half. Keith Shamburger sparked a Hawaii comeback with a pair of 3-pointers...
Garrett Nevels led Hawaii with 24 points and they bested NAU 76-66 on Saturday night. The score was even at 25 at intermission with Hawaii-averaging 87 points per game- making up for a rebound disadvantage (17-13) by forcing ten NAU turnovers. Both teams opened aggressively in the second half with 21 points scored in the first 3 minutes. By the time play relaxed, Hawaii led 45...
2012 Record: 3-9 (1-7 in MWC) Head Coach: Norm Chow (second year head coach) Last Bowl Game: 2010 Hawaii Bowl: lost to Tulsa 62-35 Stadium: Aloha Stadium in Honolulu, HI (capacity = 50,000) Home Field Advantage: ranked 25th out of 55 mid-major teams Schedule Glimpse: 2013 Schedule Link Out of Conference Games: 8/29 vs USC, 9/7 at Oregon State...
Two players from the University of Hawaii football had to be carted off the field during their game at Brigham Young University on Friday. Both incidents stemmed from helmet-to-helmet collisions.The first injury occurred just three minutes into the first quarter when Warriors defensive tackle Geordon Hanohano tumbles to the ground after receiving a blow from a Cougars offensive lineman...
A little lesson for the fans and media out there when it comes to draft coverage – Because you see a name on the list of players who declare for the NBA Draft that you haven't heard of, it doesn't make their decision a "mistake" or "head-scratcher."  Unfortunately, a variety of things often prevent players from getting the exposure that many others do.  Teams on the...
MORE STORIES >>
Hawaii News

Delivered to your inbox

You'll also receive Yardbarker's daily Top 10, featuring the best sports stories from around the web. Customize your newsletter to get articles on your favorite sports and teams. And the best part? It's free!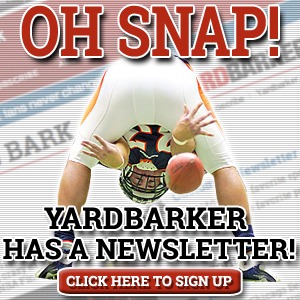 THE HOT 10: Who's Trending