BETHLEHEM, Pa. (AP) Chase Edmonds ran for five touchdowns as Fordham defended its top conference standing with a 48-27 victory over Lehigh on Saturday. Edmonds - who set a school record for freshmen with 231 yards in Fordham's 54-7 victory over Rhode Island earlier this season - had 197 yards on 32 carries for the Rams (7-1, 3-0 Patriot League). Mike Nebrich finished with 20...
  After Mercer upset Duke in the second-round of the tournament, the Lehigh Twitter account went with the throwback to last year, when the Mountain Hawks pulled off  the upset over the Dukies. https://twitter.com/LehighSports/status/447076667362525184/photo/1 Well played, Lehigh, NCAA Tournament   The post Lehigh's Twitter account trolls Duke after its Loss to Mercer appeared...
Lee Kurfis continued his rise from his 2012 season and led Lehigh is every receiving category. Kurfis had 99 catches for 1,351 yards and 9 touchdowns. The talented senior wideout average 122 yards per game helping the Mountain Hawks to an 8-3 overall record. Kurfis now looks to follow in the footsteps of former teammate Ryan Spadola who is in the NFL. NFL Draft Bio of Lee Kur...
Lee Kurfis caught eight passes for 103 yards and two touchdowns as Lehigh beat Colgate 31-14 on Saturday. Demetrius Russell's 2-yard scoring run gave Colgate (4-7, 3-2 Patriot League) a 7-0 lead early in the first quarter but Lehigh responded with 24 unanswered points to take control of the game. Colgate, which came into the game ranked 31st in the FCS in third down conversions...
Brandon Bialkowski threw for 320 yards and three touchdowns to lead Lehigh to a 24-10 win over Columbia on Saturday. Two of Bialkowski's touchdown passes were caught by Lee Kurfis, who finished with 14 receptions for 130 yards. His 14 catches tied the school's single-game record. Lehigh (5-1) took a 17-3 lead in the second quarter with a pair Bialkowski touchdown passes...
Isaiah Campbell successfully defended a pass to clinch the decisive stop in Lehigh's thrilling 51-44 double overtime victory over Central Connecticut State on Saturday. Campbell knocked the ball loose on a well-thrown pass that was in Scott Benzing's hands in the end zone. The textbook coverage epitomized a determined defense that got all the stops it needed to key the Mountain...
The Lehigh University men's lacrosse team was eliminated in the first round of the NCAA playoffs by No. 1 ranked UNC, but the Mountain Hawks didn't go down without a SportsCenter-worthy highlight. Lehigh was unranked heading into the tournament, but toward the end of the first quarter, sophomore Patrick Corbett stepped up with a an impressive goal that put the Mountain Hawks...
Lehigh guard and NBA draft hopeful C.J. McCollum is back at full speed three months after suffering a left foot injury. And it's like he never left. After the senior's college career was cut short, McCollum didn't let up during one of his first full practices. McCollum hit jump shots. He honed his ball-handling skills. He finished off the dribble. He even threw in a couple...
  Lehigh was one of the surprises of last lacrosse season. It finished in the top-15 and had national runner-up Maryland on the ropes in the first-round of the NCAA tournament. The Mountain Hawks lose leading scorers David DiMaria and Dante Fantoni, but return goalie Matthew Poillon. So can the school duplicate that season? I don't know, but I can break down the schedule. ...
Michael Colvin passed for 221 yards and two touchdowns in his debut as Lehigh's starting quarterback and the Mountain Hawks defeated Monmouth (N.J.) on Saturday in the teams' season opener. Lehigh, which made it to the Football Championship Subdivision quarterfinals last season, took a 14-0 lead and led 21-7 at halftime before Monmouth battled back with 10 third-quarter...
We all know Lehigh beat Duke in the first round of this year's NCAA men's basketball tourney. UNC fans even made shirts to remind us. Now there's a viral rap song to keep the upset fresh in our minds. Courtney Leffall (aka DJ Hump) made a deal with fellow Lehigh alumnus Kyle Adams: If the Mountain Hawks beat Duke, Leffall would do a freestyle rap about it. Well, here it is...
MORE STORIES >>
Lehigh News

Delivered to your inbox

You'll also receive Yardbarker's daily Top 10, featuring the best sports stories from around the web. Customize your newsletter to get articles on your favorite sports and teams. And the best part? It's free!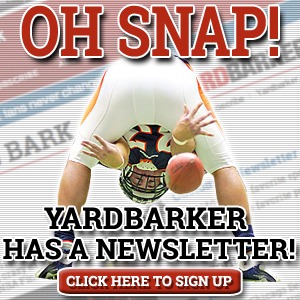 THE HOT 10: Who's Trending