MISSOULA, Mont. (AP) Jordan Johnson threw two touchdown passes Saturday to lead Montana to a 28-20 win over South Dakota. Johnson, who sat out last week's game against Central Washington with a concussion, was sharp in his return, hooking up with Mitch Saylor on a 12-yard scoring play and Jamaal Jones on a 14-yard touchdown toss in the third quarter. Montana (2-1) also forced...
Grizzlies junior guard Keron DeShields, who finished third on the team in scoring in 2013-14, is reportedly transferring out of the program. The 6-foot-2 guard is coming off his best college season, in which he shot nearly 50 percent from the field and better than 35 percent from deep.
The Canton Charge have acquired guard Will Cherry (6'1", 176, Montana) from the available player pool. In accordance with the move, the team has also waived guard Re'mon Nelson. Cherry, 23, most recently played in NBA Summer League with the New Orleans Pelicans after enjoying four-year career at the University of Montana (2009-13). In 116 career collegiate games for...
Kareem Jamar scored 16 points to lead five players in double figures and Montana pulled away in the final five minutes to defeat Idaho 69-58 Wednesday night in the 180th meeting between the two schools. Michael Weisner started the winning surge at 5:10 for the Grizzlies (2-4), breaking a tie at 52 with a 3-pointer. Mario Dunn made four free throws and Weisner and Jamar followed...
Jordan Johnson threw for two touchdowns and Montana ball carriers notched four more as the Grizzlies ran over UC Davis 42-7 in a Big Sky Conference game on Saturday. Behind a big offensive line that manhandled defenders in opening holes, Montana (5-1, 2-1) racked up 255 yards rushing, including an 18-yard scoring run by Travon Van and TD runs of 1 and 24 yards by Jordan Canada....
Jordan Johnson completed his first 12 passes of the game and threw for two touchdowns as Montana and a stifling defense downed Appalachian State, 30-6, in the season opener for both teams Saturday night. Johnson, seeing his first action after missing all of last season while dealing with legal issues, completed 19-of-23 passes for 251 yards in front of a record crowd of 26,293 in...
((HT: Montanas News Station)) Suspended Montana Grizzlies QB Jordan Johnson was accused of rape in a case after a February 2012 incident where the woman involved said that she was raped while Johnson maintains the sex was consensual. The jury deliberated for three hours before coming back with their not guilty verdict... The jury deliberated over the idea that the woman...
((HT: MontanasNewsStation.com/KZBK)) Not that the Montana Grizzlies program needed any more bad news associated with it... BUT... It all started over the weekend with six football players arrested on drug charges as they were attending a party at a place called the "Disco Bloodbath." The HQ isn't kidding... Griz tackle Trevor Poole is up on a felony charge...
Selection Sunday can be unkind to some and kind to others and Wisconsin may have a mix of both as they find themselves heading out west to play in the NCAA 2nd Round as they earned a 4 seed and will take on 13 seed Montana Grizzlies on Thursday.   There are a lot of interesting storylines that appear for this matchup and we'll be breaking it down more in depth throughout the...
Last night the Montana Grizzlies beat Northern Iowa 48-10 in the FCS Quarterfinal on ESPN. Certainly not a BCS game, but they ended the game with one of the best medieval finishing moves in the history of college football. Click here to view the embedded video. (h/t Deadspin) Link to original article: Montana Grizzlies Cap Win With Epic Finishing Move Article found on: Cosby Sweaters
Will Cherry hit two free throws with 13 seconds left, and Montana escaped with a 60-59 victory Monday over Great Falls in the Grizzlies' home opener. Kareem Jamar scored 14 points and grabbed 14 rebounds for Montana (1-1), and Cherry added 11 points. His free throws gave Montana a 60-56 lead before the Argonauts' Marcel Towns drained a 3-pointer with 3 seconds left. Great...
MORE STORIES >>
Montana News

Delivered to your inbox

You'll also receive Yardbarker's daily Top 10, featuring the best sports stories from around the web. Customize your newsletter to get articles on your favorite sports and teams. And the best part? It's free!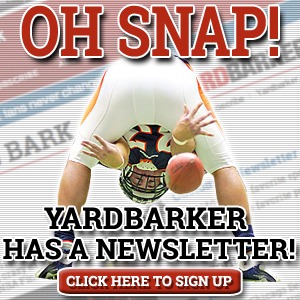 THE HOT 10: Who's Trending