Last Thursday, New Mexico State football started its final season in the Sun Belt facing an early 14-0 hole vs. Arizona State. The deficit was not ideal for any time, but this particular season has become a critical one for the Aggies. Along with Idaho, NMSU was voted out of the Sun Belt — the rest of its membership sitting time zones away — in 2016. But unlike the Vandals, New...
When New Mexico State wide receiver Gregory Hogan scored the go-ahead touchdown pass on Saturday, the moment was lost to the larger college football faithful. The score and subsequent extra point would be the difference-makers for the Aggies in a 32-31 victory over archrival New Mexico – the latest chapter in the storied (to some) history of the Rio Grande Rivalry. The Rio Grande...
The New Mexico State Aggies are looking to bounce back from the 2015 season that saw them go 3-9. However, their offense might have taken a bit of a hit when starting quarterback Tyler Rogers was arrested. The Las Cruces Sun-News reported Rogers was arrested last Friday after a warrant had been issued on Aug. 14. He was booked on a misdemeanor battery charge against a household...
The New Mexico State Aggies have found their next head basketball coach. On Tuesday, CBS Sports reported that Paul Weir, who spent the last five seasons as associate head coach and nine total seasons on the staff, has been promoted to the head coaching position with an agreement in principle reached. The New Mexico State coaching vacancy became available when Marvin Menzies left...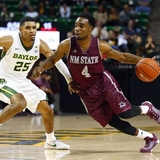 LAS VEGAS -- Ian Baker scored 20 points, Pascal Siakam added 18 with 11 rebounds and top-seeded New Mexico State cruised to a 78-64 win over No. 5 seed Missouri-Kansas City in the semifinals of the Western Athletic Conference Tournament on Friday night. The Aggies (23-9) face No. 2 seed Cal State-Bakersfield (23-8) in the championship game Saturday. Jalyn Pennie hit three 3-pointers...
EDINBURG, Texas -- Pascal Siakam scored 24 points and grabbed 10 rebounds as New Mexico State routed Texas Rio Grande Valley 83-44 on Saturday night. The Western Athletic Conference regular-season champion Aggies (22-9, 13-1) will play in a conference tournament semifinal on Friday. Texas Rio Grande Valley (8-21, 4-10) plays in Thursday's quarterfinals. Siakam was 10 of 17 from the...
After months of speculation and powerpoint slides, Idaho and New Mexico State football programs have officially been booted out of the Sun Belt, the conference announced Tuesday. Idaho, New Mexico State denied extension as football only Sun Belt members & will no longer be league members after 2017 sources told @ESPN — Brett McMurphy (@McMurphyESPN) March 1, 2016 According...
New Mexico State has made its pitch to conference higher-ups to remain football members of the Sun Belt, according to Jason Groves of The Las Cruces Sun-News. University president Garrey Carruthers made his presentation via teleconference this past Wednesday in hopes of extending the Aggies' time in the Sun Belt, with the current agreement between both parties set to expire after...
LAS CRUCES, N.M. -- Ian Baker scored 16 points, Braxton Huggins added 12 off the bench and New Mexico State closed on a 23-14 run to defeat Cal State Bakersfield 63-55 in a battle for first place in the Western Athletic Conference on Thursday night. Baker hit a 3-pointer that gave New Mexico State a 43-42 lead with 7:31 left to play, and Huggins followed with a pair of treys and...
BAKERSFIELD, Calif. -- Ian Baker hit a 3-point field at the buzzer of the second overtime to lift New Mexico State to a 68-67 win over Cal State Bakersfield in a Western Athletic Conference showdown Saturday night. Bakersfield took a 31-18 lead on Dedrick Basile's dunk with 30 seconds left in the first half, but Tanveer Bhullar's layup with three seconds left sent New Mexico State...
LAS CRUCES, N.M. -- Pascal Siakam posted a double-double, scoring 28 points with 10 rebounds, as New Mexico State rolled over Arizona Christian of the NAIA 81-61 on Wednesday night. Siakam finished with 13-of-20 shooting from the field for the Aggies (8-6). Ian Baker added 18 points with four assists and four rebounds and Johnathon Wilkins had 12 points and five boards. The Aggies...
Andrew Allen led New Mexico State to victory Saturday, hours after the quarterback attended the funeral for his father, who had been murdered while working security at a nightclub in Temple, Texas, on Halloween night.Allen was at the ceremony in the morning. He then drove four hours, and came off the bench to throw for 243 yards and four touchdowns as the Aggies downed UL Lafayette...
The New Mexico State Aggies are pretty bad. How bad you ask? Well, before Saturday night, the team hadn't won a game since September 6, 2014, when they defeated Georgia State 34-31. The team had started off 0-7 this year, losing twice to SEC schools, bringing their losing streak to seventeen games. On Saturday, the Aggies faced off against Sun Belt Conference opponent Idaho and...
MORE STORIES >>
New Mexico State News

Delivered to your inbox

You'll also receive Yardbarker's daily Top 10, featuring the best sports stories from around the web. Customize your newsletter to get articles on your favorite sports and teams. And the best part? It's free!
THE HOT 10: Who's Trending