Jarekious Bradley had 18 points and Southeast Missouri State held on for an 82-78 win against SIU-Edwardsville Thursday night. Bradley also made two free throws in the final second to seal the win. SIUE closed to within 78-77 with 9 seconds left and sent Southeast's Lucas Nutt to the free-throw line where he missed the front end of a 1-and-1. Nutt responded with a steal and...
Rozell Nunn scored 20 points and grabbed seven rebounds to lead SIU Edwardsville in a 67-60 victory over Murray State on Saturday. Christian Salecich came off the bench to add 13 points and four assists for the Cougars (6-13, 3-3 Ohio Valley Conference). Donivine Stewart scored 11 points and had six assists. Murray State's Payne Cameron made a layup in the final seconds of...
Maurice Wiltz scored a career-high 20 points as SIU-Edwardsville snapped a four-game losing streak with a 102-78 win over NAIA Robert Morris-Springfield on Sunday. Wiltz hit back-to-back 3-pointers and a layup to give SIU-Edwardsville (3-10) a 40-31 lead with 3:13 remaining in the first half. Wiltz finished with five 3-pointers on 7-of-12 shooting from the field. Robert Morris...
EDWARDSVILLE, Ill. -- Jordair Jett scored 16 points for Saint Louis as they rolled to a 24 point victory over SIU-Edwardsville on Wednesday night 82-58. Mike McCall Jr. and Dwayne Evans each had 14 points for the Billikens (2-0). Grandy Glaze had nine points and 14 rebounds. SIU-Edwardsville (0-2) was led by Donivine Stewart who had 14 points. The Cougars kept it close for the...
Anthlon Bell had 18 points and Michael Qualls added 16 as five players finished in double figures in a season-opening 99-65 win for Arkansas over Southern Illinois-Edwardsville. Alandise Harris added 15 points off the bench for the Razorbacks, who have now won 15 straight games at home. It was their 18th straight season-opening win. Arkansas (1-0), which was 18-1 in Bud Walton...
Send to KindleI think the saying goes, "Champions know no vacation." The last several weeks saw a host of college players take a champion's mindset overseas, making the most of their respective off-seasons, and successfully representing the Global Sports Academy East Regional squad in a number of contests against select professional teams throughout Europe. These mid-major...
While rehabbing all last season from a knee injury, Laurence Bowers was able to do a lot of shooting. The 6-foot-8 forward showed off his increased range in No. 15 Missouri's 83-69 season-opening victory over Southern Illinois-Edwardsville on Saturday, hitting a pair of 3-pointers and finishing with 20 points and seven rebounds. The season before he was hurt, Bowers attempted...
COLUMBIA, Mo. -- Laurence Bowers had 20 points and seven rebounds in his return from a knee injury that sidelined him all of last season, leading No. 15 Missouri to an 83-69 season-opening victory over Southern Illinois-Edwardsville on Saturday. Bowers outscored the Cougars 10-2 by himself during a two-minute stretch early in the second half for the Tigers, who are ranked to start...
Courtesy Missouri Athletics Columbia, Mo. Freshmen Stefan Jankovic and Negus Webster-Chan combined for 34 points and 12 rebounds as the former high school teammates led Missouri Basketball to an 86-60 victory over Missouri Southern to close out exhibition play on Sunday. Jankovic came off the bench and flourished on the perimeter, hitting 8-of-13 shots, including three from outside...
MORE STORIES >>
SIU-Edwardsville News

Delivered to your inbox

You'll also receive Yardbarker's daily Top 10, featuring the best sports stories from around the web. Customize your newsletter to get articles on your favorite sports and teams. And the best part? It's free!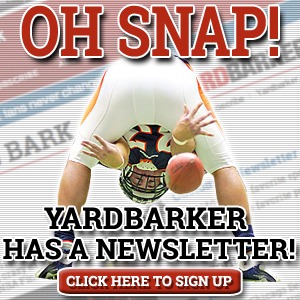 THE HOT 10: Who's Trending