WVU head coach Dana Holgorsen addressed the media today after the start of fall practice. Video and transcript are courtesy and property of WVUSports.com. Opening statement: We had a good first day. Everybody in the country has a good first day, I promise you that. The guys were pretty fired up about being out there. We had good energy and got done what we wanted to get accomplished...
With camp set to open today for the 2014 version of the West Virginia University football team, many questions surround the team as they prepare for Alabama and try to erase the memory of the 4-8 record from a year ago. We look at 5 questions that surround the team as camp gets underway in Morgantown.   1. Clint Trickett –   The WVU coaching staff says Trickett was healthy for...
The West Virginia Mountaineers, pictured above in the cover photo, played in three overtime games last season. They offer the perfect lead-in to a statistical survey of college football overtime games since the 2003 regular season. You'll also find statistical compilations of scoring margins. Part one of this look at college football since 2003, focusing on comebacks, home teams...
The so called 3-3-5 defense is definitely a good fit for WVU in the Big 12, but it really is not a true 3-3-5. The alignment is more of a system of taking advantage of the most talented personnel. This version is being implemented by Coach Tony Gibson with the assistance of Coach Tom Bradley. Expect a mix of Penn State and Rich Rod. WVU Head Coach Dana Holgorsen simply refers to...
Pittsburgh rolled into Morgantown on a cold night ranked the 9th ranked team in the land, but that ranking wouldn't hold up after this meeting. With 3 seconds left and the game tied at 16, freshmen Tyler Bitancurt kicked the Mountaineers to a 19-16 win over the Panthers in the 102nd edition of the Backyard Brawl. Sit back and relax as we go back to 2009, and another Mountaineer...
When West Virginia University athletic director Oliver Luck announced the promotion of Dana Holgorsen to head football coach at WVU, Holgorsen knew the task that awaited. Holgorsen understood what it took to win the Big East Conference, and to his credit, he did. Holgorsen was surround with talent that could compete and win in the Big East. He knew he had Geno Smith and company...
Pitt 's in the ACC and playing eight conference games a year. West Virginia 's in the Big 12 and playing nine conference games a year. So the Panthers and Mountaineers agreeing to bring back the "Backyard Brawl" might not happen anytime soon no matter how much support the idea generates. But at least there's one very prominent voice that now has provided that...
West Virginia quarterback Clint Trickett, who was recently named the starter by Mountaineers head coach Dana Holgorsen, prefers to watch football surrounded only by men. How do we know this? Well, a tweet the senior sent last week pretty much says it all. Trickett learned the hard way that everything a player does on social […]
The "Backyard Brawl" was probably the best football rivalry in the Big East, and it was an unfortunate casualty of conference realignment with Pitt in the ACC and West Virginia in the Big 12. Heinz Field and Milan Puskar Stadium are less than 75 miles apart, but the two rivals are not scheduled to renew their rivalry at this point. At least one major player in the rivalry wants...
Wendell Smallwood projected to be the starting running back for the West Virginia Mountaineers this season, but that won't be happening. According to a report from the Delware News Journal, Smallwood was arrested in West Virginia on Monday and is being charged with witness intimidation in a murder case. The arrest comes as an out-of-state fugitive […]
Most coaches entering their fourth years with power conference programs have either established themselves or need a big season to ensure that they get a chance for year five. Neither seems to be the case for West Virginia's Dana Holgorsen. Holgorsen's tenure at West Virginia has been extremely up-and-down, coming to a head with last year's 4-8 campaign. He may very well need...
So this is a sobering reminder from West Virginia's coach about last season. "We did not play winning offense," Dana Holgorsen...
Just three years ago, the West Virginia Mountaineers went 10-3 and finished their tenth consecutive winning season. For seven straight years, they won at least nine games. Since joining the Big 12, the Mountaineers have done nothing but disappoint. In 2012 they went 7-6 with a 4-5 conference record. Instead of bouncing back in 2013, they kept going in the wrong direction finishing...
MORE STORIES >>
West Virginia News

Delivered to your inbox

You'll also receive Yardbarker's daily Top 10, featuring the best sports stories from around the web. Customize your newsletter to get articles on your favorite sports and teams. And the best part? It's free!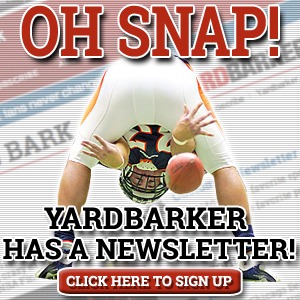 THE HOT 10: Who's Trending