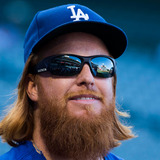 Want more news first thing in the day? Sign up for the Yardbarker Morning Bark newsletter here.Good morning and welcome to the YB Box Score, what we're reading while stuffing the All-Star ballot box with last minute votes. Happy birthday today to Manny Machado, Justin Schultz, Brandon Jacobs, Pau Gasol, Valerie Brisco-Hooks, Lillie Leatherwood and Willie Randolph. On this date in...
During the 1945 World Series, the owner of Chicago's famed Billy Goat Tavern put a curse on the Cubs because, naturally, they wouldn't let him bring his goat into Wrigley Field. Monday night, a group of competitive eaters (naturally) have banded together in hopes of breaking the decades long curse and 107 year championship drought by, you guessed it…eating a goat. And this is what...
Unfortunately your browser does not support IFrames. The best hot dog eater in the world misses being challenged. Joey Chestnut has won the Nathan's Hot Dog Eating Contest seven years in a row. The last time Takeru Kobayashi won was in 2006, when he edged out Chestnut by just 1 1/2 hot dogs. Chestnut and […]
Renowned Japanese masticator Takeru Kobayashi polished off a record 337 chicken wings in 30 minutes Friday to be crowned champion of Wing Bowl 20. Kobayashi swallowed the competition in Philadelphia's annual wing-eating contest, beating out reigning three-time champion Jonathan "Super" Squibb by 66 wings. "I could probably eat another 100 wings or so," Kobayashi said afterward...
IT DOES A BODY GOOD
Takeru Kobayashi is the lean, mean Japanese hot dog eating machine. He's held world eating records for hamburgers, pasta, meatballs and hot dogs. He held the hot dog crown for six years before being beaten by Joey Chestnut. Kobayashi was out to prove Saturday at a social media event with Blogs with Balls that he still has it. But, as the title of the post gives it away, he wasn't...
CHOW DOWN
On a rooftop bar in mid-town Manhattan, six-time champ Takeru Kobayashi downed a record 69 hot dogs to become the unofficial winner of this year's annual Nathan's hot dog eating competition--only problem was, he was seven miles west of the actual boardwalk event on Coney Island. With the Empire State Building as a backdrop and a ten-foot high TV screen broadcasting the sanctioned...
Takeru Kobayashi, once the world's most famous competitive eater, was set to eat hot dogs in exile Monday, far from the competitive eating stage. The fortunes of Kobayashi, who won six consecutive Nathan's Famous titles between 2001 and 2006 at New York's Coney Island, changed in 2010 when he was prohibited from entering the eating contest due to a contract dispute with the organizers...
CHOW DOWN
Takeru Kobayashi won't be on the Coney Island boardwalk for this year's Nathan's Famous Fourth of July Hot Dog Eating Contest but will compete from a distance via satellite TV. Kobayashi, who can't compete because he refuses to sign an exclusive contract with organizer Major League Eating, says he will unofficially compete from a remote location to protest his ban from the Super...
A quick update for those of you who totally forgot about the LeBron James sweepstakes after learning that eating champion Takeru Kobayashi was arrested because he jumped onstage Sunday at the Nathan's Hotdog Eating Contest. Kobayashi, also known as "The Tsunami," was released from jail on Monday. Judging by his statements, Kobayashi seems a bit dumbfounded by his arrest: I went...
When most people think of the name Kobayashi, they think of the amazing eater who dominated the Nathan's Coney Island 4th of July hot dog contest until Joey Chestnut came along. When I think of the name "Kobayashi," I think of the character from The Usual Suspects first, but the eater guy isn't bad either. Anyway, Kobayashi didn't compete in the eating contest this year because...
MORE STORIES >>
Eating News

Delivered to your inbox

You'll also receive Yardbarker's daily Top 10, featuring the best sports stories from around the web. Customize your newsletter to get articles on your favorite sports and teams. And the best part? It's free!