Posted January 15, 2013 on AP on Fox
Lance Armstrong said Wednesday that viewers can judge for themselves how candid he was in his interview with Oprah Winfrey. ''I left it all on the table with her and when it airs the people can decide,'' he said in a text message to The Associated Press. Armstrong responded to a report in the New York Daily News, citing an unidentified source, that he was not contrite when he acknowledged during Monday's taping with Winfrey that he used performance-enhancing drugs. He's also held conversations with U.S. anti-doping officials, touching off speculation that the team leader who demanded loyalty from others soon may face some very tough choices himself: whether to cooperate and name those who aided, knew about or helped cover up a sophisticated doping ring that Armstrong ran on his tour-winning U.S. Postal Service squads. ''I have no idea what the future holds other than me holding my kids,'' he said. Armstrong's interview with Winfrey won't begin airing until Thursday night, but already some people want to hear more - under oath - before he's allowed to compete again in elite triathlons, a sport he returned to after retiring from cycling in 2011. In addition to stripping him of all seven of his Tour de France titles last year, anti-doping officials banned Armstrong for life from sanctioned events. ''He's got to follow a certain course,'' David Howman, director general of the World Anti-Doping Agency, said. ''That is not talking to a talk-show host.'' Former teammate Frankie Andreu, one of several riders Armstrong cast aside on his ride to the top of the sport, said no one is better-suited to provide anti-doping authorities with a blueprint for cleaning up the sport. ''Lance knows everything that happened,'' Andreu told the AP. ''He's the one who knows who did what because he was the ringleader. It's up to him how much he wants to expose.'' World Anti-Doping Agency officials said nothing short of ''a full confession under oath'' would even cause them to reconsider the ban. Although Armstrong admitted to Winfrey on Monday that he used performance-enhancing drugs, Howman said that is ''hardly the same as giving evidence to a relevant authority.'' The International Cycling Union also urged Armstrong to tell his story to an independent commission it has set up to examine claims that the sport's governing body hid suspicious samples, accepted financial donations, and helped Armstrong avoid detection in doping tests. Winfrey wouldn't detail what Armstrong said during their interview at a downtown Austin hotel. In an appearance on ''CBS This Morning,'' she said she was ''mesmerized and riveted by some of his answers.'' What had been planned as a 90-minute broadcast will be shown as a two-part special, Thursday and Friday, on Winfrey's OWN network. The lifetime ban was imposed after a 1,000-page report by USADA last year outlined a complex, long-running doping program led by Armstrong. The cyclist also lost nearly all of his endorsements and was forced to cut ties with the Livestrong cancer charity he founded in 1997. The damage to Armstrong's reputation was just as severe. The report portrayed him as well-versed in the use of a wide range of performance-enhancers, including steroids and blood boosters such as EPO, and willing to exploit them to dominate. Nearly a dozen teammates provided testimony about that drug regimen, among them Andreu and his wife, Betsy. ''A lot of it was news and shocking to me,'' Andreu said. ''I am sure it's shocking to the world. There's been signs leading up to this moment for a long time. For my wife and I, we've been attacked and ripped apart by Lance and all of his people, and all his supporters repeatedly for a long time. I just wish they wouldn't have been so blind and opened up their eyes earlier to all the signs that indicated there was deception there, so that we wouldn't have had to suffer as much. ''And it's not only us,'' he added, ''he's ruined a lot of people's lives.'' Armstrong was believed to have left for Hawaii. The street outside his Spanish-style villa on Austin's west side was quiet the day after international TV crews gathered there hoping to catch a glimpse of him. Meanwhile, members of his legal team mapped out a strategy on how to handle at least two pending lawsuits against Armstrong, and possibly a third. Former teammate Floyd Landis, who was stripped of the 2006 Tour de France title for doping, alleges in one of the lawsuits that Armstrong defrauded the U.S. government by repeatedly denying he used performance-enhancing drugs. The False Claims Act lawsuit could require Armstrong to return substantial sponsorship fees and pay a hefty fine. The AP reported earlier Tuesday that Justice Department officials were likely to join the whistleblower lawsuit before a Thursday deadline.
Original Story:
http://msn.foxsports.com/cycling/stor...
THE BACKYARD
BEST OF MAXIM
RELATED ARTICLES
If you are planning a heartfelt admission and apology, you do not float a trial balloon first to see if it will go over OK. You do not look for the softest landing possible. You do not wait until there is nothing to lose by doing it, and every personal thing to gain. You do not plan to take down everyone around you. Something heartfelt, by definition, cannot be calculated, hurtful...
Tweet   A couple of days ago Lance Armstrong met with members of Livestrong, the organization he became synonymous with, to apologize for the impact his actions over the years have had on the company. News for Livestrong continues to be unfortunate as a disagreement with Sporting KC of MLS has led to an end [...]
An independent panel preparing to investigate the International Cycling Union's links to Lance Armstrong is fighting back against the governing body's resistance to offer amnesty to potential witnesses. The three-member panel says it will soon hold a public hearing in London to examine if ''truth and reconciliation'' should be offered to riders and officials...
Thirteen years after he stood on the podium in Sydney, Lance Armstrong was stripped of his bronze medal from the 2000 Olympics because of doping. The International Olympic Committee sent a letter to Armstrong on Wednesday night asking him to return the medal, just as it said it planned to do last month. The decision was first reported Thursday by The Associated Press. The IOC...
Lance Armstrong finally cracked. Not the way anti-doping authorities hoped or as disillusioned fans wanted, while expressing deep remorse or regrets, though there was plenty of that in Friday night's second part of Armstrong's interview with Oprah Winfrey. It wasn't over the $75 million in lost sponsorship deals, nor when Armstrong was forced to walk away from the Livestrong...
Lance Armstrong confessed to Oprah Winfrey during an interview Monday that he used performance-enhancing drugs to win the Tour de France, a person familiar with the situation told The Associated Press. The person spoke on condition of anonymity because the interview is to be broadcast Thursday on Winfrey's network. Armstrong was stripped of all seven Tour titles last year following...
Good Bye Friends of the Program Cam Newton is back at Auburn to finish his degree – Throw The Flag Lance Armstrong: This Bob Ley Interview From 2006 Reveals Far More Than Oprah Will – The Big Lead More Than Half of All 2012-2013 Bowls Show Increase in Attendance – Southern Gameday Utah Jazz fan gets ejected for heckling Dwyane Wade – Die Hard Sport That's all, come back...
Only Oprah Winfrey and her crew have heard the words directly from Lance Armstrong, but his interview this week could result in his sport being bounced from the Olympics, according to a report. News agency Reuters reported Tuesday that a member of the International Olympic Committee would consider dropping cycling from the Olympics if the sport's governing body were implicated...
Big Mike and Justin hit the airwaves in this edition of the Orange Report to talk about the remaining Texas recruiting targets, the state of affairs of the Texas basketball program, the Manti Teʻo girfriend hoax, Lance Armstrong being dopey, and much more.  *An added plus:  the guys had a couple of the girls Texas pom squad on too! Special guests for this episode include: Keneshia...
Nothing is more effective than hired goons. "I hope somebody breaks a baseball bat over your head. I also hope that one day you have adversity in your life and you have some type of tragedy that will … definitely make an impact on you."—one of Lance Armstrong's henchman to the wife of a teammate who just wanted to tell the truth For as little as I care about cycling...
Entertainment News

Delivered to your inbox

You'll also receive Yardbarker's daily Top 10, featuring the best sports stories from around the web. Customize your newsletter to get articles on your favorite sports and teams. And the best part? It's free!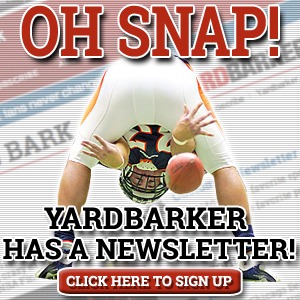 Latest Rumors
The Backyard

Today's Best Stuff

For Bloggers

Join the Yardbarker Network for more promotion, traffic, and money.

Company Info

Help

What is Yardbarker?

Yardbarker is the largest network of sports blogs and pro athlete blogs on the web. This site is the hub of the Yardbarker Network, where our editors and algorithms curate the best sports content from our network and beyond.