Found November 04, 2011 on NESN.com:
Forget Kim Kardashian and Boise State, Liz Taylor still reigns supreme in the proposal and breakup department. The 79-year-old Taylor, one of the great actresses of Hollywood's Golden Age, has had seven husbands (but was married eight times, as she married and divorced Richard Burton twice). Since graduating from Seton Hall University, Will O'Toole has been doing cartoons for over 30 years for a number of papers (USA Today), magazines (College and Pro Football Weekly) and websites (CBSSportsline.com). He is believed to be the only national cartoonist to have voted for the Heisman Trophy and the Wooden and Naismith Awards.
Original Story:
http://www.nesn.com/2011/11/boise-sta...
THE BACKYARD
BEST OF MAXIM
RELATED ARTICLES
Now's your chance to think like a publicist. If you were working with Kim Kardashian and your job were to get her on as many magazine covers as possible, and to keep her television ratings high, whom would you choose for her next boyfriend? See, this isn't about Kimmy finding love so much as it [...]
A quick divorce after a short marriage was perhaps the most obvious ending to Kris Humpries' marriage to Kim Kardashian. And as many comment, poke fun of, and feel the entire marriage was a sham, enter those Taiwanese animators just in the nick of time to break down this failed relationship with their own brand of explanation. Just recently, they put out video animation of the...
Kim Kardashian and Kris Humphries' short-lived marriage was doomed before they even said "I do," according to TMZ sources who claim the former couple's prenup negotiations were marred by bitter showdowns. The reality TV superstar and the NBA player sniped at each other during summer talks with their lawyers over how to divide their assets in the event of a marriage...
Kim Kardashian sadly filed for divorce after 72 long days with Kris Humphries and her publicity team/TV crew decided to write Kris Humphries out of the script this week. One of the juicier gossip items suggested Kim ended the marriage because she was still interested in ex-boyfriend Reggie Bush. One report even said Bush had [...]
The ex-husband of Kim Kardashian, Kris Humphries, was successful at the University of Minnesota but his team struggled. The Gophers finished 12–18, with a 3–13 record in the Big Ten during Humphries' lone season. The team had a .500 record before his arrival and finished with a 10–6 conference record in the season after he left. Before "Humpdasian," Kris was a great...
Kim Kardashian's marriage to Kris Humphries lasted fewer days than the NBA lockout, and online sportsbooks are now offering prop bets on what the reality television star will do next. At you can speculate on the field of work for Kardashian's next love interest, with 'professional athlete' the favorite on that wager at 1/2 odds. And the trends...
It was only a matter of time until Kim Kardashian's divorce from Kris Humphries got Taiwanese-Animated and the results were glorious yet again: (Courtesy of Sportress of Blogitude)
I think the best part of Kim Kardashian filing for divorce from Kris Humphries is that we're pretty much done ever having to mention Humphries again. I wish I could say that about Kardashian, but I'm almost ready to bet my house that she shows up at a Miami Dolphins game within the next few weeks. Humphries, though, just needs to fill out some paperwork and sign on the dotted...
A "broken-hearted" Kim Kardashian is going to be a ratings bonaza for E when Kourtney and Kim take New York airs later this month. Just days after filing for divorce from Nets player Kris Humphries, Kim attended the launch of her handbag line, The Kardashian Kollection (naturally) with Khloe and Lamar in Australia. She wrote a letter to her fans explaining her decision to divorce...
Kevin Cowherd : I don't remember exactly when the Orioles became the Kim Kardashian of baseball, the organization everyone loves to take shots at. But this dragged-out search for a new general manager isn't helping matters.
Some things are predictable.   The sun will rise in east.   You will pay taxes.  You will die.   Kim Kardashian's marriage will not last.   The Ducks will lose when they play in Detroit in the regular season.   The last time hell froze over (in other words, the Ducks won a game at the Joe Louis Arena) was February 10, 2008.  In Saturday's match up between the Red...
Entertainment News

Delivered to your inbox

You'll also receive Yardbarker's daily Top 10, featuring the best sports stories from around the web. Customize your newsletter to get articles on your favorite sports and teams. And the best part? It's free!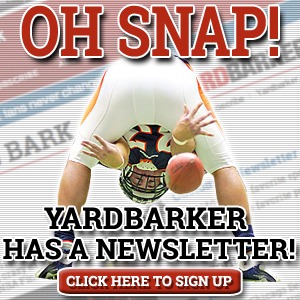 Latest Rumors
The Backyard

Today's Best Stuff

For Bloggers

Join the Yardbarker Network for more promotion, traffic, and money.

Company Info

Help

What is Yardbarker?

Yardbarker is the largest network of sports blogs and pro athlete blogs on the web. This site is the hub of the Yardbarker Network, where our editors and algorithms curate the best sports content from our network and beyond.