Found November 06, 2012 on Rumors and Rants:
As a Cubs fan, you don't need to remind me that 1908 was a long time ago. That year is so far off, it is more of a concept than a concrete entity. It's almost impossible to grasp just how remarkably different the world was the last time the Cubs won the World Series. We all know the basic details — there's been two World Wars, a Cold War, cars have become commonplace and someone invented radio, TV, the internet, Snuggies, chemical and atomic warfare. Yet none of that puts the Cubs futility into context as well as taking a look at the electoral map from the 1908 presidential election, which occurred one month after they swept the Tigers for back-to-back world titles to start a still unfulfilled dynasty. Virtually everything about our nation's population has changed. In this year's election, Florida's 29 electoral votes have been hotly contested by Barack Obama and Mitt Romney. In 1908, it's unlikely William Howard Taft or William Jennings Bryan even visited the godforsaken place — ...
Original Story:
http://rumorsandrants.com/2012/11/ele...
THE BACKYARD
BEST OF MAXIM
RELATED ARTICLES
EXECUTIVE DECISION
This isn't the first time that Paulina Gretzky was spotted partying with a Barack Obama puppet. However, this time around it is far more entertaining. All you conservative nuts can calm down and relish in the fact that Paulina is on your side after the liberal false alarm back in September. Kudos to the Toronto Sun for pulling this picture from Paulina's Instagram profile before...
Barack Obama has won re-election. So I get to say for another four years that the President of the United States of America follows me on Twitter. Here's another Obama related factoid: Eli Langer ?@EliFromBrooklyn BREAKING: President @BarackObama's "4 more years" tweet is now the most retweeted tweet (318K) in Twitter's history – http://cnb.cx/TJHObi Paul M. Banks is...
Last night, a small group of Ole Miss students decided to protest the re-election of Barack Obama as President of the United States, presumably because they are college students and have nothing but free time.  Eventually, the crowd got bigger and bigger, as more bored students wanted to see what was going on, and people started yelling at one another in the way only politics makes...
The 2012 Election is upon us, and it's time to make your vote count America. While most people will be voting for the next President of the United States between Mitt Romney and current President Barack Obama, I would like to open up some new polls for people to vote on. Imagine if your voice, the NFL fans voice mattered to coaches, Owners and General Managers of all 32 teams....
Barack Obama and Michael Jordan may have more in common than just Chicago, according to Scottie Pippen. On Tuesday we reported that Obama spent part of his day eschewing the stress of election day by playing some basketball with Pippen in a pick-up game. By the end of the night, of course, stress wasn't part of the equation, as Obama won re-election handily (in the electoral...
2012 Election November 6, 2012 Every week the tortured fans here at Cleveland Sports Torture make ill advised picks of the Browns, Buckeyes, Cavaliers, or Indians. But today I thought I'd do something different. Like make ill-informed predictions for the election. What's that, you say? I guess you probably have missed the election advertising for the past million few...
It is election day in the United States, and athletes as well as everyone else are chatting up a storm about politics. President Barack Obama and Governor Mitt Romney spoke with Chris Berman before the Presidential election and now we have video. As if it wasn't a surprise, President Obama feels like the Chicago Bears will be winning the Super Bowl this year. Article found on: Cosby Sweaters
Wayne Rooney and Cristiano Ronaldo have got the President's back … way back. The two soccer stars publicly backed Barack Obama in the 2012 U.S. presidential election, according to CNN. The incumbent Obama faces a stiff challenge from Mitt Romney as he seeks to retain the highest office in the land for four more years. Rooney, a citizen of the U.K., was the first to pledge...
            "My opinion about the Ohio Buckeys remains the same."  /airwank Today calls for a celebration, boys (and one occasional girl).  No...not because I'm completely awesome or because Lori died giving birth to a living, breathing sin.  Well, those things SHOULD be celebrated, but not today, **** faces.  Today we celebrate because after today...
Entertainment News

Delivered to your inbox

You'll also receive Yardbarker's daily Top 10, featuring the best sports stories from around the web. Customize your newsletter to get articles on your favorite sports and teams. And the best part? It's free!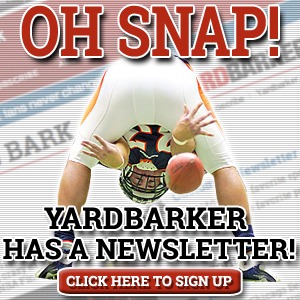 Latest Rumors
Best of Yardbarker

Today's Best Stuff

For Bloggers

Join the Yardbarker Network for more promotion, traffic, and money.

Company Info

Help

What is Yardbarker?

Yardbarker is the largest network of sports blogs and pro athlete blogs on the web. This site is the hub of the Yardbarker Network, where our editors and algorithms curate the best sports content from our network and beyond.