Found January 20, 2013 on Jocks and Stiletto Jill:
Manti Te'o had a practice run interview on Friday off camera with ESPN's Jeremy Schaap. Now the former Notre Dame defensive star is ready to talk on camera. Katie Couric has snagged the first on-camera interview with Manti along with his parents. The interview will air on her syndicated talk show, "Katie" on Thursday, with several ABC news outlets expected to air excerpts from the interview before the actual broadcast. Ironically enough, Matthew Hiltzik who was hired as Manti Te'o's spokesperson this week also represents Katie Couric. Explains why she beat out Oprah. If you've somehow missed an episode of the Manti Te'o soap opera, go HERE to get caught up.   source  
Original Story:
http://jocksandstilettojill.com/2013/...
THE BACKYARD
BEST OF MAXIM
RELATED ARTICLES
Notre Dame linebacker Manti Te'o will be interviewed by Katie Couric, the first on-camera interview given by the All-American since news broke about the dead girlfriend hoax. Te'o and his parents will appear on Couric's syndicated talk show Thursday. ABC News announced the interview Sunday, but gave no details as to when it will take place and where. Te'o gave an...
Notre Dame linebacker Manti Te'o has told Katie Couric that he briefly lied about his online girlfriend after discovering she didn't exist, while maintaining that he had no part in creating the hoax. Pressed by Couric to admit that he was in on the deception, Te'o said he believed that his girlfriend Lennay Kekua had died of cancer and didn't lie about it until December...
  Embattled former Notre Dame linebacker Manti Te'o and his family will continue to process of proving he was victim of a vicious hoax, when they sit down for an on air interview with Katie Couric this week. The interview which will air on Thursday will feature Te'o's parent as well, because they say they were also duped by Ronaiah Tuiasosopo. According to Larry Browns...
Even after Manti Te'o gave a 2 1/2-hour interview, trying to clear up how he fell for a women he never met - who turned out to be fake - some Notre Dame students wanted to hear more from the All-American linebacker. ''I think he should have seen some warning signs. But at the same time I think you have to give him the benefit of the doubt. I think he should have seen...
It seems as though Notre Dame has another hoax on their proverbial hands. However, in all fairness, this one doesn't seem quite as bad as the Manti Te'o situation. And this one appears as if they really didn't do anything wrong.Georgia running back commit Stanley Williams was scheduled to make an on-campus visit at South Bend last weekend. Part of the experience included...
Recently the NCAA passed new legislation that deregulated a lot things that affect the recruiting of high school athletes. This was an attempt by NCAA President Mark Emmert and the Division I Board of Directors to simplify the rule book (which is now 25 pages lighter) and allow themselves some breathing room to regulate and enforce more important matters. These sweeping changes...
Skylar Diggins scored 18 points to lead No. 2 Notre Dame to a 74-50 rout of St. John's on Sunday. The All-American penetrated at will. When she wasn't scoring on fast breaks, she was hitting pull-up jumpers or feeding forward Natalie Achonwa for easy layups. Achonwa had 16 points and 12 rebounds for her 10th double-double of the season for Notre Dame (16-1, 5-0). She scored...
It seems everybody has a Manti Te'o joke to crack these days. The art of Te'oing has also, begrudgingly, become a thing people do as well. The concept is simple, in that a guy poses with his invisible girlfriend and posts the picture of the fictitious couple on the Internet for all to have a good laugh about. It's one thing for regular Joes to do it, but what about when an...
Our Lady of Good Counsel (Olney, Md.) class of 2014 teammates Jesse Aniebonam and Sam Mustipher were at Notre Dame for a "mini" junior day, and one came away with an offer.
Star Notre Dame linebacker Manti Te'o finally surfaced late Friday night for the first time since a report was published revealing that his dead girlfriend never died – or even existed. (Unfortunately, it didn't live up to my own personal hopes.) Not surprisingly, Te'o denied any involvement in the hoax during the interview with ESPN.com's Jeremy Schaap (which...
According to the New York Post, just weeks after Manti Te'o's fake girlfriend, Lennay Kekua died of Leukemia, the Notre Dame star linebacker moved onto a very real girlfriend by the name of Alexandra Del Pilar. Del Pilar, a 21-year-old college student from Notre Dame's sister school St. Mary's in Indiana reportedly first provided a [...]
Notre Dame is a surprising 2-2 in league play. Or are they merely 2-2 with the bulk of the season waiting to determine their fate?
Entertainment News

Delivered to your inbox

You'll also receive Yardbarker's daily Top 10, featuring the best sports stories from around the web. Customize your newsletter to get articles on your favorite sports and teams. And the best part? It's free!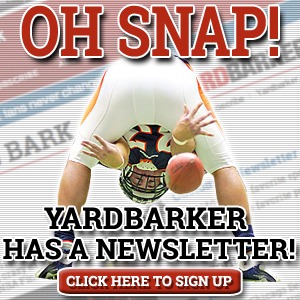 Latest Rumors
The Backyard

Today's Best Stuff

For Bloggers

Join the Yardbarker Network for more promotion, traffic, and money.

Company Info

Help

What is Yardbarker?

Yardbarker is the largest network of sports blogs and pro athlete blogs on the web. This site is the hub of the Yardbarker Network, where our editors and algorithms curate the best sports content from our network and beyond.