Found June 27, 2012 on NESN.com:
President Barack Obama may want to lay off the sports-related speeches for a little while. While in Miami this week, President Obama took the time to congratulate the city on its new NBA championship. The only thing is, he got the team's name wrong, calling them the "Miami Heats." While the mistake was the tiniest of errors and he carried on with the rest of his speech fine, his slip up was noticed by some and quickly spread over the internet. Earlier in the week, President Obama was booed during a speech in Boston when he thanked the city for...
Original Story:
http://www.nesn.com/2012/06/president...
THE BACKYARD
BEST OF MAXIM
RELATED ARTICLES
RED (SOX) STATE
Earlier today, USA president Barack Obama was in Boston for a fundraiser at Symphony Hall and decided to poke Red Sox nation nearing the end of speech. Obama thanked Boston for trading Kevin Youkilis to his Chicago White Sox and was promptly booed because of the statement: (Courtesy of CBS Boston)
HOW 'BOUT THEM HEATS
To say that President Barack Obama has had a rough few days in the area of sports-related quips during speeches would be an understatement. First, the White Sox fan inside of Obama got the better of him when he thanked a Boston crowd for the Kevin Youkilis trade, which caused the citizens of Red Sox [...]
President Barack Obama may be a lot of things. He may not have the best track record and is going to be in quite a battle with Mitt Romney when the country elects the next president. But Obama has one huge edge over Romney, and he demonstrates it time and time again. Obama is a regular guy who loves to joke around and watch sports. Romney is a stuffy phony who cannot...
Yesterday, POTUS Barack Obama was in Boston for a fundraiser at Symphony Hall and he decided to have some fun at the expense of poke Red Sox nation nearing the end of speech. Obama, a noted Chicago White Sox fan, thanked Boston for trading Kevin Youkilis to Chicago. Reminding the crowd about Youk changing the color of his Sox incited a chorus of boos: But you gotta wonder Obama...
No matter where you stand on the Supreme Court's decision to uphold President Barack Obama's health care mandate, it's impossible to ignore the fact that there are some people who are very passionate about the topic. Among those passionate citizens is Sixers big man Spencer Hawes, who took to Twitter to offer up his views on the decision that will affect the way Americans...
DATELINE: HUMOR! President Barack Obama came to Boston one day after the trade of Kevin Youkilis to the Chicago White Sox. Mr. Obama may be in a tough re-election this year when every vote will be important in November. No vote can be taken for granted. With that in mind, Obama came back to one of his strongest bases in the nation, Massachusetts—where former Democratic candidates...
Mitt Romney's campaign has found an opportunity to try to swing a few votes away from President Barack Obama in Massachusetts. Obama thanked the city of Boston at a fundraiser on Sunday for trading Kevin Youkilis to the White Sox, his favorite team. His mild-mannered joke didn't go over well and was met with booing. Romney's campaign, in turn, criticized Obama for the...
Make no mistake about it, Mr. President. Those were "boos" you were hearing. President Barack Obama made a few enemies during a fundraiser at Boston's Symphony Hall on Monday when he thanked the city for Kevin Youkilis. Youkilis, of course, was traded to Obama's beloved Chicago White Sox on Sunday, much to the president's delight. When Obama expressed his pleasure...
President Barack Obama was in Boston for a fundraiser at Smyphony Hall on Monday and towards the end of his speech he decided to thank the Red Sox for trading Kevin Youkilis to his beloved Chicao White Sox. He was promptly booed. Well, there goes Massachusetts, Mr. President.
Michigan State and Connecticut have agreed in principle to play in this year's college basketball opener in Germany, at Ramstein AirBase. It will be the second straight year that the Spartans open their season in front of military personel, and one of four games scheduled to be played in front of enlisted men and women this November. According to MSU athletic director Mark...
This is Barack Obama talking to Bostonians about the Kevin Youkilis trade. It goes pretty well, I guess. Now I hope you'll all go into the comments and scream at each other about politics. Ohhhh boy there's nothing that makes my day like strangers on the internet screaming at each other about politics. 
President Barack Obama certainly isn't helping his campaign in Red Sox Nation.
Entertainment News

Delivered to your inbox

You'll also receive Yardbarker's daily Top 10, featuring the best sports stories from around the web. Customize your newsletter to get articles on your favorite sports and teams. And the best part? It's free!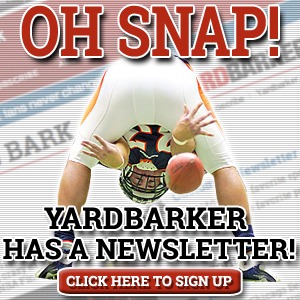 Latest Rumors
The Backyard

Today's Best Stuff

For Bloggers

Join the Yardbarker Network for more promotion, traffic, and money.

Company Info

Help

What is Yardbarker?

Yardbarker is the largest network of sports blogs and pro athlete blogs on the web. This site is the hub of the Yardbarker Network, where our editors and algorithms curate the best sports content from our network and beyond.