Found January 25, 2013 on Fox Sports:
Ronaiah Tuiasosopo, the alleged ring leader of the Manti Te'o fake girlfriend hoax, will get his first on-camera interview with Dr. Phil, according to TMZ. Tuiasosopo met with Dr. Phil on Thursday in Los Angeles, and the interview is expected to air next week, according to the report. The two reportedly watched Te'o's interview with Katie Couric. Sources told TMZ that the face-to-face between Tuiasosopo and Dr. Phil is "emotional and deep." Earlier Friday, the woman who unknowingly was the face of Te'o's fake girlfriend said Tuiasosopo had confessed to her that he was the mastermind behind the ruse. Diane O'Meara is the woman whose pictures were used to make an online profile of Kekua, the fake person who Te'o said he fell for without meeting in person. O'Meara said Ronaiah Tuiasosopo told her that he created the hoax and wanted to end it before Kekua ''died'' in September, but Te'o wanted the relationship with Kekua t...
Original Story:
http://msn.foxsports.com/cfb/story/ma...
THE BACKYARD
BEST OF MAXIM
RELATED ARTICLES
The Katie Couric show has released some of the voice mails that Ronaiah Tuiasosopo aka Lennay Kekua left on Manti Te'o's phone.  We were able to embed one here on PFZ from Deadspin and the others are right here on Katie Couric's site. What's really creepy and is that the voicemails sound just like a women, unless of course these aren't the real voicemails.   Need NFL...
Manti Te'o told Katie Couric the feelings he had for what turned out to be a fake, online girlfriend were real and reiterated he had nothing to do with the hoax.
In theory it shouldn't matter if Te'o is gay or not. Fans and the NFL should more interested in if he can get off blocks, tackle NFL Running Backs and cover Tight Ends no pun intended. But, because of the depth of his Catfish story it is legitimate question to ask because it would tie up a lot of loose ends, once again no pun intended. We reported on how NFL people are wondering...
It's all on faith now. How much do you have? How much do you think someone else can have? Believe in Manti Te'o or don't believe. Turns out, there is no end game to this. If there is one thing I was wrong about from the start, it was that we'll find out the truth sooner or later. Facts will emerge; facts will tell. Instead, this is a sentence without a period, running...
Yesterday  three voice-mails were released that were supposed to be Ronaiah Tuiasosopo using his altered voice pretending to be Lennay Kekua.  Listening to those voice-mails it was very hard to believe that the voice belonged to Ronaiah. Manti Te'o himself told Katie Couric in her exclusive interview yesterday:  "Well, it didn't sound like a man. It sounded like a woman...
Dr. Phil has booked alleged Manti Te'o's alleged girlfriend hoaxer Ronaiah Tuiasosopo for his daytime talk show.According to TMZ, both Dr. Phil and Tuiasosopo sat down on Thursday and viewed the interview Te'o did with Katie Couric on her daytime talk show. Afterwards the two men discussed Te'o's interview and why Tuiasosopo created the fake girlfriend (Lennay...
One of the theories that has arisen from the Manti Te'o girlfriend hoax mess is that Te'o is gay. There are a number of people who believe that Te'o helped perpetuate the Lennay Kekua story in order to prove he is a heterosexual. Katie Couric wouldn't have been doing her job if she didn't ask Te'o about his sexual preference during their interview, which aired on Thursday...
I know you are probably tired of hearing about the whole Manti Te'o fake-dead-girlfriend thing. But, in case you were curious to hear the motivation behind Ronaiah Tuiasosopo's plot to fool Te'o into believing Lennay Kekua was a real live woman, he's sharied his version of events with Dr. Phil. According to TMZ, Tuiasosopo and Dr. Phil watched Te'o's interview with...
Ex-Notre Dame linebacker discusses bizarre hoax with Katie Couric.
Ronaiah Tuiasosopo's cousin Tino Tuiasosopo  played the part of "Lennay Kekua," the fake girlfriend he created, The NY Post reported. Tino Tuiasosopo convinced the Notre Dame star that she was the real deal, calling him at school, telling him she loved him and even sobbing hysterically when another girl answered his phone, several of the woman's relatives confirmed on Thursday...
Radio host Gregg "Opie" Hughes is like many and doesn't fully believe everything that Manti Te'o is claiming after desperately trying to cover up his dead fake girlfriend scandal. Hughes was on his Sirius/XM Satellite radio program on Friday morning, the Opie And Anthony Show, and put forth an enticing offer of $25,000 for a girl to come forward and prove that she indeed...
The Manti Te'o hoax story continues to get weirder by the day.According to a report from the New York Daily News, Manti Te'o, who thought he was talking to a female (Lennay Kekua), was really talking to the man behind the entire hoax the entire time, Ronaiah Tuiasosopo.The Heisman Trophy finalist "thought it was a female he was talking with," lawyer Milton Grimes acknowledged...
Entertainment News

Delivered to your inbox

You'll also receive Yardbarker's daily Top 10, featuring the best sports stories from around the web. Customize your newsletter to get articles on your favorite sports and teams. And the best part? It's free!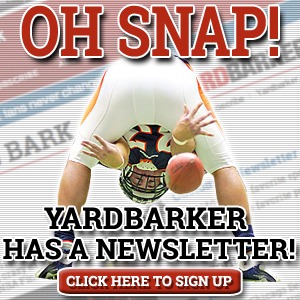 Latest Rumors
Best of Yardbarker

Today's Best Stuff

For Bloggers

Join the Yardbarker Network for more promotion, traffic, and money.

Company Info

Help

What is Yardbarker?

Yardbarker is the largest network of sports blogs and pro athlete blogs on the web. This site is the hub of the Yardbarker Network, where our editors and algorithms curate the best sports content from our network and beyond.