Found January 23, 2013 on FOXSports.com:
Notre Dame linebacker Manti Te'o has told Katie Couric that he briefly lied about his online girlfriend after discovering she didn't exist.
Original Story:
http://msn.foxsports.com/cfb/story/ma...
THE BACKYARD
BEST OF MAXIM
RELATED ARTICLES
The person Manti Te'o says was pretending to be his online girlfriend told the Notre Dame linebacker ''I love you'' in voicemails that were played during his interview with Katie Couric. Taped earlier this week and broadcast Thursday, the hour-long talk show featured three voicemails that Te'o claims were left for him last year. He provided the messages to...
The Katie Couric show has released some of the voice mails that Ronaiah Tuiasosopo aka Lennay Kekua left on Manti Te'o's phone.  We were able to embed one here on PFZ from Deadspin and the others are right here on Katie Couric's site. What's really creepy and is that the voicemails sound just like a women, unless of course these aren't the real voicemails.   Need NFL...
We know that Ronaiah Tuiasosopo is the voice behind Lennay Kekua and thanks to Katie Couric and her exclusive interview we now a have voice behind "Lennay Kekua". She was granted three voicemails of what is supposed to Tuiasosopo as Kekua to Manti Te'o. We early posted a a video of Tuiasosopo audition tape for The Voice. In either case, if this is him its shocking how much...
  Former Notre Dame linebacker Manti Te'o told ABC's Katie Couric that he did lie to the media when he found out that his dead girlfriend never existed, but that he wasn't involved in the hoax itself. To be honest I don't know what to believe now.  All I know is that Te'o did lie to  some degree and his character should be questioned after this incident. Even if Te'o...
"This couldn't be a dream for too real it all seems…" "I never met her but I can't forget her…" Nope, those are aren't statements from Manti during his upcoming interview with Katie Couric. Those are sweet, sweet lines from The Temptations. Twitter was on fire with #MantiTeoPlaylist suggestions over the last week and The The post The Essential Manti Te'o Playlist...
In theory it shouldn't matter if Te'o is gay or not. Fans and the NFL should more interested in if he can get off blocks, tackle NFL Running Backs and cover Tight Ends no pun intended. But, because of the depth of his Catfish story it is legitimate question to ask because it would tie up a lot of loose ends, once again no pun intended. We reported on how NFL people are wondering...
  Embattled former Notre Dame linebacker Manti Te'o and his family will continue to process of proving he was victim of a vicious hoax, when they sit down for an on air interview with Katie Couric this week. The interview which will air on Thursday will feature Te'o's parent as well, because they say they were also duped by Ronaiah Tuiasosopo. According to Larry Browns...
It's all on faith now. How much do you have? How much do you think someone else can have? Believe in Manti Te'o or don't believe. Turns out, there is no end game to this. If there is one thing I was wrong about from the start, it was that we'll find out the truth sooner or later. Facts will emerge; facts will tell. Instead, this is a sentence without a period, running...
One of the theories that has arisen from the Manti Te'o girlfriend hoax mess is that Te'o is gay. There are a number of people who believe that Te'o helped perpetuate the Lennay Kekua story in order to prove he is a heterosexual. Katie Couric wouldn't have been doing her job if she didn't ask Te'o about his sexual preference during their interview, which aired on Thursday...
Ex-Notre Dame linebacker discusses bizarre hoax with Katie Couric.
It seems everybody has a Manti Te'o joke to crack these days. The art of Te'oing has also, begrudgingly, become a thing people do as well. The concept is simple, in that a guy poses with his invisible girlfriend and posts the picture of the fictitious couple on the Internet for all to have a good laugh about. It's one thing for regular Joes to do it, but what about when an...
The Manti Te'o hoax story continues to get weirder by the day.According to a report from the New York Daily News, Manti Te'o, who thought he was talking to a female (Lennay Kekua), was really talking to the man behind the entire hoax the entire time, Ronaiah Tuiasosopo.The Heisman Trophy finalist "thought it was a female he was talking with," lawyer Milton Grimes acknowledged...
Entertainment News

Delivered to your inbox

You'll also receive Yardbarker's daily Top 10, featuring the best sports stories from around the web. Customize your newsletter to get articles on your favorite sports and teams. And the best part? It's free!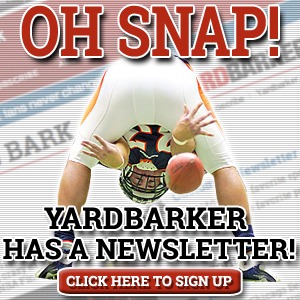 Latest Rumors
The Backyard

Today's Best Stuff

For Bloggers

Join the Yardbarker Network for more promotion, traffic, and money.

Company Info

Help

What is Yardbarker?

Yardbarker is the largest network of sports blogs and pro athlete blogs on the web. This site is the hub of the Yardbarker Network, where our editors and algorithms curate the best sports content from our network and beyond.