Found December 20, 2012 on The Roosevelts:
2012 was an incredible year for sports. From the Olympics to amazing performances on the diamond. There are hundreds, if not thousands, of moments that could have been included in this list but we've weeded through them all and narrowed it down to the 100 most powerful sports images of 2012. Share the story with your friends on Facebook and if you think we missed a photo share it with us on Twitter (@RSVLTS) or in the comments below. Juan Manuel Marquez connects with a punch against Manny Pacquiao on December 8, 2012. Photo via: Julie Jacobson of AP Usain Bolt crosses the finish line after winning the gold medal during the 200-meter at the London 2012 Summer Olympics on August 9, 2012. Photo via: David J. Phillip of AP Notre Dame linebacker Manti Te'o celebrates a late first down, allowing the Irish to run out the clock during a NCAA college football game on Saturday, Sept. 22, 2012, at Notre Dame. Gabrielle Douglas of the U.S. competes in the balance beam during the women's individual all-around gymnastics final in London. Photo via: DYLAN MARTINEZ of REUTERS Serena Williams of the U.S. poses with her trophy after defeating Azarenka of Belarus in their women's singles finals match at the U.S. Open tennis tournament in New York. Photo via: KEVIN LAMARQUE of REUTERS Hungary's Andras Parti reacts as he falls during the men's cross-country mountain bike event during the London 2012 Olympic Games. Photo via: STEFANO RELLANDINI of REUTERS Britain's Mo Farah reacts as he wins the men's 5000m final at the London 2012 Olympic Games at the Olympic Stadium August 11, 2012. Photo via: LUCY NICHOLSON of REUTERS Former Penn State University assistant football coach Jerry Sandusky, center, is taken from the Centre County Courthouse by Centre County Sheriff Denny Nau, left, and a deputy, after being sentenced in Bellefonte, Pa., Tuesday, Oct. 9, 2012. Sandusky was sentenced to at least 30 years in prison, effectively a life sentence, in the child sexual abuse scandal that brought shame to Penn State and led to coach Joe Paterno's downfall. Photo via: Matt Rourke of AP Oscar Pistorius of South Africa celebrates winning the Men's 400m T44 Final during the London 2012 Paralympic Games. Photo via: Andrew Winning of Reuters Several hundred friends and fans of former Chargers linebacker Junior Seau held a paddle-out memorial in front of his home in Oceanside, California. The full moon rises through the Olympic Rings hanging beneath Tower Bridge during the London 2012 Olympic Games. © Luke MacGregor : Reuters:REUTERS Manchester United's Alexander Buttner hits Galatasaray's Hamit Altintop in the head with a high kick on November 20, 2012. Photo via: AP Photo Red Star fans light flares as they cheer for their team during their Serbian Superleague soccer match against Partizan Belgrade in Belgrade on November 17, 2012. Photo via: Marko Djurica of REUTERS Horses train for the Breeders' Cup at Santa Anita Park on October 31, 2012. Photo via: Jae C. Hong of AP Chipper Jones tips his cap during a standing ovation for his last regular season plate appearance on September 30, 2012. Photo via: David Tulis of AP Jeremy Lin drives to the hoop against the Milwaukee Bucks on March 9, 2012. Photo via: Morry Gash of AP Los Angeles Kings goalie Quick loses his stick as he lays on his back making a save against the New Jersey Devils in Game 4 of the NHL Stanley Cup hockey final in Los Angeles. Photo via: Luc Nicholson of Reuters United States' Carli Lloyd, right, celebrates with teammates after scoring during the women's soccer gold medal match against Japan at the 2012 Summer Olympics, Thursday, Aug. 9, 2012, in London. Photo via: Ben Curtis of AP Italy's Balotelli celebrates after scoring his goal against Germany during their Euro 2012 semi-final soccer match at the National stadium in Warsaw. Photo via: Leonhard Foeger of Reuters Brandon Lloyd smiles as he catches a touchdown flying through the air. Dustin Brown lifts the Stanley Cup after the Los Angeles Kings beat the New Jersey Devils on June 11, 2012. Photo via: Mark J. Terrill of AP New York Giants wide receiver Devin Thomas kisses the Vince Lombardi Trophy after his team's 21-17 win over the New England Patriots in the NFL Super Bowl XLVI football game, Sunday, Feb. 5, 2012, in Indianapolis. Photo via: Eric Gay of AP Officials signal after Seattle Seahawks wide receiver Golden Tate pulled in a last-second pass for a touchdown from quarterback Russell Wilson to defeat the Green Bay Packers 14-12 in an NFL football game, Monday, Sept. 24, 2012, in Seattle. The touchdown call stood after review. Photo via: Joshua Trujillo of AP Green Bay Packers receiver Donald Driver enjoys a Lambeau Leap. Photo via: Mike Roemer of AP, October 28, 2012) Manuel Minginfel of the Federated States of Micronesia competes in the men's 62-kilogram weightlifting on Day 3 of the London 2012 Olympic Games on July 30. Aisen Chen and Huo Liang of China dive during the synchronized men 10-meter platform final on Day 4 of the AT&T USA Diving Grand Prix on May 13 in Fort Lauderdale, Florida. Lance Armstrong, stripped of his titles, hangs his Tour De France jersey's in his man cave. Tiger Woods celebrates on the 18th green after winning the Arnold Palmer Invitational. (March 25, 2012, John Raoux:AP) Richard Whitehead of Great Britain celebrates winning gold in the Men's 200-meter T42 final on Day 3 of the London 2012 Paralympic Games on September 1. A gymnast performs during warmups before the start of the artistic gymnastics women's team final on Day 4 of the London 2012 Olympic Games on July 31 in London. Ning Ding of China plays a forehand during the women's singles table tennis quarter-final match against Ai Fukuhara of Japan on Day 4 of the London 2012 Olympic Games on July 31. Senyue Deng of China competes in the individual all-around rhythmic gymnastics on Day 13 of the London 2012 Olympics Games on August 9. Lotte Smiseth Sejersted of Norway crashes during the Audi FIS Alpine Ski World Cup women's downhill on February 18 in Sochi, Russia. Papiss Cisse of Newcastle United celebrates after scoring the opening goal during the Barclays Premier League match against Chelsea at Stamford Bridge on May 2 in London. Dare To Dream, who is trained by Bart Cummings, enjoys eating grass after trackwork on October 30 at Flemington Racecourse in Melbourne, Australia. Britain's Jessica Ennis celebrates winning her women's heptathlon 800m heat at the London 2012 Olympic Games at the Olympic Stadium August 4, 2012. Ennis was the overall winner in the heptathlon. LUCY NICHOLSON:REUTERS Andy Murray of Great Britain celebrates his 7-5, 7-5 win against Novak Djokovic of Serbia in the semifinal of men's singles tennis on Day 7 of the London 2012 Olympic Games on August 3 in London. Michael Phelps competes in the 100-meter butterfly semifinal. (August 2, 2012, Michael Sohn:AP) Marcio Jose Sanchez : AP San Francisco Giants pitcher Sergio Romo looks up as confetti falls during the baseball team's victory parade on Oct. 31. National League All-Star Cabrera of the San Francisco Giants holds the MVP trophy at the Major League Baseball's All-Star Game in Kansas City. © Jeff Haynes : Reuters:REUTERS John Daly of the United States plays a shot from the trees during the first round of the UBS Hong Kong Open on November 15. Great Britain's Micah Richards, top left, goes for the ball against South Korea's Jung Sung-ryong and Ji Dong-won in the men's football quarterfinal match on Day 8 of the London 2012 Olympic Games on August 4 in Cardiff, Wales. Xin Wang of China reaches for a shot hit by Xuerui Li of China in the women's singles badminton semi-final on Day 7 of the London 2012 Olympic Games on August 3. Ryan Harwood of the Brisbane Lions and James Magner of the Melbourne Demons compete for a mark during an Australian Football League match on July 1 in Brisbane, Australia. Brian Banks, once a highly recruited young football star, reacts emotionally to the dismissal of a decade-old rape conviction. (May 24, 2012, Nick Ut:AP) French rugby player Sebastien Chabal, right, packs down against another player during a Balmain Club rugby training session at King George Park on February 23 in Sydney. John Wall of the Washington Wizards hits the floor after taking a shot against Kyle Korver of the Chicago Bulls at the United Center on January 11 in Chicago. Allen Craig of the St. Louis Cardinals breaks his bat during a hit against the Los Angeles Dodgers on July 24 at Busch Stadium in St. Louis, Missouri. Jamaica's Usain Bolt kisses the track during the athletics in the Olympic Stadium at the 2012 Summer Olympics, London, Thursday, Aug. 9, 2012. (AP Photo/Matt Dunham) Jonte Green of the Detroit Lions loses his helmet while being stiff-armed by Bobby Rainey of the Baltimore Ravens as Ricardo Silva tackles him on August 17 in Baltimore, Maryland. Sauber Formula One driver Kobayashi of Japan and Lotus F1 Formula One driver Grosjean of France crash after the start of the Monaco F1 Grand Prix. Photo via: Max Rossi of Reuters Penn State Office of Physical Plant workers cover the statue of former football coach Joe Paterno near Beaver Stadium on Sunday. Nikki Johnson of the Western Conference is tackled during first game of the Lingerie Football League All-Star Tour on June 2 in Brisbane, Australia. Zambia players celebrate with the trophy after their victory at the African Nations Cup final soccer match against Ivory Coast at the Stade De L'Amitie Stadium in Libreville. Photo via: Amr Dalsh of Reuters Yamaha MotoGP world champion rider Lorenzo falls during the Valencia Motorcycle Grand Prix at the Ricardo Tormo racetrack in Cheste. Photo via: HEINO KALIS of REUTERS Carmelita Jeter, Bianca Knigh, Allyson Felix and Tianna Madison of the United States celebrate after setting a new world record of 40.82 in the Women's 4 x 100m Relay Final. Indiana Hoosiers wing Victor Oladipo takes the court for top-ranked Indiana during introductions. (December 8, 2012, Darron Cummings:AP) The car driven by Kamui Kobayashi of Japan flies through the air after crashing during the start of the Monaco Formula One Grand Prix at the Circuit de Monaco on May 27 in Monte Carlo, Monaco. The U.S. women's gymnastics team celebrates a teammate's score during the Artistic Gymnastics women's team final. (July 31, 2012, Matt Dunham:AP) Dez Bryant of the Dallas Cowboys dives to makes a catch for a 30-yard touchdown as Dominique Rodgers-Cromartie of the Philadelphia Eagles defends on November 11 in Philadelphia. The Cowboys defeated the Eagles 38-23. A surfer rides a wave at Bronte Beach on May 8 in Sydney, Australia. Competitors help pull each other up a mud hill during the 2012 Tough Mudder on April 1 in Phillip Island, Australia. Alan Fonteles Cardoso Oliveira celebrates his 200 meter win at the London Paralympics. Japan's Koichiro Morioka is helped by officials after staggering across finish line in men's 50km race walk at London 2012 Olympic Games. Photo via: Laszlo Balogh of Reuters Derrick Martin of the New York Giants makes a video of head coach Tom Coughlin while they celebrate in the locker room after defeating the San Francisco 49ers 20-17 in the NFC Championship Game at Candlestick Park on January 22 in San Francisco. Micronesia's Manuel Minginfel drops weights on the men's 62Kg Group B weightlifting competition at the London 2012 Olympic Games. Photo via: Dominic Ebenbichler of Reuters Michael Phelps kisses his 20th Olympic medal, beating out fellow countryman Ryan Lochte in the 200 meter IM to win his third straight gold in that event. From left, Rafal Murawski and Marcin Wasilewski of Poland vie for the ball with Sergei Ignashevich of Russia during the Group A preliminary round match of the UEFA EURO 2012 between Poland and Russia in Warsaw, Poland, on June 12. Anthony Davis goes to the rim in the national championship game as the Kentucky Wildcats defeat the Kansas Jayhawks. (April 2, 2012, Chris Steppig:NCAA Photos:AP) Athletes rest at the finish line of the women's marathon on Day 9 of the London 2012 Olympics on August 5. Riders take a jump in the men's BMX cycling semifinals on Day 14 of the London 2012 Olympic Games on August 10. Brad Keselowski celebrates his his Sprint Cup vistory with Miss Sprint Cup. Two Colts cheerleaders shave the heads in support of Chuck Pagano. C.J. Sapong of Sporting KC does a backflip after scoring during the Major League Soccer game against the Toronto FC on June 16 in Kansas City. Manny Pacquiao got knocked out cold by Juan Manuel Marquez in a stunning upset in Las Vegas. Will Power (12) drives under Mike Conway after making contact during the Indianapolis 500. (May 27, 2012, Tom Hemmer/AP) Andy Murray holds the British flag during the medal ceremony following his men's singles gold medal win at Wimbledon. (August 5, 2012, Elise Amendola Alviro Petersen of South Africa fields the ball during day five of the third Test match between New Zealand and South Africa on March 27 in Wellington, New Zealand. Cleveland Browns returner Josh Cribbs is tackled by Baltimore Ravens long snapper Morgan Cox. (September 27, 2012, Nick Wass/AP) The No. 8 DP Starworks Motorsports Ford Riley driven by Enzo Potolicchio, Ryan Dalziel, Alex Popow, Lucas Luhr and Allan McNish runs off the track during the Rolex 24 endurance race at Daytona International Speedway on January 28. Riders race in the AAMI Victoria Derby during Victorian Derby Day at Flemington Racecourse on November 3 in Melbourne, Australia. Supporters of the local team cheer prior to the Bundesliga match between FSV Mainz 05 and VfL Wolfsburg at Coface Arena on April 20 in Mainz, Germany. Jockey Aaron Gryder pours water on Calidoscopio after winning the Marathon horse race at the Breeders' Cup. (November 2, 2012, Gregory Bull:AP) Eight cars wreck during the NASCAR Camping World Truck Series NextEra Energy Resources 250 at Daytona International Speedway on February 24, in Daytona Beach. Aaron Hill of the Arizona Diamondbacks safely slides in to score a run past catcher Buster Posey of the San Francisco Giants at Chase Field on April 8 in Phoenix. The Diamondbacks defeated the Giants 7-6. The Oracle Team USA flips over during a fleet race in the America's Cup World Series on October 6 in San Francisco. No. 1 Tavon Austin and No. 12 Geno Smith of the West Virginia Mountaineers celebrate after Austin caught a 37-yard touchdown reception thrown during the Discover Orange Bowl on January 4 in Miami Gardens, Florida. No. 1 Tavon Austin and No. 12 Geno Smith of the West Virginia Mountaineers celebrate after Austin caught a 37-yard touchdown reception thrown during the Discover Orange Bowl on January 4 in Miami Gardens, Florida. Nationals Werth shakes beer and champagne out of his hair while celebrating with teammates after they clinched the National League East in Washington. Photo via: Jonathan Ernst of Reuters Trent Richardson holds up a newspaper and points to it as he leaves the field after Alabama defeated LSU 21-0 to claim their 14th National Championship January 9, 2012. Austrian Gregor Schlierenzauer competes during the first round of the FIS Ski Jumping World Cup event at the 60th Four Hills Tournament at Bergisel on January 4 in Innsbruck, Austria. Athletes compete in the Men's 15-kilometer mass start during the IBU Biathlon World Championships at Chiemgau Arena on March 11 in Ruhpolding, Germany. The United States women's soccer team celebrates a gold medal win against Japan on Day 13 of the London 2012 Olympic Games on August 9. Maksim Veraska of Ukraine competes in the men's 200m IM – SM12 heat 2 on Day 5 of the London 2012 Paralympic Games on September 3 in London. Dwight Howard speaks to the Los Angeles media at the Lakers' media day. (October 1, 2012, Reed Saxon:AP) Team Saxo Bank rider Cantwell of Australia lies on the ground after a fall during the fifth stage of the 99th Tour de France cycling race between Rouen and Saint-Quentin. Photo via: Reuters Devin Funchess of the University of Michigan celebrates after scoring a touchdown against the University of Massachusetts Minutemen on September 15 at Michigan Stadium in Ann Arbor, Michigan. The Syracuse Orange and San Diego State Aztecs play during the Battle On The Midway college basketball game on the deck of the USS Midway on November 11 in San Diego, California. Fans watch from the stands as Kurtley Beale of the Australian Wallabies looks to pass during the International Rugby Test match against Wales on June 23 in Sydney, Australia. Fireworks explode over the stadium during the Closing Ceremony on Day 16 of the London 2012 Olympic Games at Olympic Stadium on August 12, 2012 in London, England. (Photo by Mike Hewitt/Getty Images)
Original Story:
http://www.rsvlts.com/2012/12/20/powe...
THE BACKYARD
BEST OF MAXIM
Entertainment News

Delivered to your inbox

You'll also receive Yardbarker's daily Top 10, featuring the best sports stories from around the web. Customize your newsletter to get articles on your favorite sports and teams. And the best part? It's free!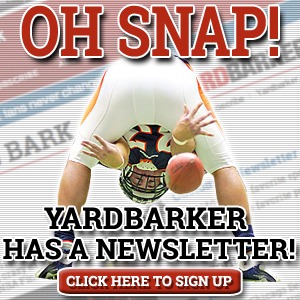 Latest Rumors
The Backyard

Today's Best Stuff

For Bloggers

Join the Yardbarker Network for more promotion, traffic, and money.

Company Info

Help

What is Yardbarker?

Yardbarker is the largest network of sports blogs and pro athlete blogs on the web. This site is the hub of the Yardbarker Network, where our editors and algorithms curate the best sports content from our network and beyond.