Found October 14, 2013 on The Roosevelts:
Feuds: the players start them and the media perpetuates them. But, with the inherently competitive nature of sports, it seems that people thrive off of a good dramatic conflict. Feuds pervade sports and have given pundits, reporters, and other media members a good storyline to boost the ratings of an upcoming matchup. But, what are some of the best feuds in sporting history? Well, RSVLTS is here to chronicle some of the best, most intense, and most comical feuds in sporting history. Before beginning, it must be stated that this list will only cover the four major team sports in America– a criteria that disqualifies the likes of Muhammad Ali and Joe Frazier. But, without further ado, the best sporting feuds: 12. Philadelphia Eagles Fans v. Santa Claus This is more of a one off event than a feud. But that doesn't make it any less hysterical. In the late sixties, the Eagles were bad to the point of making their 2011 "Dream Team" counterpart seem worthy of their hype. In a winter game, frustration mounted and the Eagles booed the jolliest man on the planet when he made an appearance in Philadelphia. 11. Don Zimmer v. Pedro Martinez The Yankees and Red Sox share one of the oldest rivalries in American sports. And, in the early 2000's, it was arguably the most intense point in the rivalry—a time when both teams were of championship caliber, and a time when Yankees fans could no longer use their favorite chant to demean their hated rival. In a 2003 American League Championship series filled with bizarre twists, Pedro Martinez made a fool out of Don Zimmer in a now-legendary one off sports brawl. Why isn't this higher? Well, it was only one instance. But, it did highlight the tension between both teams during that time. 10. Brett Favre v. Warren Sapp Most recently, Favre was in a verbal scuffle with his former Minnesota Vikings head coach, Brad Childress. But nobody likes to remember Favre's post- Packer career—even if it did generate one good season, it was bogged down by over-exposure by the media. The greatest Favre feud from his career was undoubtedly the one he experienced with the Tampa Bay Buccaneers Hall of Fame Defensive Tackle, Warren Sapp. Highlighted by facemask to facemask confrontations and cries of "you broke my nose!", this rivalry gets the number 10 slot because the two both reconciled later in their careers—looking back on the conflict with fond memories of erstwhile games. 9. Martin Brodeur v. Sean Avery In most sports, punching an opposing player will earn you—least punitively—an ejection. But, in hockey, fisticuffs are punished with a brief trip to the penalty box. Enter Martin Brodeur—arguably the greatest goalie to ever step on the ice—and Sean Avery, who is among the most detested players in recent NHL memory. This feud is a good one on multiple levels. First, it involves two players from the Devils and the Rangers, respectively. And, the feud turned out a new rule that is now among the most seriously enforced in the NHL—one that is dubbed the "Sean Avery Rule". With a name like that, can you believe that the nature of the rule pertains to sportsmanship? In digression, in a response to Avery superfluously screening him, Brodeur attacked the Rangers forward. After the conclusion of the series, Brodeur did not shake Avery's hand—an event that did little to change to overall relationship between the two NFL teams. 8. Donovan McNabb v. Terrell Owens In his prime, who didn't Terrell Owens try to irritate? Standing above all of his antics—both on and off the field—is his feud with his former quarterback, Donavan McNabb. After blasting McNabb after their Super Bowl loss to the dynastic New England Patriots, Owens started yelling at his quarterback during games for not passing him the ball. Then, in 2010—the infamous Redskin year for McNabb—Terrell Owens went to Twitter to criticize McNabb's lackluster performance. The tweet stated: "How do u justify a 78 million dollar contract w/this type of performance?" Feud Eagles, feud. 7. Paul Pierce v. Metta World Peace Ron Artest, now known as Metta World Peace, isn't very peaceful. Most recently, violently elbowing an Oklahoma City Thunder player in the head has highlighted his violent antics. But, the Basketball player formerly known as Artest and Paul Pierce have had one of the most publicized feuds in recent memory. In a feud that has been chronicled by shoving matches, fights and an embarrassing loss of shorts, World Peace and Pierce now have to share the same city. 6. Roger Clemens v. Mike Piazza Typically baseball fights can equate to an ill-tempered pitcher daring a batter to take a swing. Seldom does a fight in baseball boil over to the point of projectile bats. But, this one did. To Piazza's credit, getting pegged by a guy nicknamed "The Rocket" can't feel too good… 5. Spike Lee v. Reggie Miller The former Pacers superstar heard many cries of "Reggie Miller, you stink!" from the stands upon each subsequent visit to the Madison Square Garden. From Miller's "choking" gesture to his less-than-ten second comeback, Knicks fans had reason to dislike Reggie Miller. But Spike Lee, who is arguably the Knicks most outspoken superfan, took the feud to a new level. The feud was so widely publicized that a commercial satirizing it was aired during the late nineties NBA Lockout. Can you say, "Regina Miller, you stink"? 4. Joe Montana v. Steve Young The Forty Niners were fortunate in the 1980's and the 1990's—lucky enough to have a future Super Bowl winning Hall of Fame quarterback succeed a player with identical credentials. But, like any quarterback who knows they can still play, Montana's San Francisco career did not end quietly. To this day, Montana and Young still have some level of animosity between them—not quite the lighthearted retrospective look that Drew Bledsoe and Tom Brady take. 3. Shaquille O'Neal v. Kobe Bryant A feud so bad, that there's a Wikipedia article dedicated to it. With a perfect storm of two superstar- caliber egos and the Los Angeles media, this feud isn't one that will soon be forgotten. The Lakers most recently won a championship in 2010, which was capped by a time when Kobe Bryant boasted about having one more ring than O'Neal—a boast that is rooted in a long dispute between the two superstars. With this only being a short article, it would be nearly impossible to do this feud justice. So, put in a query in your favorite search engine and read about it– there's bound to be something. 2. Billy Martin v. Reggie Jackson As shown recently by Greg Schiano and Josh Freeman, sometimes coaches and players don't get along. This is seen by the dispute between Reggie Jackson and Billy Martin—a feud laden with lack of effort accusations by Martin and a dugout square off in Fenway Park. 1. Billy Martin v. George Steinbrenner Billy Martin was a fiery guy, as seen by his often-lampooned sand kicking antics. Steinbrenner was the fire-happy owner of the Yankees, and the feud resulted in him getting fired a seemingly incomprehensible five times.
Original Story:
http://www.rsvlts.com/2013/10/14/the-...
THE BACKYARD
BEST OF MAXIM
Entertainment News

Delivered to your inbox

You'll also receive Yardbarker's daily Top 10, featuring the best sports stories from around the web. Customize your newsletter to get articles on your favorite sports and teams. And the best part? It's free!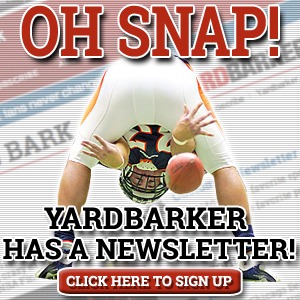 Latest Rumors
The Backyard

Today's Best Stuff

For Bloggers

Join the Yardbarker Network for more promotion, traffic, and money.

Company Info

Help

What is Yardbarker?

Yardbarker is the largest network of sports blogs and pro athlete blogs on the web. This site is the hub of the Yardbarker Network, where our editors and algorithms curate the best sports content from our network and beyond.