Found November 13, 2012 on The Nosebleeds:
'Skyfall' finally dropped in the United States last weekend and scored a whopping $90 million, good for the highest opening weekend for a James Bond movie ever. It garnered excellent praise from critics, and, clearly, audiences are responding to it. What did I, a diehard Bond fan, think? You can read a longer review here, but in short: 'Skyfall' is a very well put together movie and a great addition to the 007 series, but (and this physically pains me to write) it's just not as satisfying as I wanted it to be. Why? Let's dig in and take a look at what worked, what didn't work, and what sort of worked for 'Skyfall.' (Warning, spoilers do follow.) What Worked  Bond's rapports with Q and Eve (Moneypenny) These two relationships were arguably the best in the film. We first see Eve and Bond working together during the opening action sequence, which, of course, ends with her accidentally shooting him and nearly killing him. But the back-and-forth between them only grows after that. When Bond reports to the new MI6, she's one of the first people he sees and they instantly chart chiding one another over her marksmanship skills. It's all in good fun for them, and, in turn, for the audience as well. Fast forward to Shanghai and we get arguably the steamiest scene in the movie, when she, on her knees, shaves his face with the old-school razor. He casually begins unbuttoning her top before she demands his focus, and we're basically left wondering if they've slept together. The sexual tension in this scene radiated off the screen, and, really, continued for the remainder of the film. At the end, when she reveals she's actually the iconic Moneypenny, we know we're in for more scandalous behavior between the two in the future. As for Q, it was great to see the flip-flop between these two. Whereas in the past Q was the older fellow shaking his head at 007′s youth and immaturity, in 'Skyfall' we get 007 as the experienced agent, openly doubting the much younger Q's abilities. But Q's just as quick-witted as Bond, and the opening dialogue between them in the museum is excellent as a result. It grows from there, as Q helps navigate Bond through the London underground (everyone got a chuckle when he finally told Bond to get on the train that was about to slide out of sight in the tunnel), followed by Bond ordering him to leave a trail of breadcrumbs for Silva as he whisks M off to Skyfall for the final confrontation. I can't wait to see the back-and-forth between these two in future installments. Just wonderful stuff here. Killing Off M  It was time. I love Judi Dench and I always will, and she was fantastic in this role, but, in many ways, Daniel Craig's Bond had already been through too much with her. It's been three movies revolving around trust issues between the two, and this one really hammered home how much of a mother-like figure Dench's M has been to Craig's Bond. It was difficult to see where else they could take this relationship, and seeing as it's one of the most important dynamics in any Bond film, better to keep it fresh going forward. Though she didn't exactly go down painlessly, they gave her a nice, emotional sendoff with Bond cradling her body and shedding a tear as he bade her farewell. Ralph Fiennes is an excellent choice to be Dench's replacement. Though I'm not a huge fan of him carrying a movie on his own ('The English Patient' ruined that for me forever), I love him in important supporting roles. Originally presented as a follow-the-rules bureaucrat in 'Skyfall,' we not only saw him save M during the shootout at the hearing, but we then watched as he let Q and Tanner bend the rules to help Bond stop Silva. It's going to be very interesting to see how he interacts with Bond moving forward. Will his past experience in the field help him understand Bond's penchant for doing certain things the government wouldn't necessarily support? Or will he come down hard the second Bond steps out of line? There's so much potential for this moving forward, and I can't wait to see how it unfolds. What Sort of Worked The Action Sequences The action sequences weren't bad, by any means. They just sort of felt, well, run-of-the-mill. 'Casino Royale' raised the stakes for realistic action choreography, primarily through that opening chase sequence in the construction sight and the embassy, with Bond pursuing the parkour-driven Mollaka. I've seen it over 100 times already, and it never gets old. Never. It's just too exciting and too well executed. Nothing in 'Skyfall' comes close to it, unfortunately. The opening bit in Turkey that ends with the train fight is very solid, particularly the part where Bond takes the excavator and rips through the back compartment. But in terms of sheer thrills and fast-paced, relentless action, it falls a bit flat. I will give director Sam Mendes credit for directing it the way he did, though. He uses a host of wider shots to actually let us see what action there is. He doesn't zoom in so close that all you see is spinning figures doing lord knows what to each other, which is common for many action movies now. The middle sequence in which Bond is chasing Silva through the underground is another great example. It just didn't have that liveliness to it. I think the main issue was there not being enough obstacles for 007 to get past (think of all Bond had to get through in 'Casino Royale,' both at the construction site, the embassy, and at Miami airport in order to get his man), which took away from how thrilling it could have been. If you think about it, there was a lot of waiting around during this stretch, as he's waiting, first, on the train platform, then on the actual train, and then in the tunnel, when he's ready to shoot Silva and the other train comes crashing through the roof. There just needed to be more urgency. Again, it's not a bad sequence. It's just not great, either. Silva The second they cast Javier Bardem as the villain, everyone immediately thought of his performance as Anton Chigurh in 'No Country for Old Men,' which netted him a Best Supporting Actor Oscar. It's one of the best villain performances ever, matched only (at least recently) by Heath Ledger as The Joker in 'The Dark Knight.' So, the potential was clearly there. And while Silva was certainly evil and twisted, it just didn't come through at the level I was hoping for. That's why this is filed under the "sort of worked" category. He's easily the best villain of the Daniel Craig outings, but he needed that something extra, like the humor The Joker came through with in TDK. He's one of the funniest characters in the movie, which adds a very substantial layer to how sinister he is. Silva didn't reach that kind of level, as he was sort of a watered-down hybrid of Chigurh and The Joker. He was evil, sure, but not pure evil like Chigurh, and he was twisted, definitely, but not at the level The Joker was. Now that we've seen incredible villains, anything less than that is certainly going to feel like less than that. What Didn't Work The Random CGI Stuff This surprised me. It was most noticeable in the opening chase scene, when Bond is riding his motorcycle along the Turkish rooftops. Every once in a while we got a close-up shot of a locked-in Bond on his bike, only it was painfully apparent that it was done in front of some sort of green screen. I mean, wow, for all of the technological innovations we've made over the last five to 10 years, these seemed like pretty crummy attempts to try and blend in. You always have to suspend disbelief while watching a Bond film, but it makes it so much harder to do so when you know what you're watching is fake. I keep referencing 'Casino Royale,' but, again, in that opening chase sequence there was nothing outlandish enough to require a computer-generated setting (the only possible exception being Craig hanging off one of the cranes, but it was very, very minor). Stunt doubles were needed, sure, but all you need to pass those off is a wider shot. This trend continued throughout. Obviously they weren't going to put a real scorpion on Craig's hand when Bond was the drinking king of whatever island he isolated himself on, but, again, wow, how evidently fake was that thing? The same goes for the Komodo dragons in the casino pit. Again, I totally get that they weren't going to put the actors into a pen with dangerous creatures, but they were so obviously fake that it just took away from the whole scene. It just seems to me like Bond movies shouldn't require this type of CGI stuff. If you need to generate such an important part of the scene, think of something else to do. That's always been my stance. Because when it's done poorly, people are going to notice, and people aren't going to like it.   There's much more to be said about 'Skyfall,' including the nods to past movies, the role of Severine, and the lack of a car chase, so check back tomorrow for Part Two of this piece.
Original Story:
http://thenosebleeds.com/what-worked-...
THE BACKYARD
BEST OF MAXIM
RELATED ARTICLES
'Skyfall' just secured the largest opening weekend for a James Bond film ever, hauling in right around $90 million, simultaneously upping its worldwide total to over half a billion dollars. Given how much time I invested in the lead-up to the film's release, I wanted to take the necessary time and share my honest thoughts on the different elements seen in the movie. Part One...
I'm willing to go toe-to-toe with anyone who thinks they were more excited for the release of 'Skyfall,' the 23rd entry in the James Bond franchise. Check my Twitter account if you don't believe me. You'll never hear me say that 'Skyfall' didn't live up to my expectations, because I was expecting the wrong thing. The first two Daniel Craig James Bond movies were vastly...
Entertainment News

Delivered to your inbox

You'll also receive Yardbarker's daily Top 10, featuring the best sports stories from around the web. Customize your newsletter to get articles on your favorite sports and teams. And the best part? It's free!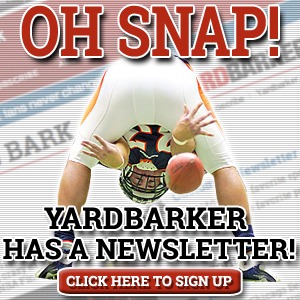 Latest Rumors
The Backyard

Today's Best Stuff

For Bloggers

Join the Yardbarker Network for more promotion, traffic, and money.

Company Info

Help

What is Yardbarker?

Yardbarker is the largest network of sports blogs and pro athlete blogs on the web. This site is the hub of the Yardbarker Network, where our editors and algorithms curate the best sports content from our network and beyond.