This was way too funny not to post especially since we were LIVE covering this event. You guys can get the behind the scenes footage from all 3 of our Vlogs on this channel. Don't forget to hit that subscribe button! ► Subscribe to our YouTube Channel: http://www.youtube.com/c/CowbellkingdomTV ► Subscribe to our Podcast on iTunes: https://itunes.apple.com/us/podcast/ck-podcast...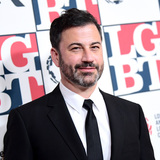 On March 4, Jimmy Kimmel will host the 90th Academy Awards. Best case scenario, everyone will be talking about the night's biggest winners and their speeches the following morning, and the late night talk show host will be nothing but an afterthought. If last year's festivities are any indication, the chances of that happening are high.It's understandable to feel uneasy about the...
When the Academy of Motion Picture Arts and Sciences announced last May that Jimmy Kimmel would return to host the 2018 Oscars, the entertainment world was not, as it is now, on fire. Back then, a news item trumpeting Harvey Weinstein's production of "The Louis B. Mayer Story" starring Kevin Spacey, written by James Toback and directed by Brett Ratner would belong in Variety, not...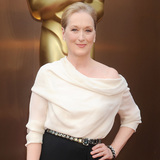 On an episode of "Jimmy Kimmel Live!" back in early January, the late-night funnyman quizzed guest Meryl Streep to see if the acting icon could name each of the 20 films for which she received an Academy Award nomination. In a rare miss, Meryl actually failed to do something... and in spectacular fashion, at that. While stifling laughs and frustrated feelings, Streep could only manage...
Being an artist is more than just being an artist – you have to work the circuit to make sure people buy into your creation. The best talk show hosts know this isn't always a fun duty for shy writers, cagey directors and actors who value their privacy, and only the very talented know how to delicately and expertly tease out the funniest and most personal stories their guests are...
NBA All-Star Weekend officially tips off tonight. Some current/former Celtics to look out for this weekend include Paul Pierce, Jaylen Brown, Jayson Tatum, Kyrie Irving, and Al Horford. Kyrie Irving made an appearance on the Jimmy Kimmel Live show late last night. Former Boston Celtic point guards Rajon Rondo and Isaiah Thomas are still feuding over IT's tribute video. Both...
It's been a busy few days for Colorado's Red Gerard after he won the slopesyle gold. Most recently, he appeared on "Jimmy Kimmel Live," sporting a seriously large hat and spilling what it's like to win an Olympic gold medal at 17. He flew a "quick 13 hours" as he called it from South Korea before he has to fly back for the rest of the games, but not with him family, he joked. The...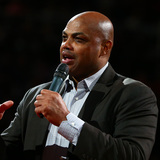 Charles Barkley admitted during an interview this week that aired on "Jimmy Kimmel Live" that he once played in an NBA game "blasted." In other words, Sir Charles was completely drunk. What's more, Barkley claims to have no recollection of the game whatsoever.Barkley regaled Kimmel and the viewing audience during Wednesday's show that the intoxicating situation arose because he was...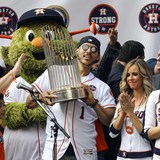 Carlos Correa might be the only player to emerge from a World Series with two rings.Sure, sure, Justin Verlander skipped Friday's victory parade so he could catch a plane to Italy and marry supermodel Kate Upton, but it was the Houston Astros shortstop that surprised everyone by proposing to his girlfriend following his team's Game Seven victory.Monday night, Correa continued the...
Tony Romo's NFL future may be hanging in the balance this offseason, but that doesn't mean the quarterback has lost his sense of humor.Jimmy Kimmel, a pal of Romo's, will serve as host the 89th Academy Awards on Sunday. As the late-night talk show star was participating in an interview with E! News, who else but Romo pops in via video chat to dispense an unflattering pep talk. "I...
MORE STORIES >>
Entertainment News

Delivered to your inbox

You'll also receive Yardbarker's daily Top 10, featuring the best sports stories from around the web. Customize your newsletter to get articles on your favorite sports and teams. And the best part? It's free!